If you are a site builder, or test WordPress themes and plugins, then WP Reset Pro is going to become an essential part of your toolkit.  It is a game changer.  Don't let the name fool you.  Yes, WP Reset Pro allows you to reset your site in a number of different ways, but it also comes with a set of incredibly useful time saving features.  It has changed the way that I approach starter sites, build sites, and test themes and plugins. 
Please note, WP Reset was looking for a walk-through and when they discovered I was already a customer who was planning a review, they offered me a plan upgrade. There were no requirements other than to do a walk-through and share my opinions.  I have pointed out strengths and shortcomings and tried to give a balanced review. 
Video Version
The Free Version
I've used reset plugins before where you reset the WordPress database and content back to a clean install. This is sometimes useful for starting over on a site or for testing, but it is not perfect. Typically, the site title and admin user are preserved. However, items in the media library and uploads directory are orphaned as their database links are wiped out, but the files remain on disk. Also, plugins and themes that were not part of the original WordPress install remain, though they might be disabled. Due to that lack of a true reversion to a "clean install," on my local development server (Laragon) I started fully deleting the site and re-provisioning them from scratch. It is slower than using a reset plugin, but Laragon makes it pretty easy.
I'll admit that when I first saw WP Reset I thought it was going to be a tool something along those lines — just another reset plugin. WP Reset has those typical features, but also includes a number of other useful tools. There is a free version in the WordPress plugin directory and the free version is good.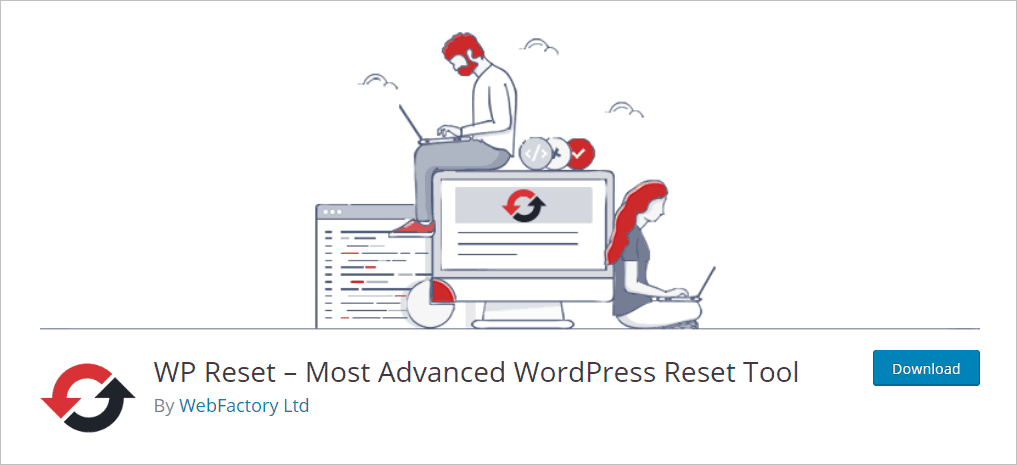 The free version currently has more than 200,000 active installs and 278 5 star reviews. The active install base is growing at a rate of about 10,000 additional sites a month, so yes, this is starting to catch on.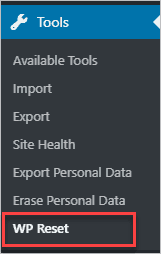 You install WP Reset the usual way from the WordPress plugin directory. Once activated, you get a new admin menu added under Tools.
There are then 5 tabs: Reset, Tools, Snapshots, Collections, and Support

Reset Tab
There are two parts to the Reset tab. The first is a long explanation of what WP Reset will do. A basic reset will reset the database, but will leave the files in the media library, uploads directory, themes and plugins, site title and logged in user. So that's the same, but there is also mention of "snapshots."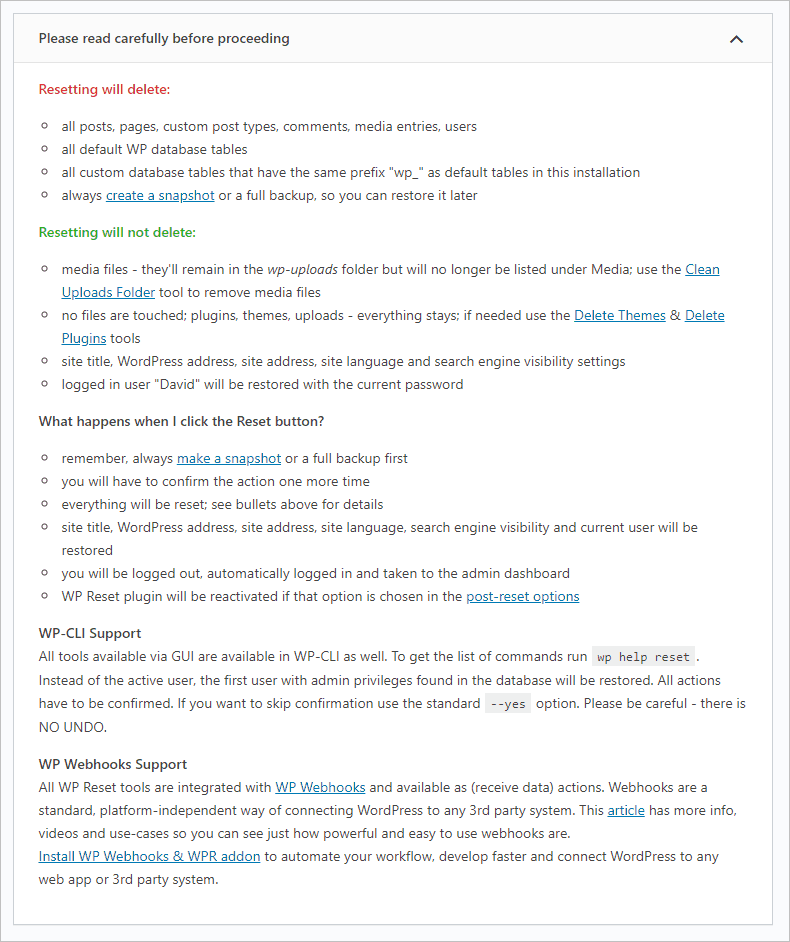 Snapshots are a backup of the database tables associated with the site, identified by the table prefix. The default table prefix is "wp_", but there is an option on manual install to change it. Snapshots are the first feature that sets WP Reset apart from the generic crowd. There is also mention of WP-CLI support, which is the WordPress command line utility, and support for the WP Webhook plugin. These are more developer focused options.
The second part of the Reset tab is the actual form for performing a reset. You have the option to reactive the current theme and plugins and another reminder to create a snapshot.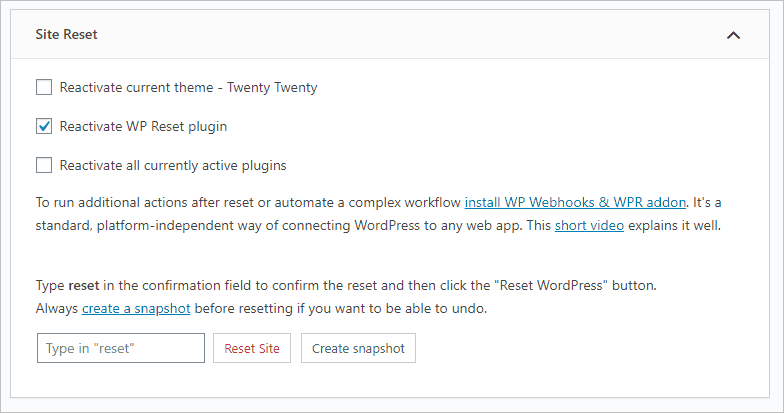 To perform a reset you have to type the word into the entry box and click the "Reset Site" button. When you do, you get a confirmation dialog with the option again to create a snapshot first.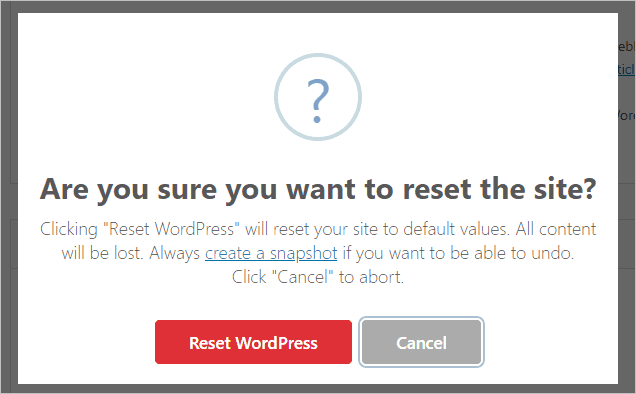 Clicking the "Reset WordPress" button and you get a progress placeholder.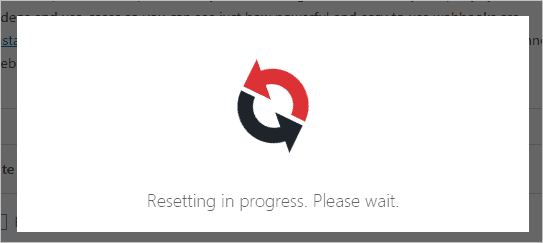 If you selected to reactive the WP Reset plugin then you see this notice in the WordPress dashboard on completion.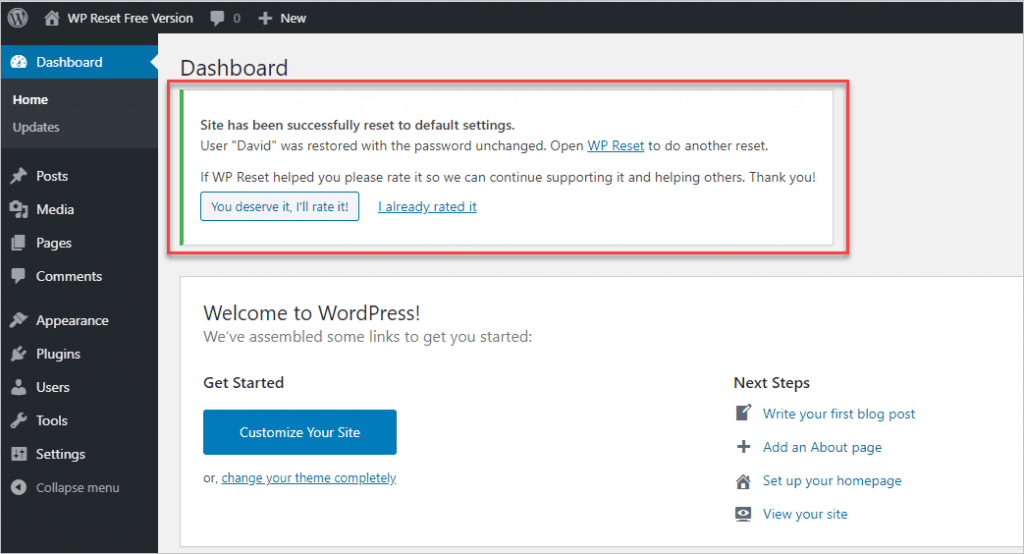 Tools Tab
The Tools tab has a list of utility functions. At the top is an index of the available options. Some of these tools extend the database reset so you can clean out the areas normally left behind: uploads folder, themes, plugins, and .htaccess file. Others are for maintenance or allow you to start over on a particular part of the site: delete transients, reset theme options, and empty or delete custom tables.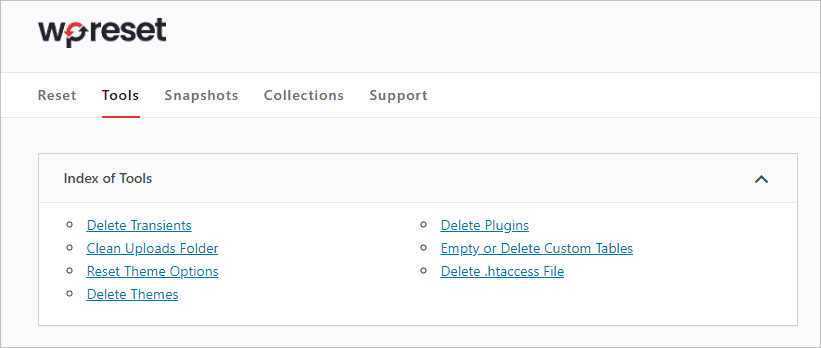 Under the index there is a box for each of the tools with some information about what it will do. For example, here is the box for the Delete Transients tool.

Snapshots Tab
Snapshots are a powerful option. When developing or testing I have often wanted to try a plugin or solution to see if I can use it to solve my problem. For example, I'd install an addon for Elementor with a widget that I thought might help me, only to find that it didn't quite do what I needed. So, I'd uninstall it and try something else, but no doubt some debris is left behind in the database for that experiment.
When you create a snapshot you get a dialog where you can give it a name.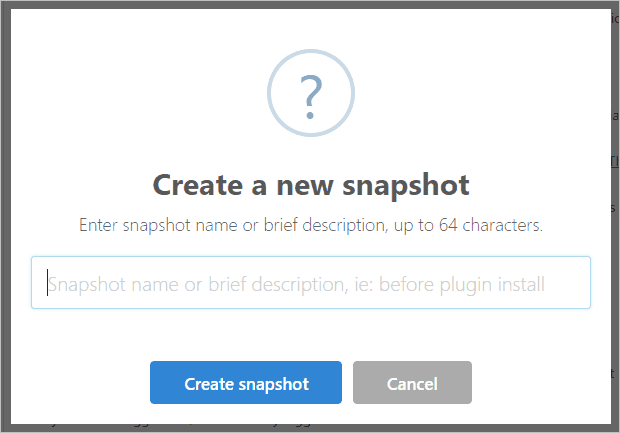 In the Snapshots tab you can see and manage the snapshots taken.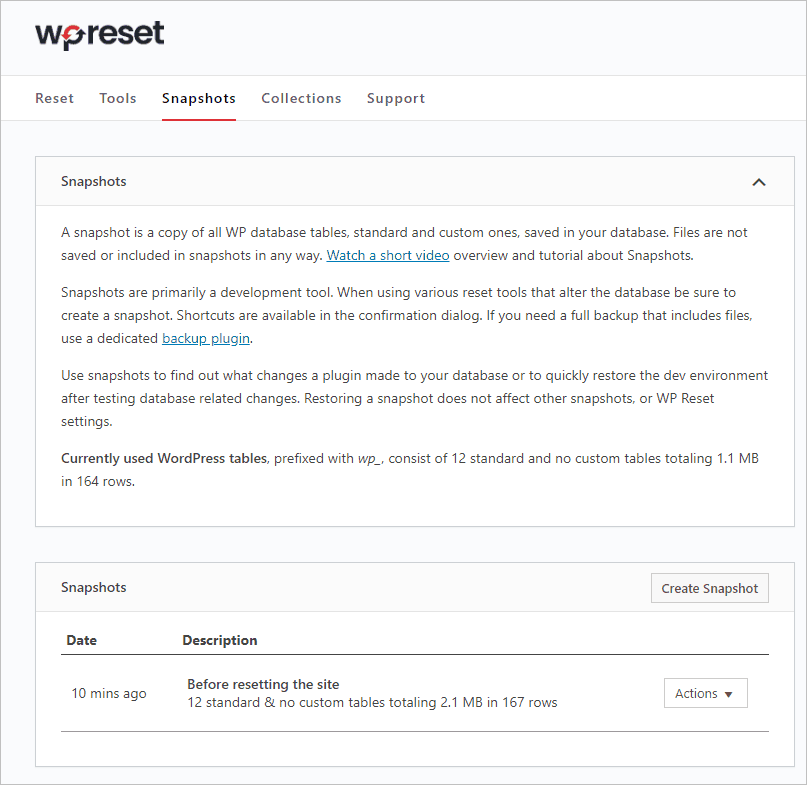 The snapshot list shows when it was taken, your name, and a summary of the what it contains. There is an actions drop down.

You can compare the snapshot to the existing site, restore a snapshot, download it, or delete it. When you compare a snapshot you get a popup comparison. Green means the tables match and yellow that there are differences.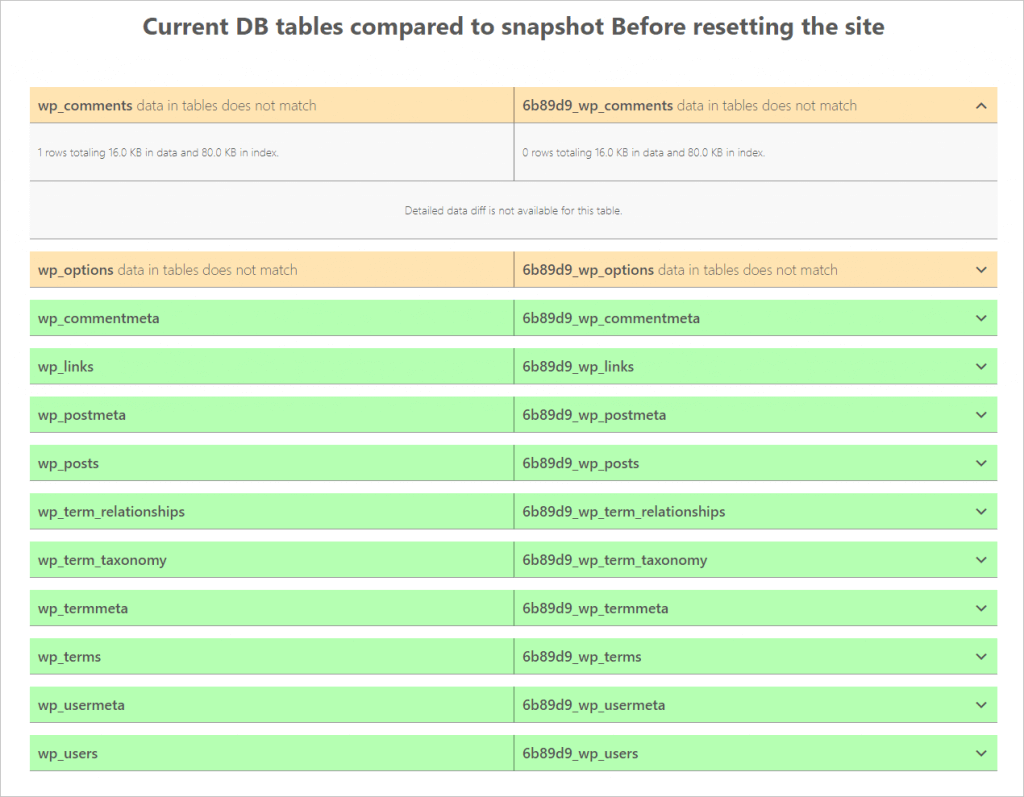 What exactly happens with a snapshot is taken? WP Reset makes a copy set of the site's database tables. Note the two sets below. The bottom set has the "wp_" table prefix and is the "active" set used by the site. The top set has a random prefix of "6b89d9_" and is the backup snapshot set.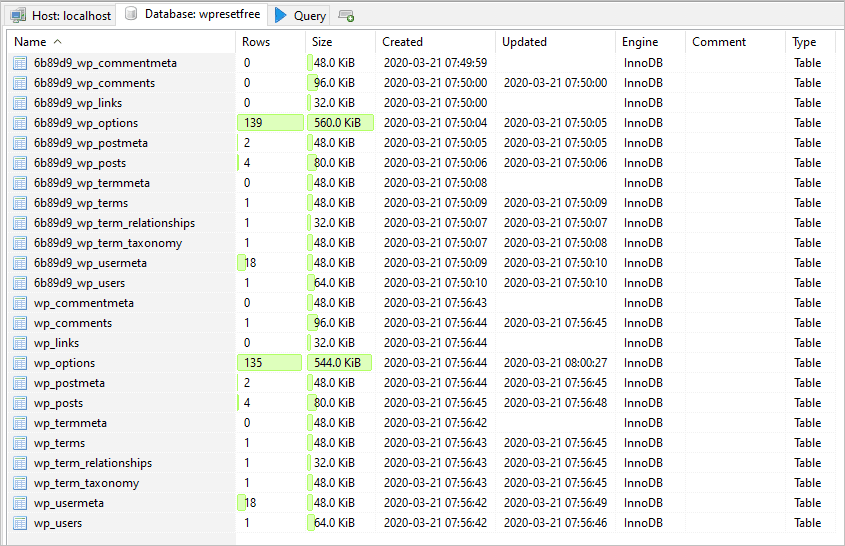 When you perform a reset, WP Reset replaced the active set of tables with the snapshot set. When you perform a reset WP Reset does not delete the snapshot sets, only the tables hat use the site's table prefix. This is how it maintains the snapshots between resets.
Collections Tab
Collections are a feature of the Pro version. They allow you to create sets of plugins and themes, either from WordPress.org or ones you upload, and install them on sites as desired. More on this feature when looking at the Pro version below.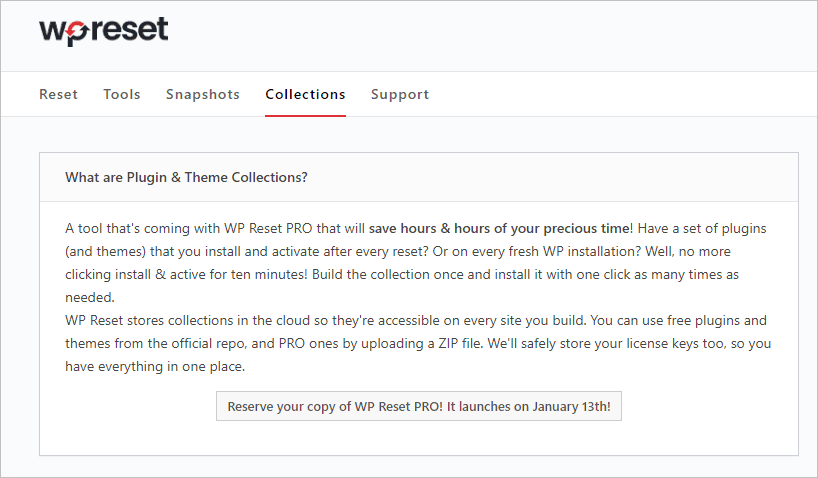 Support Tab
Finally, there is a Support tab. This has links to the documentation on the WP Reset website, the support forum on WordPress.org, and a reminder to share your experience and rate the plugin.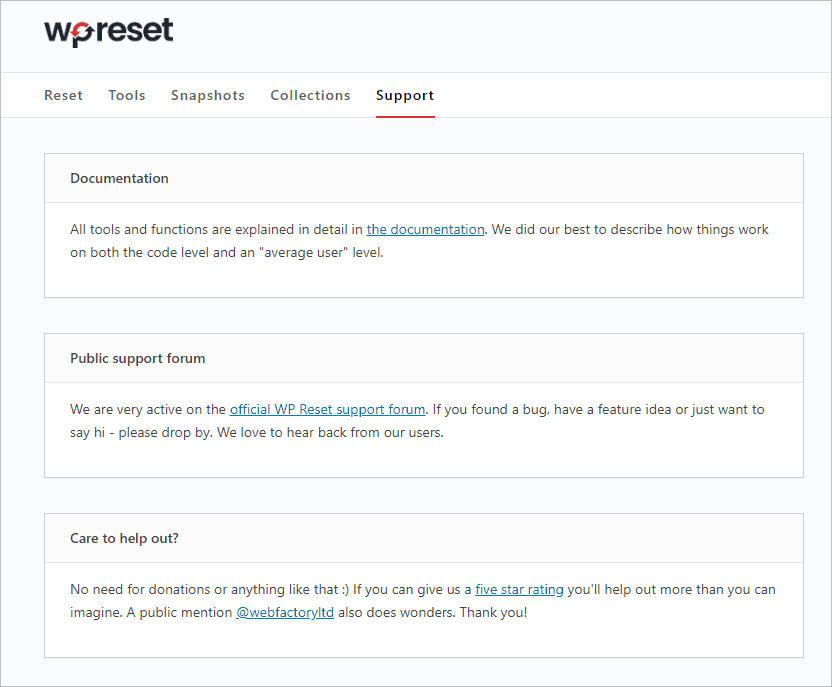 WP Reset Pro Version
The professional version first came available in January 2020. There was a limited sale to get some people using the pro features and providing feedback. I was fortunate to see the sale and make a purchase. By the time you read this the pro version should be on general sale from the WP Reset website.
On-boarding Wizard
The pro version has an on-boarding wizard. It begins by trying to make a test snapshot to make sure your system is compatible. You can run the on-boarding wizard later from the Support tab of the pro version if desired.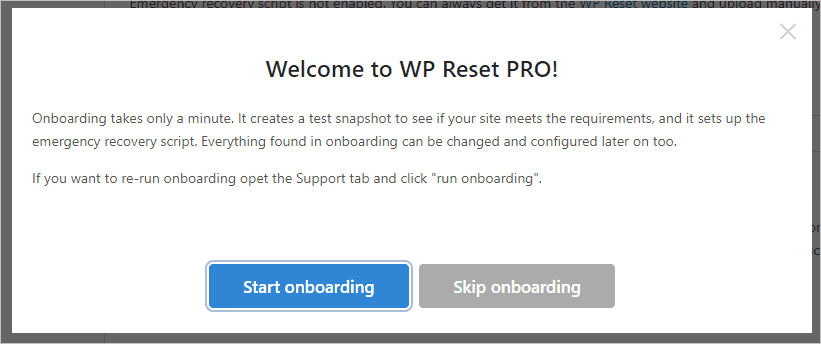 While the free version supports manual snapshots, the pro version also has the option for automatic snapshots when running WP Reset tools or when working with plugins and themes.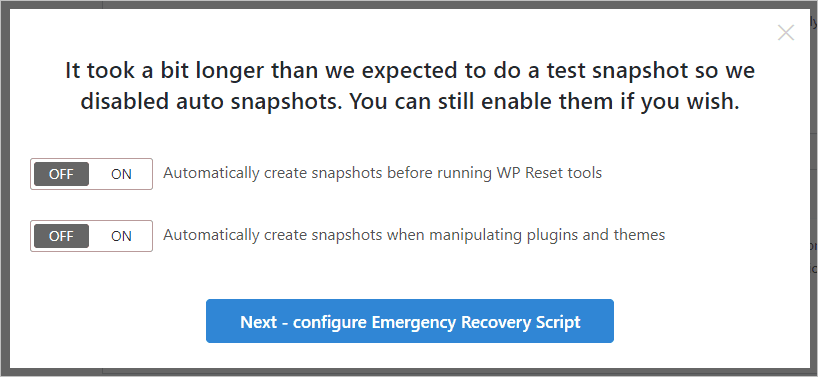 WP Reset Pro comes with the option to install an emergency recovery script. You can install that during the wizard, if desired.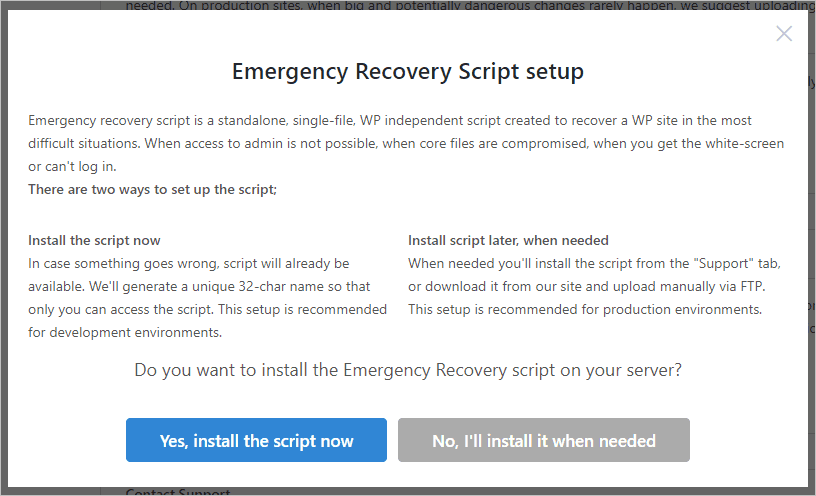 Emergency Recovery Script
When you install the emergency recovery script you get an information window when the install completes. This has the link to the script and the password, which you will need if you want to use it later. You can install the recovery script either during the setup wizard, later from the Support tab, or even via FTP if needed.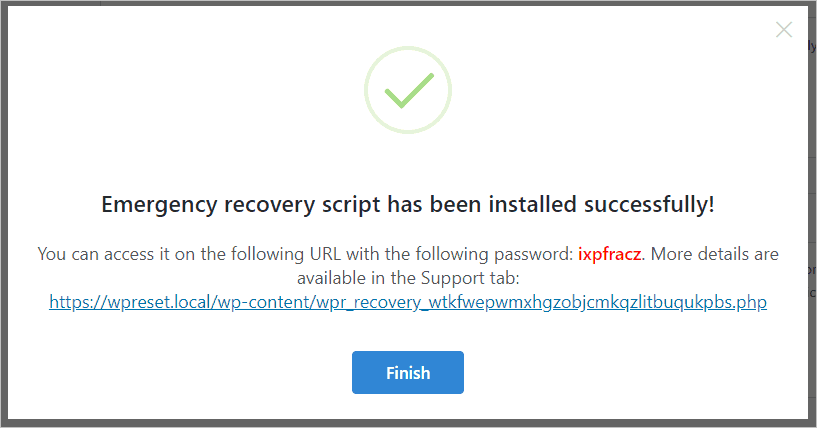 I wanted to see what the recovery process looked like. When you visit the supplied URL you get a password prompt.

Once you enter the password you get a page with the recovery options. You can reinstall WordPress core, deactivate plugins and themes, reset user privileges and roles, create an admin account, and update the site URLs. My understanding is that they may add additional recovery options in the future.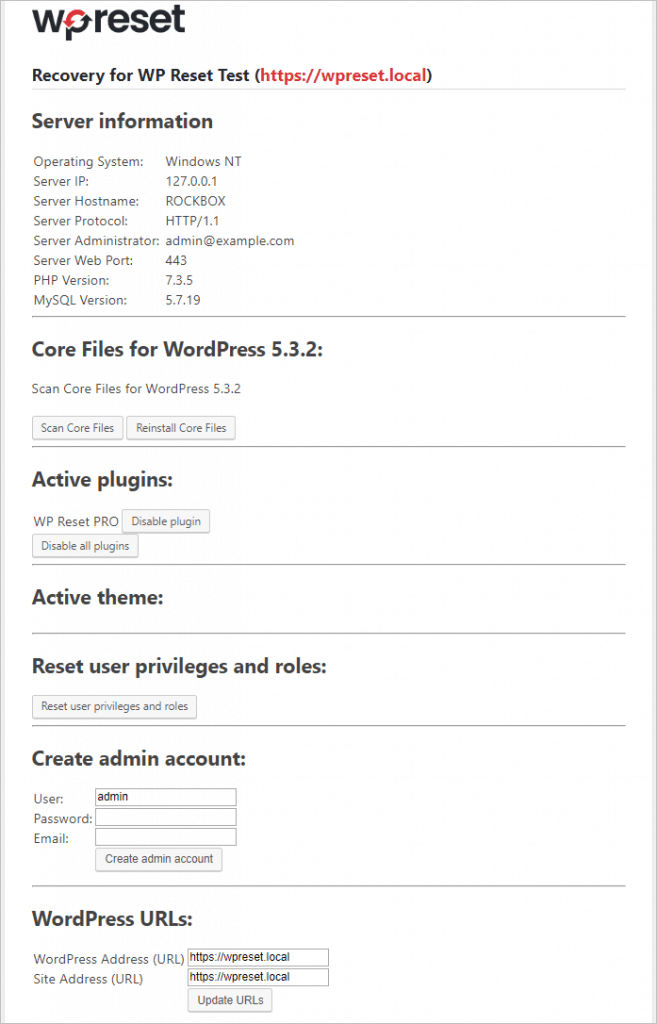 Pro Reset Tab
The Reset tab on the pro version is different in that it adds a couple more ways to reset. As with the free version, the pro version starts with overview information to understand what will happen, but this time there is a table with information about each of the reset types. There are three ways to reset. The "Options Reset" resets the widget, transients, and settings options. The "Site Reset" is similar to the reset performed in the free version. The "Nuclear Reset" resets everything, but the current user, the site title, and other database tables, so this is similar to the free reset, plus using some of the reset tools.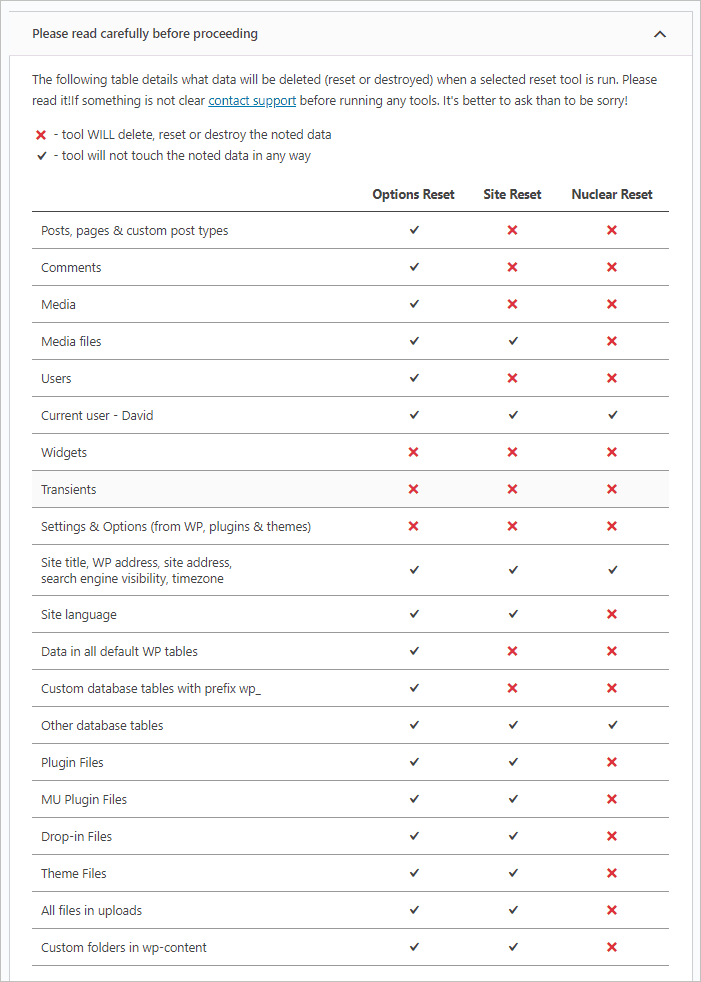 Below the instructions is a list of forms, one for each of the reset types.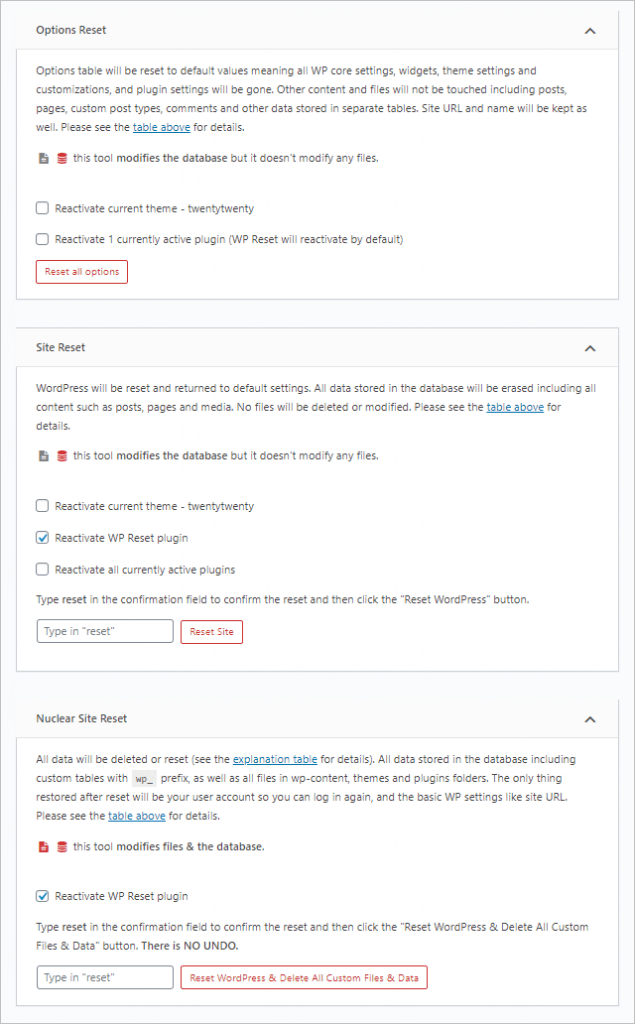 Pro Tools Tab
The pro version adds a lot of extra tools. To make it easy to compare, the tools index of the free version is shown on the left and the pro version on the right. As you can see, the new tools added include: Purge Cache, Delete Local Data, Delete Content, Delete Widgets, Delete must use plugins and drop ins, Clean the Uploads Folder, Clean the WP-Contents folder, and Switch WordPress version. As before, there is a box for each tool.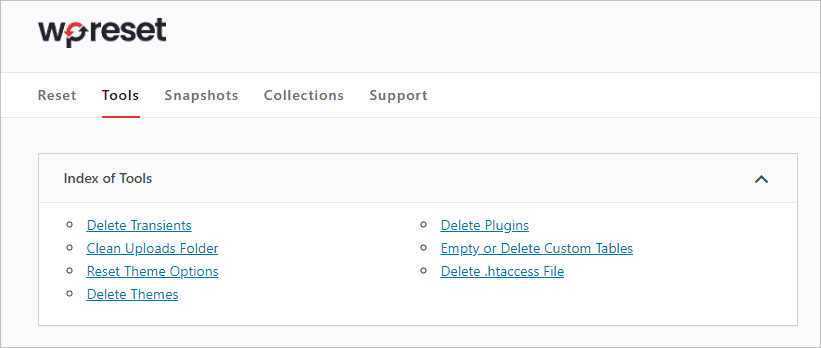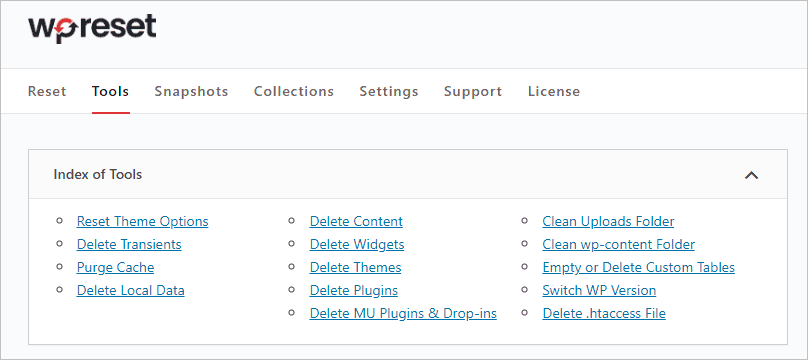 Pro Snapshots Tab
The Snapshots tab also has some additions. Below the snapshot information area, there are the manually created snapshots, like in the free version, and a section for automatically created snapshots. The automated snapshots is an important feature. We'll see the settings for those below in another section.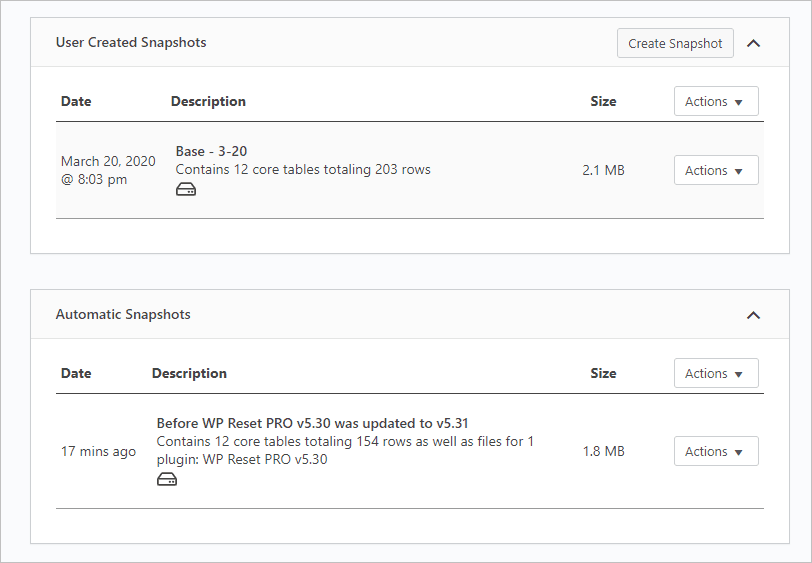 The drop down menu next to the snapshots also has some new options. You can Preview the snapshot, Edit the snapshot description, and upload it to cloud storage. Note, I've linked this site to my Dropbox account. I'll show how to do that below. The Preview snapshot hasn't been implemented yet.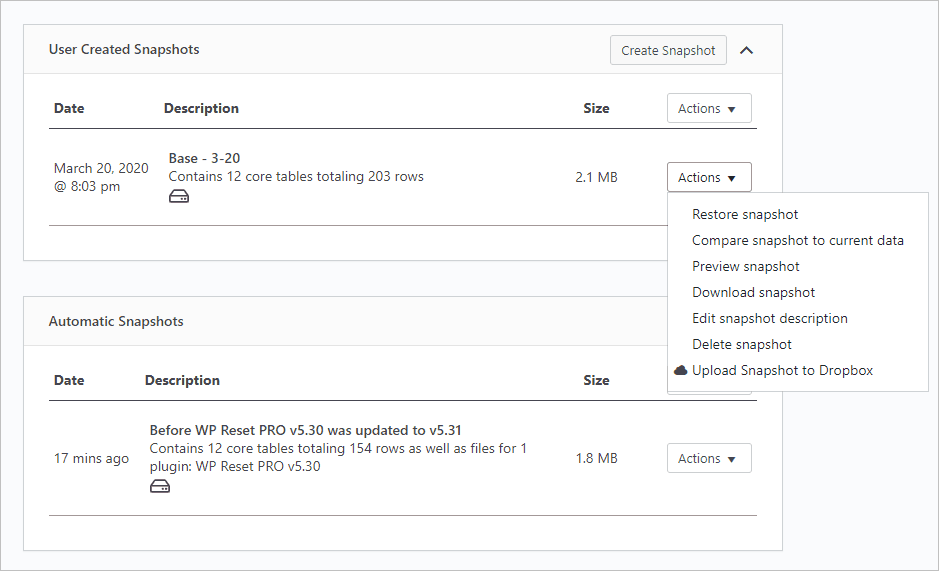 I tried the Upload Snapshot to Dropbox option and it worked.

Pro Collections Tab
In the free version the Collections tab was just a teaser. Now in the pro version it is live and this feature is huge. You can create a new collection or refresh the list from the cloud. When you create a collection you give it a name and then you can start adding to it.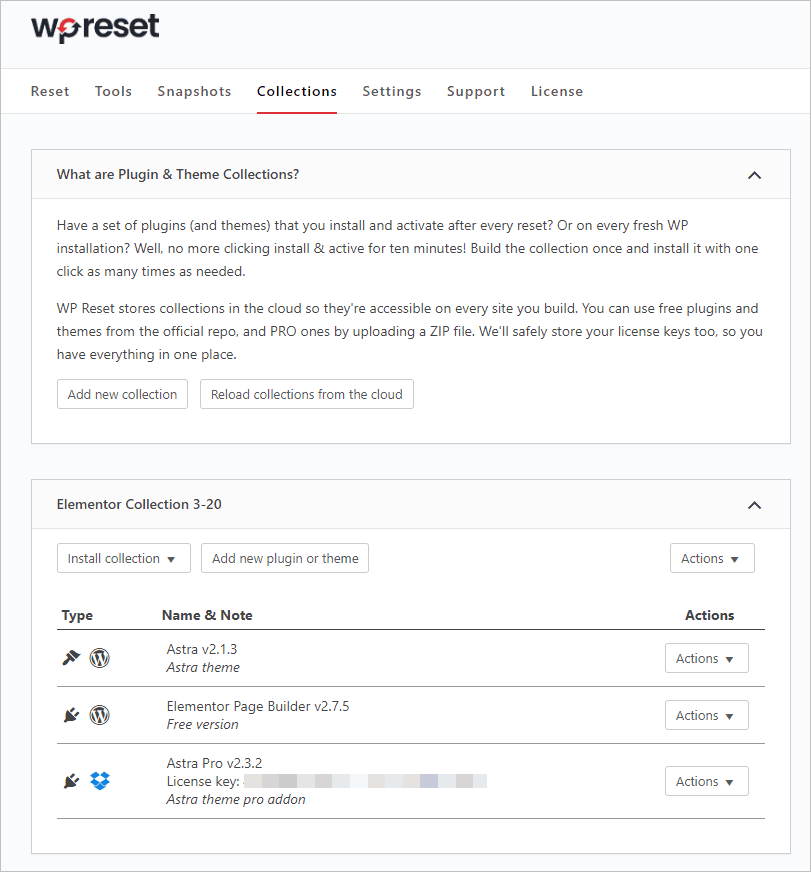 When you add an item to a collection you can pull them from WordPress.org or you can upload a zip file.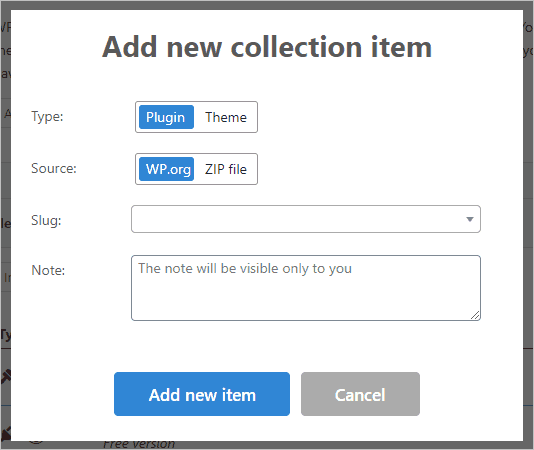 When you pull one from WordPress.org then you type the theme or plugin slug and it does a lookup to help you find it.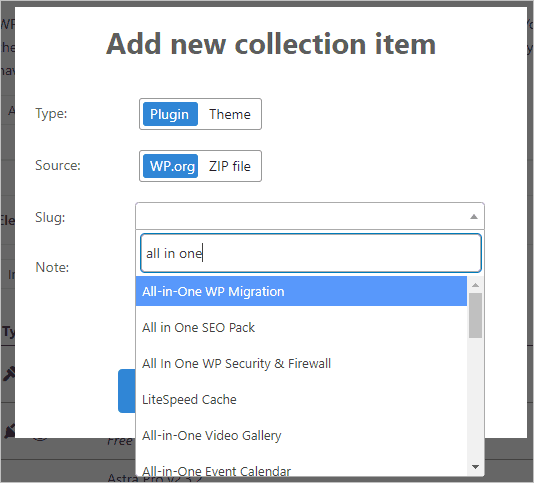 When you add one as a zip file then you get an upload dialog and a place to enter a license key.
You have to connect your cloud storage to upload your own zip file. We will look at the cloud options below.
I added the pro addon for the Astra theme to my collection and it was stored on Dropbox. Note that the free ones aren't stored, so that you always get the most up to date version when you install a collection.

I have WP Reset Pro installed on another site and the collection I defined on this site shows there. So you can easily pull down a collection and have the themes and plugins installed on new sites, without needing to install each one individually. Since you can have multiple collections, you can tailor collections for different uses and scenarios. When installing a collection you have the option to try and have the licenses activated. That works for many, but not all, pro plugins and themes.
Pro Settings Tab
With pro you have another tab, the Settings tab. This is where you connect your cloud storage and configure your automatic snapshot settings. WP Reset currently supports, Dropbox, Google Drive, pCloud (recently added), and WP Reset Cloud. Dropbox, Google Drive and pCloud are available to any pro user. The WP Reset Cloud storage for your zip files is only for the higher level license option.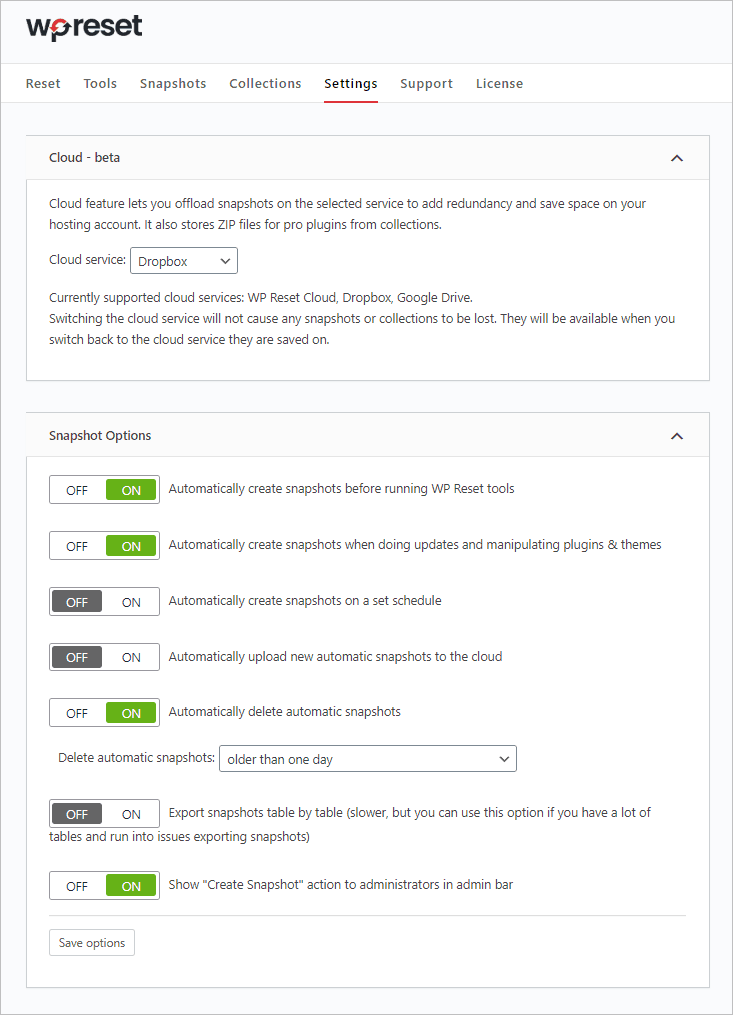 The Snapshot options include automatically creating snapshots when WP Reset Tools are run, when updating plugins and themes, on a set schedule, to automatically store them in the cloud, to automatically delete old ones on a schedule, to use a slower method for exporting snapshots, and for adding a link in the WP Admin toolbar. Automatically deleting old snapshots on a schedule is probably a good idea in most situations, especially if the site has a large database.
Pro Support Tab
On the Support tab for the pro version you can manage the emergency recovery script and rerun the on-boarding wizard. There are also links to documentation and support.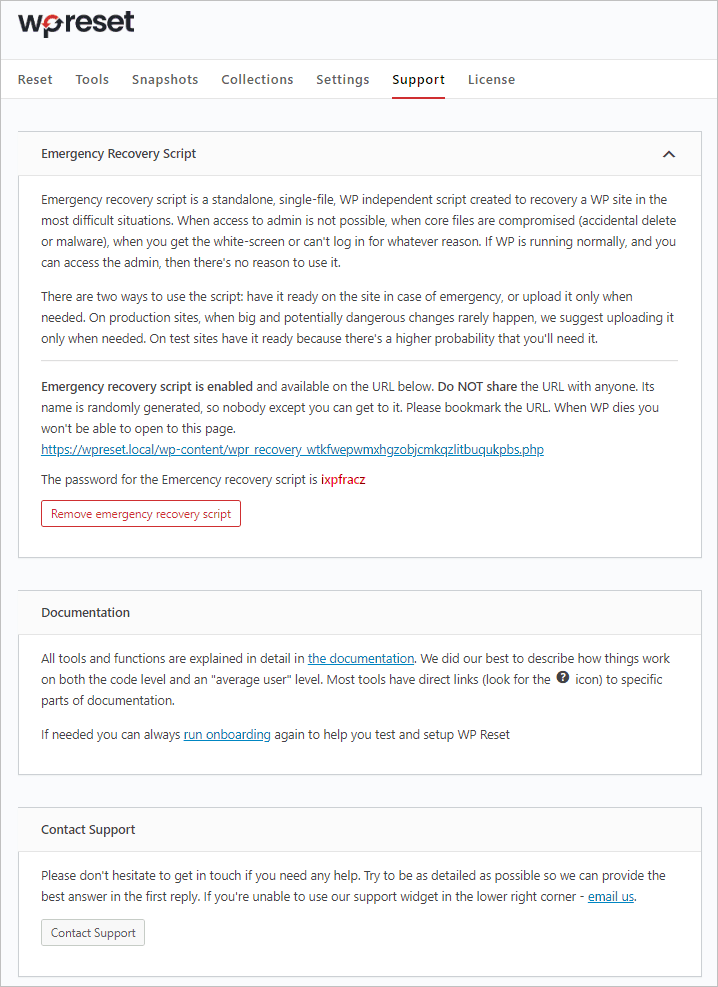 Pro License Tab
The license tab has a form where you can enter and activate your license as well as an option to hide the license tab, if your license level includes white label. The higher level plan has an option for a key-less activation, which is mentioned below.
Pro Centralize Dashboard
There is a centralized dashboard on the WP Reset website for managing sites, licenses, as well as snapshots and collections, if you have a plan that includes using the WP Reset cloud.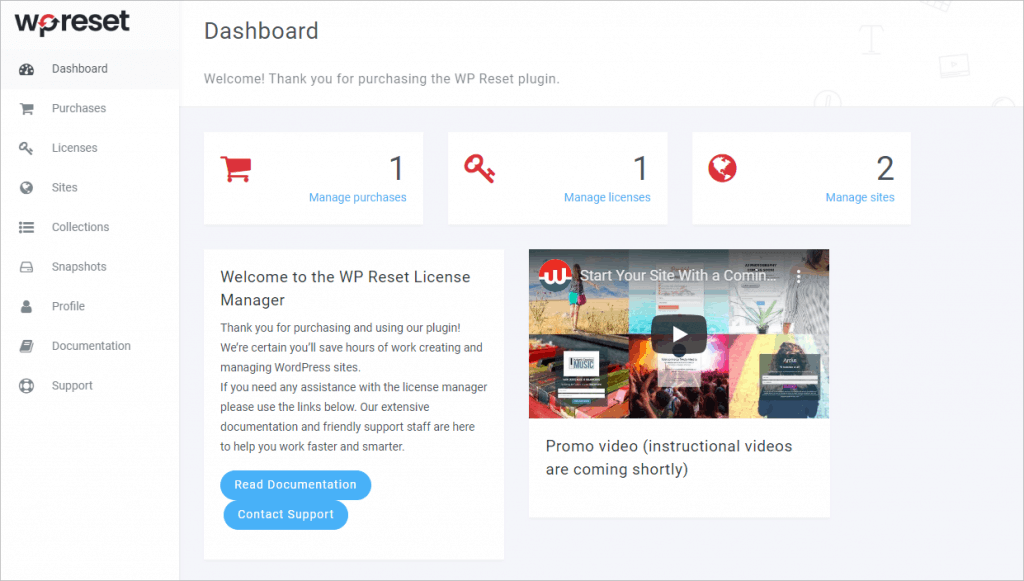 Under Purchases you can see your plan, download an invoice, and download the latest pro version of the plugin.
Under Licenses you can block a site, or copy the license key. If you have the Agency level plan, then when looking a the sites, when you go to the license tab, there is the option to edit the license. Here you can set how long you want it to be valid on the domain. Also, you can authorize a site by domain name. This is a cool feature that gives you the option to have a key-less license.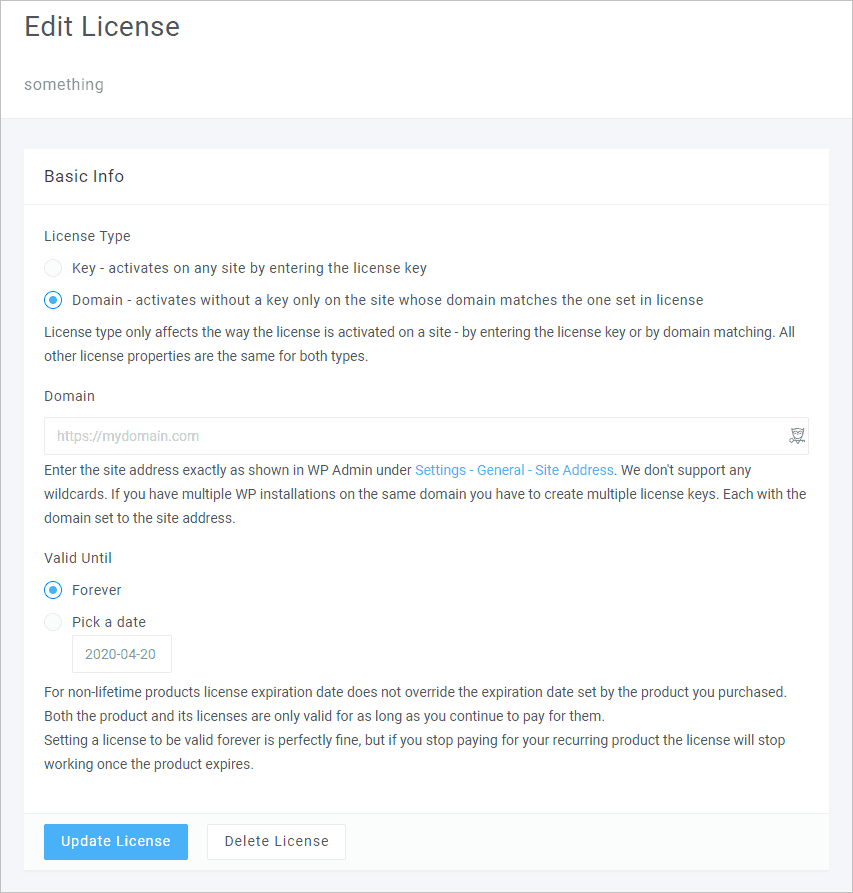 There are sections in the dashboard for managing Collections and Snapshots. These are features that are still being worked on and require the higher level license to use. If you don't have the agency level license then you can connect your own storage instead.
Summary and Conclusion
We looked at the free version of the WP Reset plugin and saw that it is better than the generic reset plugin in two ways. First, it allows you to create and restore snapshots. This is a huge boon for site builders and owners as it lets you do a quick save before a possibly risky operation. Second, the WP Reset plugin has some additional tools to help clean up a reset site that avoids possibly needing to connect to the site via sFTP or go into the database directly.
The pro version of WP Reset is a game changer. You have more reset options and more tools. You also have automatic snapshots, which should speed up implementation as you don't need to stop and take a regular backup, as I used to do. Together with snapshots, the Collections feature is changing how I approach starter sites. I used to have several starter sites depending on the type of project. Now I can have fewer and use the collections feature to create different theme, plugin, and content builds. I don't know of any other tool that allows you to easily switch WordPress versions.
The central dashboard is nice for those with the agency license, especially the advanced license manager. I can see the convenience of using one dashboard for snapshots and collections, but having the option of using your own cloud storage is probably sufficient in many cases.
There are some things to keep in mind as you are evaluating WP Reset Pro. As noted above, the features of the pro version are new and there could be rough edges. I'd be careful if you are using automatic snapshots on sites with a large database as you wouldn't want to run out of space. There is some documentation, but it is a work in progress. Also, there are some features that haven't been released yet, but so far the company has been hitting their milestones. I've seen mention that they are considering adding a migration feature, where you could download a snapshot and then upload and apply it on another site. That would be a nice feature. The WP Reset plugin is developed by Webfactory, who have been in business for 10 years. The company also develops WP Security Ninja and has several other free and premium plugins.
I've been very impressed and happy with WP Reset Pro. It addresses a number of pain points when building sites and testing themes and plugins. For example, when I review a product I usually do the walk-through three times. The first time to figure out how the product works, the second time to create the text version of the review, and the third time to create the video. WP Reset Pro has already changed my workflow and saved time, and I expect to see more time savings as I create more snapshots and collections to address different scenarios. I recommend taking a look at WP Reset Pro if you are a site builder or frequently test themes and plugins.