I've used the Simple URLs plugin for years for managing outbound links, but I've lost confidence in it. First it was listed as being maintenance mode only and then it was sold to a company that is upselling Amazon affiliate features, which I have no interest in. So, I've been on the lookout for a good replacement. BetterLinks is a new link manager plugin. It comes in a free version and a pro version and it has a lot of features for a new plugin. My interest was sparked when I saw that BetterLinks is from the WPDeveloper team. I own some of their other plugins and have found their products to be solid and support to be good. In this walk-through I'll look at the free and pro versions and discuss some of the plugins strengths and weaknesses.
Video Version
What Is A Links Manager Plugin and What are the Benefits?
Link manager plugins usually offer a few core features and then may have some additional advanced features.
Link Managers Use Link Redirection
Link management plugins have four core things in common:
The title of the link, which is to help you know what the link is for.
The target URL, which is where you want the visitor to end up after clicking a link.
The shortened link, which is like an alias and is usually a link to your website that when clicked, redirects the visitor to the target URL.
The type of redirect. This can be hardcoded or a user option. It is used to tell the visitor's web browser what to do with the redirect, how to handle it. More on this later in the walk-through.
Some of the benefits of a link manager include:
Manage Outbound Links in a Central Place
If your site has a lot of outbound links then you know that it can be difficult to keep track of them. It is especially important to do so if you are doing any affiliate marketing as you may want to use the same link on more than one page and you don't want to go searching your posts for the last time you used it so that you can copy it and use it again. Also, the landing pages on partner sites often change, such as during a special event. Having you links together in one place means you don't have to go from page to page to change them when the event starts, and then again afterwards.
Link Shortening for WordPress
If you are using pretty permalinks then you know that your links can get pretty long. Similarly if you are linking to other websites then the URL can get long for the same reasons. It is difficult on a video or podcast to tell people about a link if the URL is as long as your arm. Link managers often give you the option to shorten the URL.
Adding Link Attributes
Link management plugins often have a feature that lets you automatically add attributes to your links, such as "noindex", "sponsored", "nofollow", "noreferrer", and so on. The ability to add a rule that by default your links should include certain link attributes is a good convenience function. Link managers usually allow you to override and change the default on a link by link basis.
Analytics
Some link management plugins, especially the pro versions, offer some form of click tracking, so you can see how often your links were used. This is helpful for gauging the success of your content. This is one of the reasons that link management plugins are used for all outbound links on a site, not just for affiliate links.
Working with Affiliate Links
If you are working with affiliate links, in addition to the other advantages already mentioned, the short links help to keep your affiliate ids from being indexed by search engines.
Note that some affiliate programs, like Amazon's, don't allow you to use a link alias.
Free Version of BetterLinks
OK, now that we know a bit about what link management plugins do, lets look at BetterLinks. The free version of BetterLinks is fairly new and is available in the WordPress plugin directory. The first version of the plugin was released in January 2021. We can see that BetterLinks is regularly updated, has more than a thousand active installs, and so far has 4 five star reviews.
I took a look in the support forum and saw that the BetterLinks team is active in responding to users.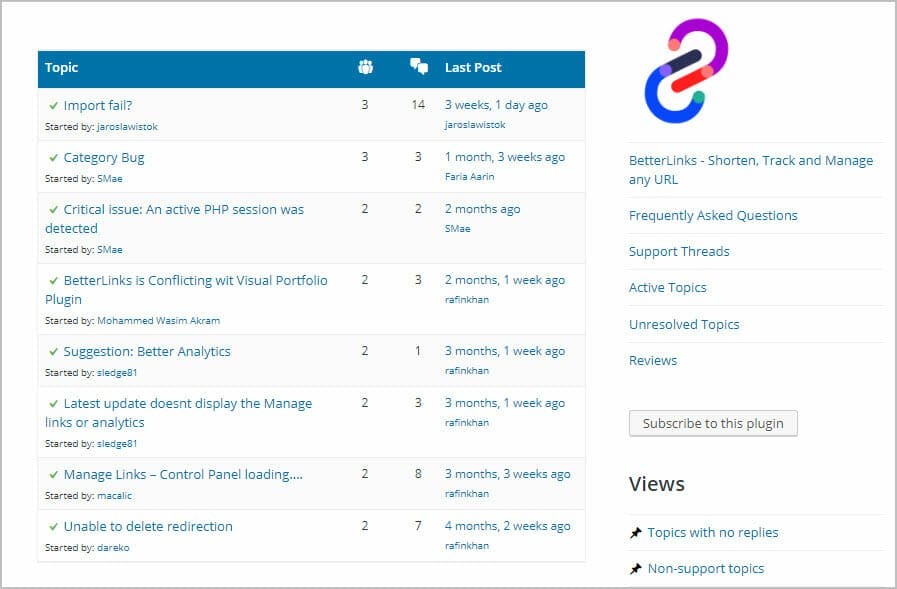 You install BetterLinks the same way you do any other WordPress plugin. Note that when searching for the plugin, there is no space between the words.
Once activated, you get a new menu item in the WordPress admin.

Dark Mode Toggle
Lets start by taking a look at the settings page. At the top right there is the option to toggle dark mode. The dark mode is attractive, for those who prefer it. Note that it only turns the BetterLink pages dark, not the entire admin.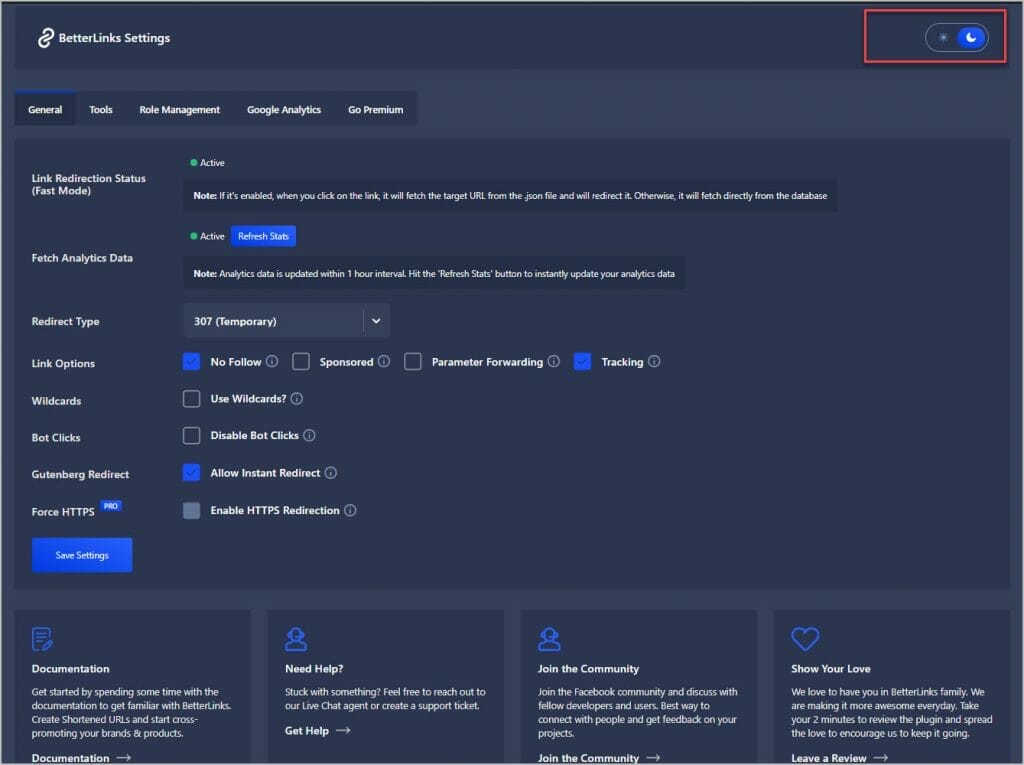 At the bottom of the settings screens are links to documentation, support, the Facebook community, and to WordPress.org to leave a rating.
General Settings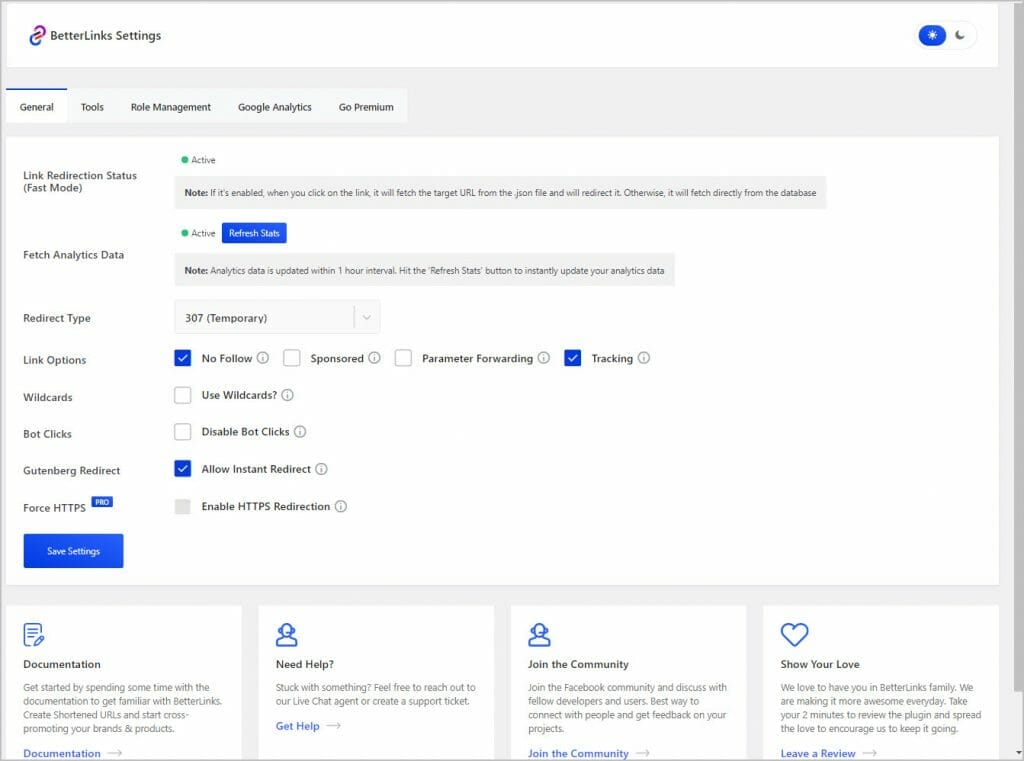 There are a number of settings on the General tab. The first setting is for the the mode to use for redirection. There are two choices: links can be gotten from the database or BetterLinks can keep a links.json file in memory and use it instead. The in memory option should be faster. Note that it shows the Fast Mode selected by default and there is no way to toggle it off! I found that BetterLinks keeps a copy of the links.json file in the wp-content/uploads/betterlink_uploads directory.

If you delete that file then that will toggle the setting back to use the database and allow you to click the top, where it currently says Active, and toggle fast mode on again.
The next option is to Fetch Analytics Data. By default BetterLinks updates the analytics once per hour. You can click to refresh stats if you need the latest numbers.
BetterLinks offers three redirect options: 301, 302, and 307.
Use a 301 redirect if you know that the link will never change. A 301 redirect is cached by the browser.
A 302 redirect is a temporary redirect to use when the link might change. 302 is the older version of the temporary redirect and web browsers typically execute the redirect using a HTTP GET operation. This could possibly be an issue if the original click was a POST operation.
The 307 is the newer temporary option and it always does the redirect using the same operation as the original click. Me sense is to use the 307 option for temporary redirects, unless you specifically know that a 302 would be better for that case.
Then there are four link options. No Follow tells search engines not to follow the link, sponsored is a new option that Google wants you to use for sponsored content, parameter forwarding forwards any parameters on the short link and adds them to the target link, and tracking tells BetterLinks to add clicks to the analytics.
Wildcards lets you use an asterisk and use the same target URL for a directory of links. Bot clicks says it stops bots from clicking links. It is possible it just doesn't count bot clicks in the analytics. Instant Gutenberg redirects is perhaps mislabeled. When this is checked it allows you to create links in a side panel in the Gutenberg editor without needing to go to the BetterLinks admin area.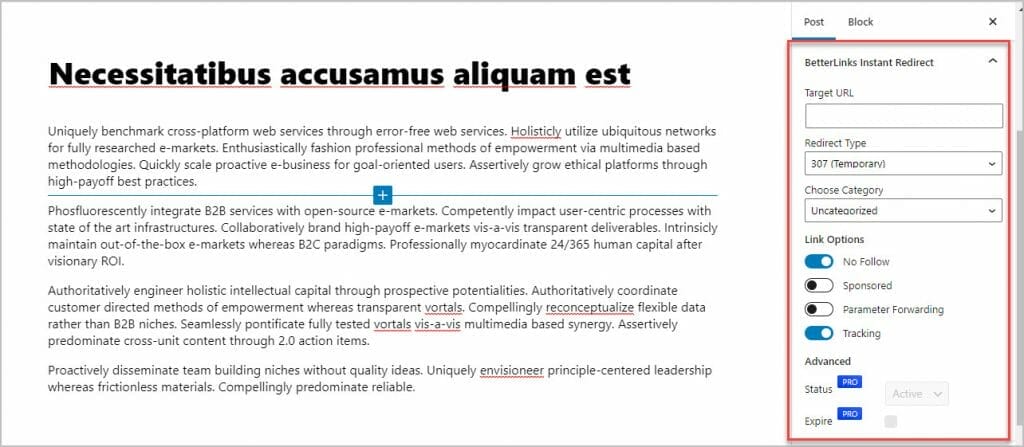 Tools Tab

The tools area is for export and import. The import allows you to import BetterLinks, migrate links from the PrettyLinks plugin, or import links from the Simple 301 redirects plugin.
Role Management and Google Analytics
These tabs are part of the professional version and will be discussed below.
Link Creation Screen

On the top right there are a few options. The two right most buttons are for toggling dark mode. The other two buttons are for viewing links in a list or a grid.
Categories Management
When it comes to categories, BetterLinks is like posts. If you don't create a category the links will be assign to the "Uncategorized" category, so you might as well create one. When you click on the Add New Category button you get an input for the category name.
Once you add a category then you see a panel for that category and a button to add a link. When you click on the add new link plus sign in the category panel then by default that category will be preselected in the create link dialog. If you have more than one category then BetterLinks lets you move links between categories using drag and drop. The three dots next to the category name lets you edit or delete the category.

Adding a Link
Whether you click the plus button or the Add New Link button you get a popup dialog for creating a link.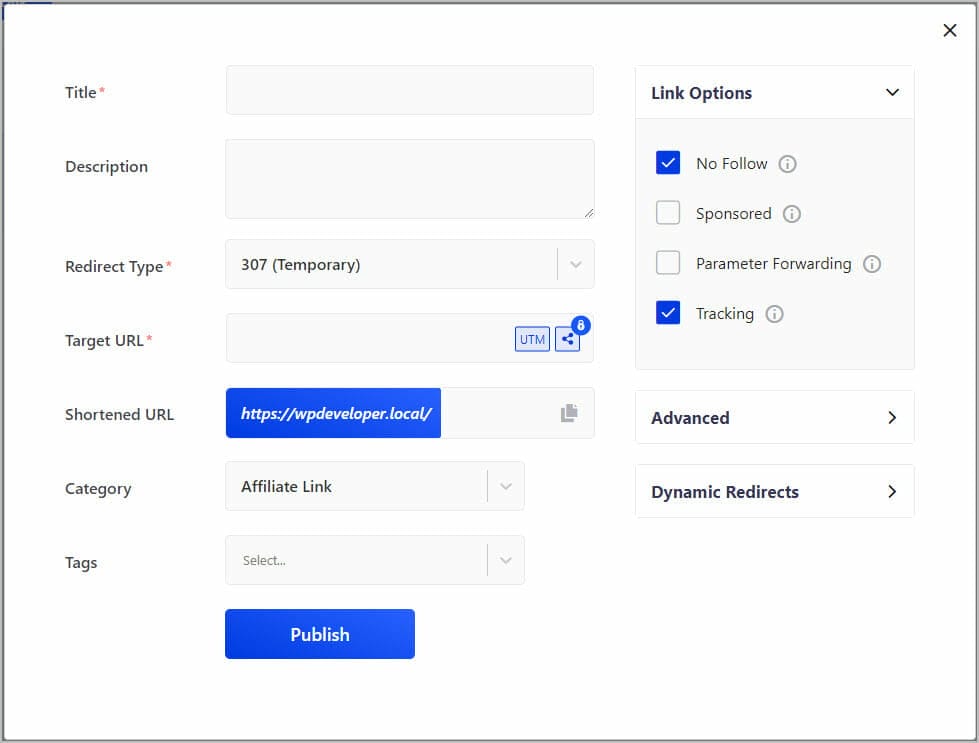 The Title just shows in the admin and is for you to identify the link. Description is optional and you can use it as you like. You can even put a short note there. Redirect Type is where you pick if you want the redirect to be a 301, 302, or 307. It defaults to your choice in settings, but you can override it here.
You paste your target URL into this field. There are two extra options next to the target URL. The UTM builder has both free and pro features. The pro feature and the social share link creator options are discussed in the pro section below.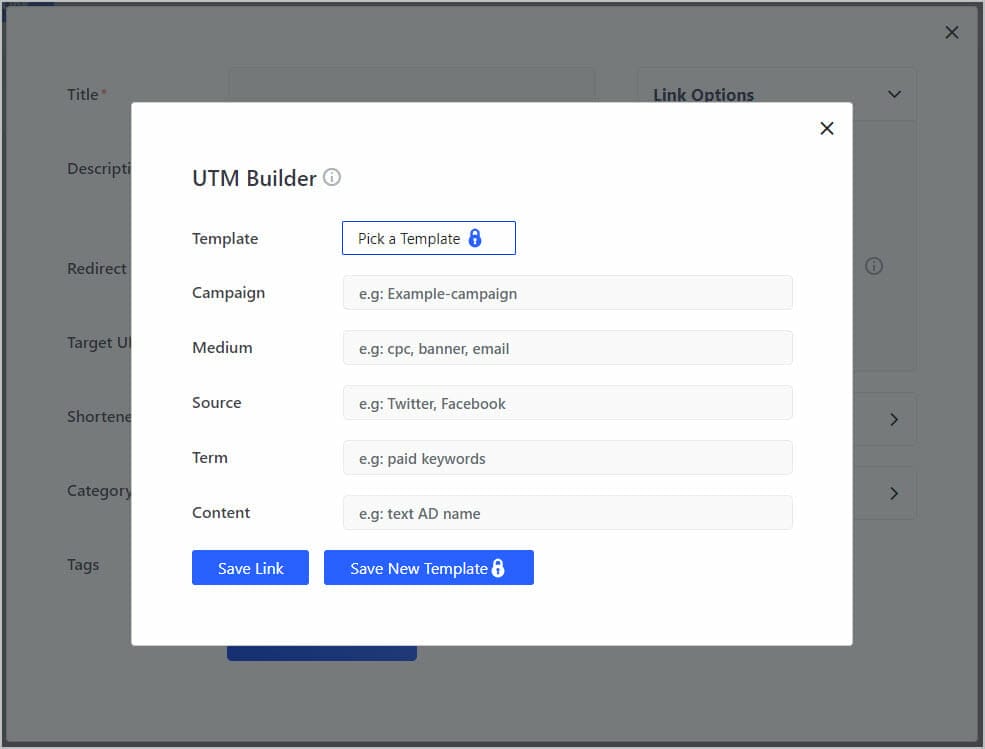 The UTM builder is a cool feature of BetterLinks. The UTM builder allows you to automatically add analytics tracking variables to your outbound target links. If you have the pro version then you can save templates to make it easier to add UTM parameters to links. Note, if you use the UTM builder then you need to first enable Google Analytics and add your GA Tracking ID on the settings page.
The shortened URL is the link you are going to share. For convenience, when you type in the link title BetterLinks adds that to the shortened URL in lowercase and with dashes between any words. If you want to customize the shortened URL you just click into the text edit box and make your changes. There is a copy to clipboard button to the right of the shortened URL field.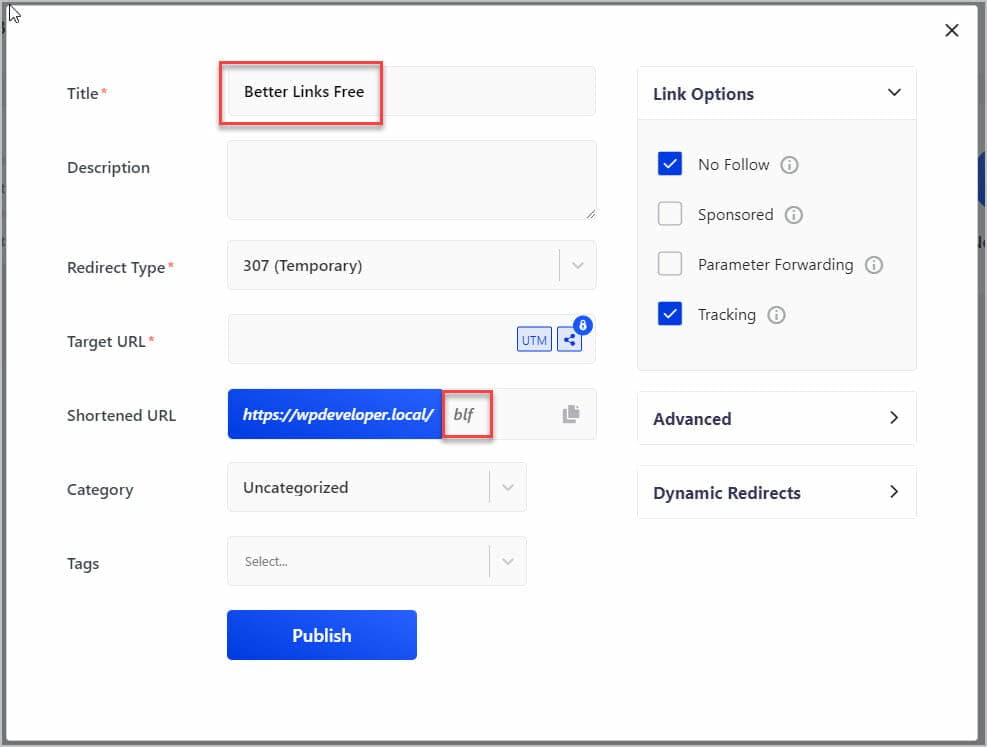 There is a dropdown for picking a category or tag. You can click into the select box to add a new one from this interface.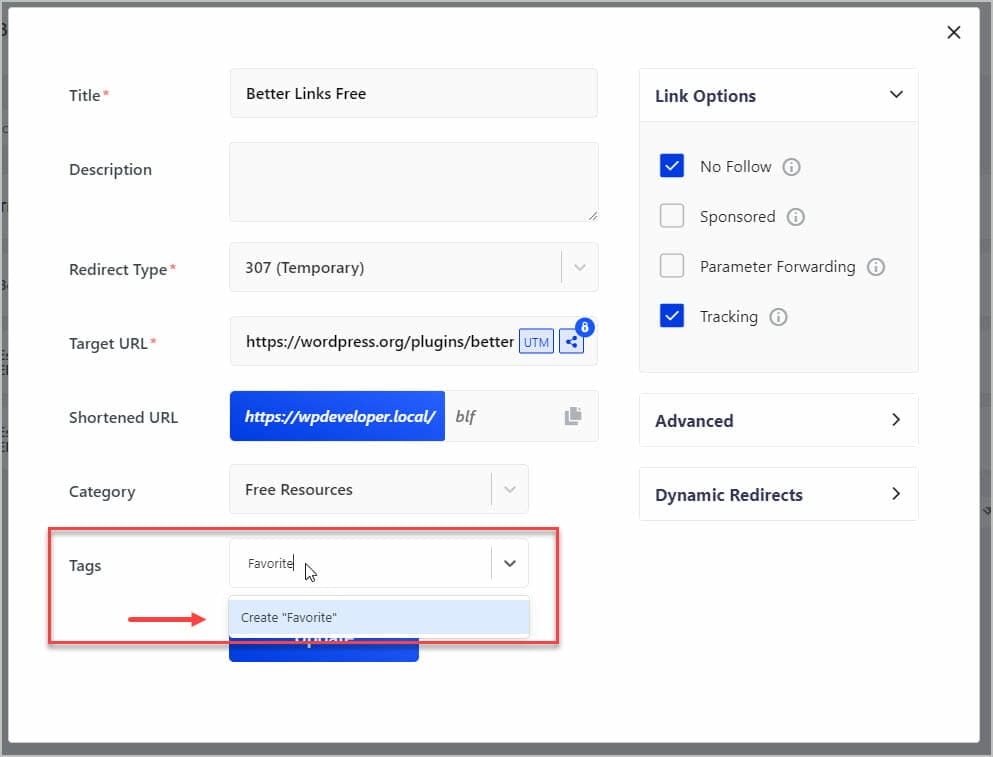 On the right side at the top are the link options. The defaults shown are what you selected in the settings and you can override them as necessary. The link options in the Advanced and Dynamic Redirects sub-panels are pro features that we will look at further on.
List View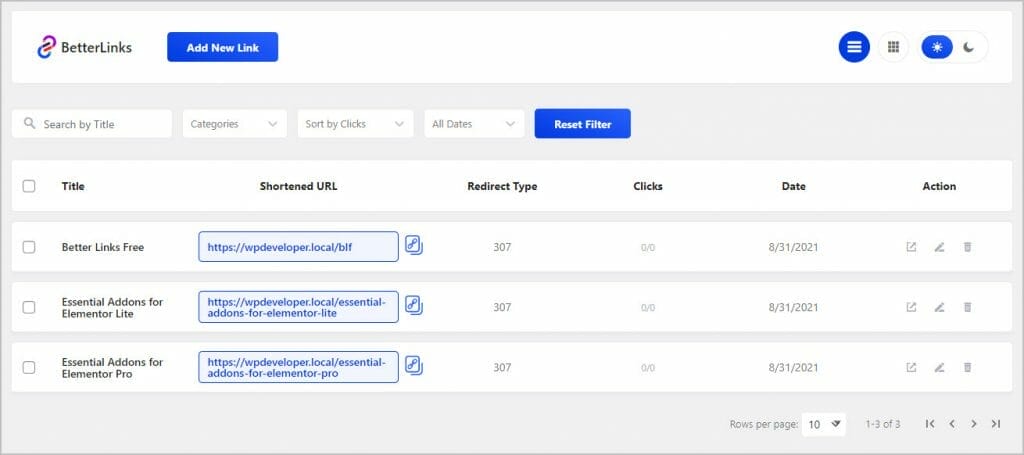 Here are the links in list view where you can see some summary information about the links. You can search by title, filter by category, order by most or least clicks, or sort by date. I saw that the tag doesn't show and there is no way to search or filter on it, so I'm not sure what that feature is for. Perhaps it is for future use. You can use the bulk option to delete checked links. To the right of the Shortened URL is a copy to clipboard button. On the right there are icons for visiting the link, editing it, or deleting it.
Analytics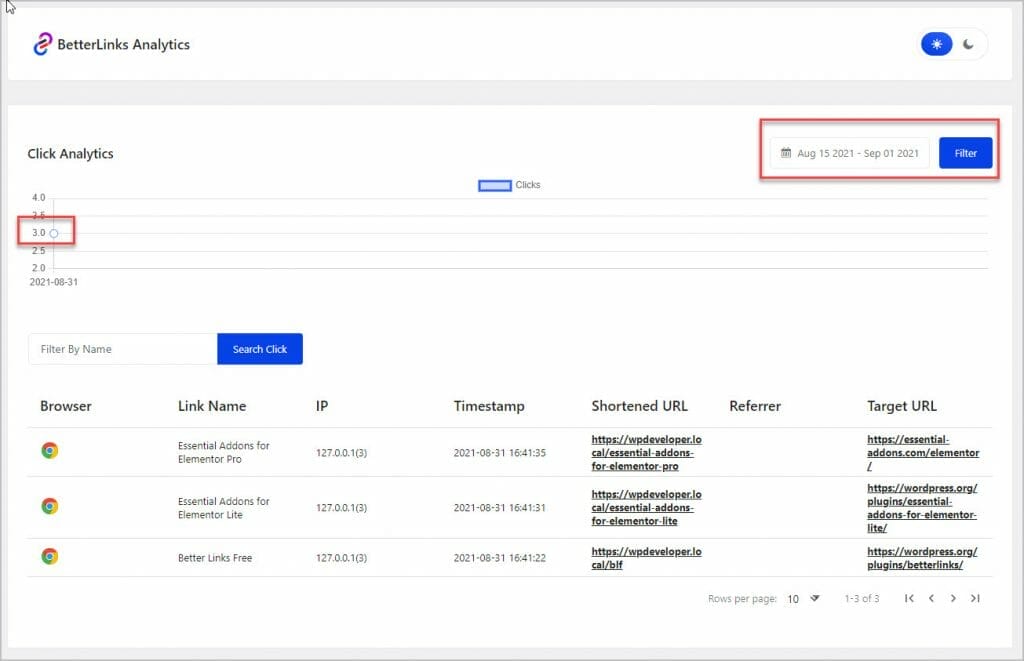 BetterLinks free includes some simple analytics. You can see the dot at 3 for the clicks I made for testing. You can select a date range and you can filter by link title.
BetterLinks Pro
BetterLinks Website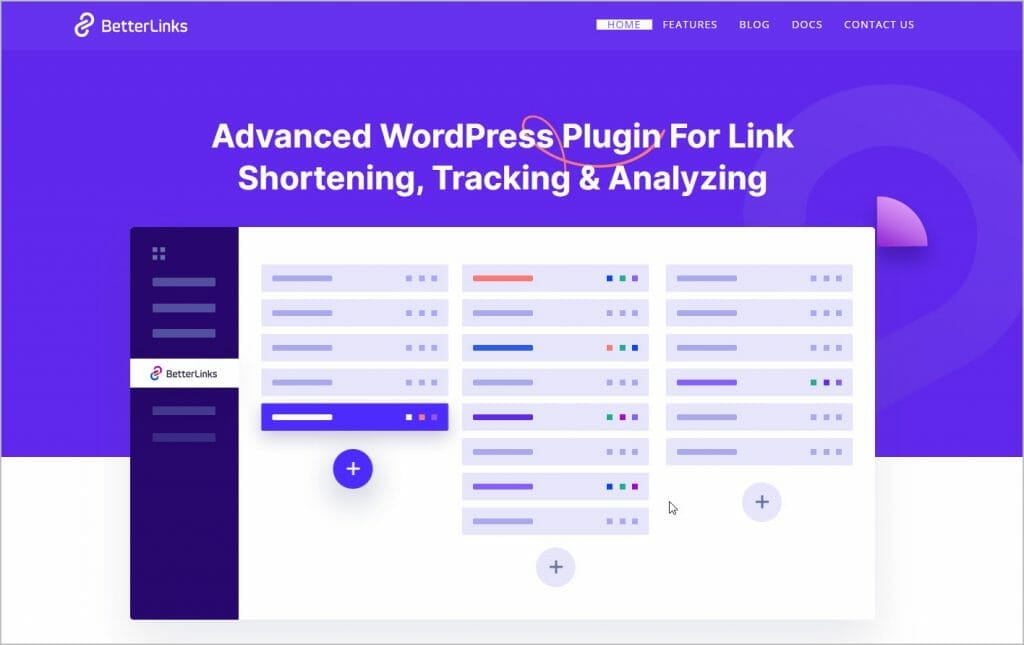 The pro version is available from the BetterLinks website. I took a look at the documentation and it is very comprehensive for a new plugin.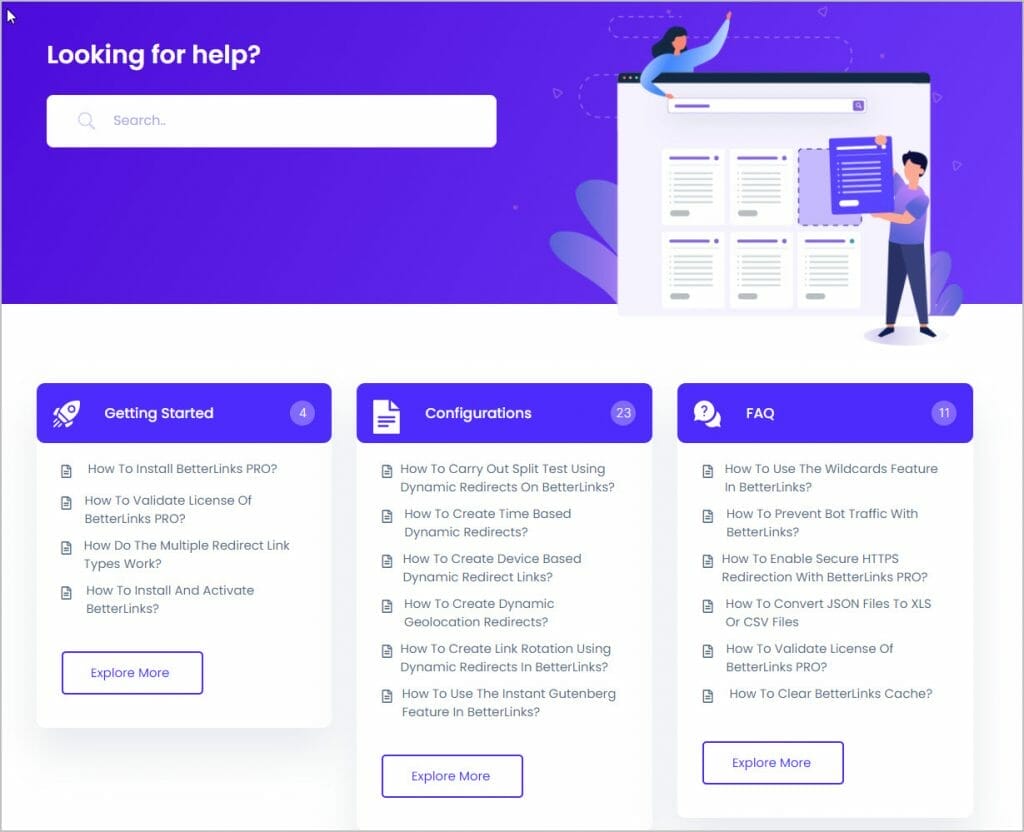 BetterLinks Pro is available as an annual subscription for 1 or unlimited sites and also has a lifetime unlimited package. Note, it is probably a good idea to check the website for current pricing as it sometime changes or there are sales.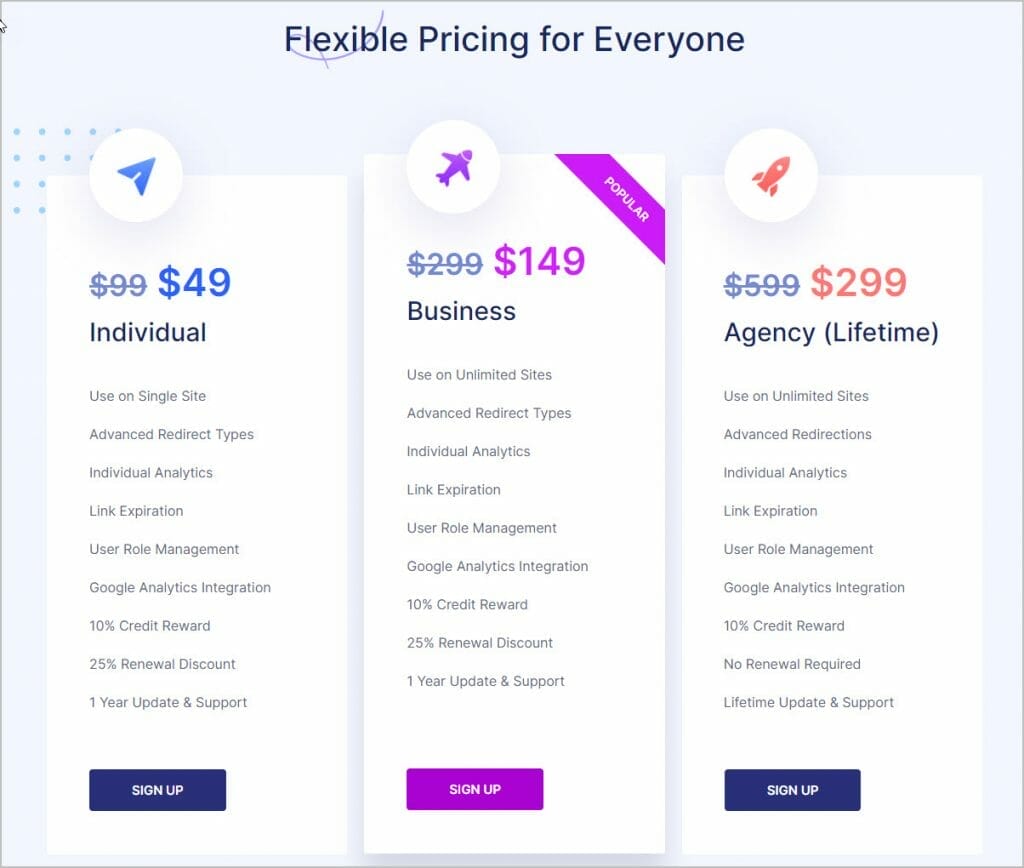 Pro Features
I've enabled the pro version on the testing website. Let's take a look at those features.
General Settings Tab
The last option is on this page is for forcing HTTPS for target URLs. I guess you would use this if you had old HTTP links and this would save you finding and updating them.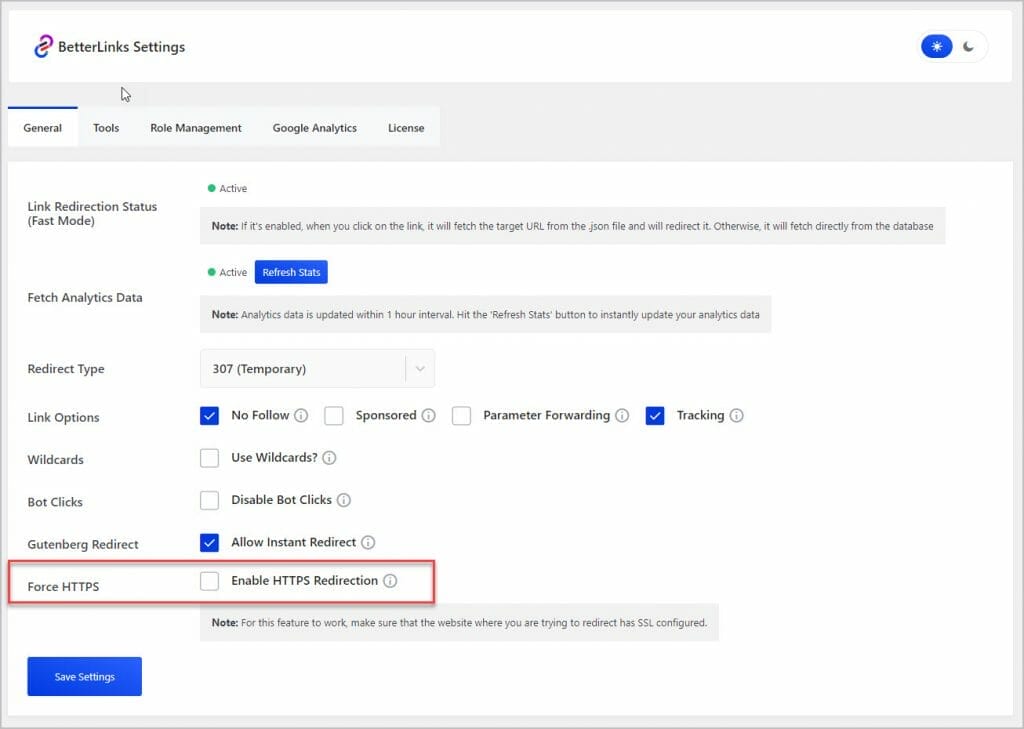 Role Management Tab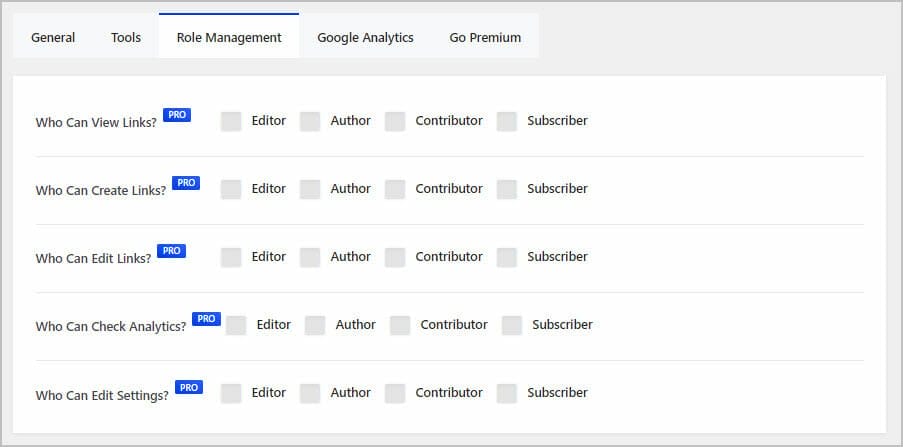 The Role Management tab is a pro feature for enabling or limiting users ability to edit links, for example, in the Gutenberg editor. This is useful on a site where you have multiple contributors.
Google Analytics Tab

Google Analytics integration is another pro feature. With this enabled, and after you add your Google tracking id, you will be able to track your link clicks in Google Analytics.
UTM Builder Templates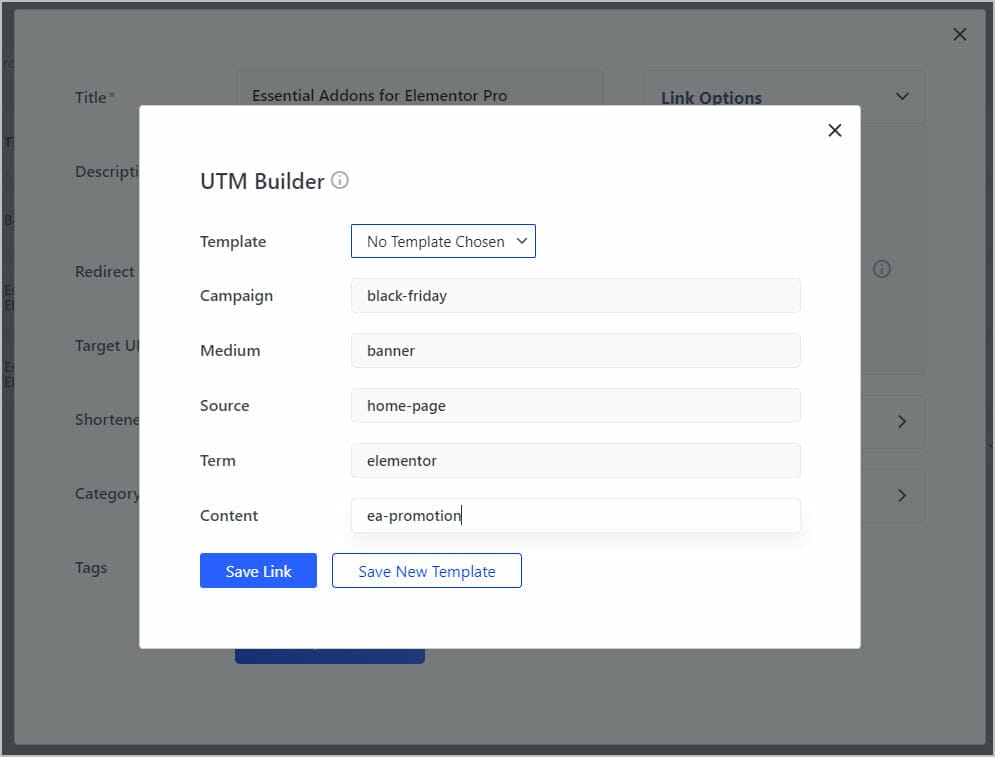 With the pro version installed, you have the option to save your UTM parameters as a template to use as a starting point for later. When you click the Save New Template button you get a text input field where you can add the name. Click on the check to save.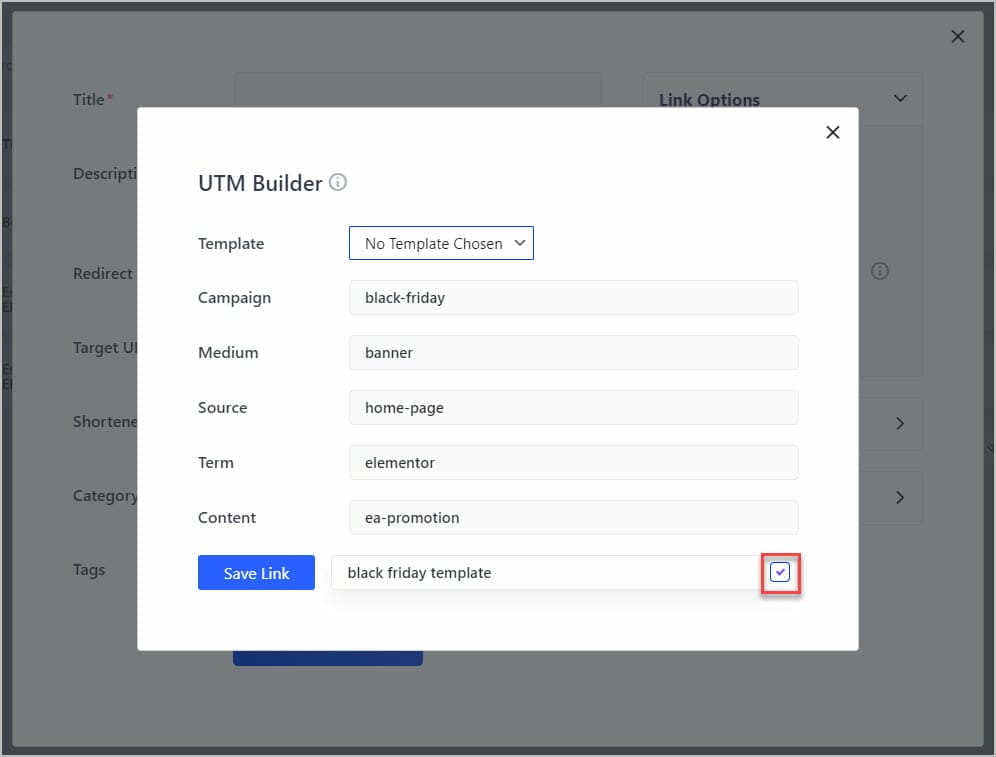 After that it is available to pick from the dropdown.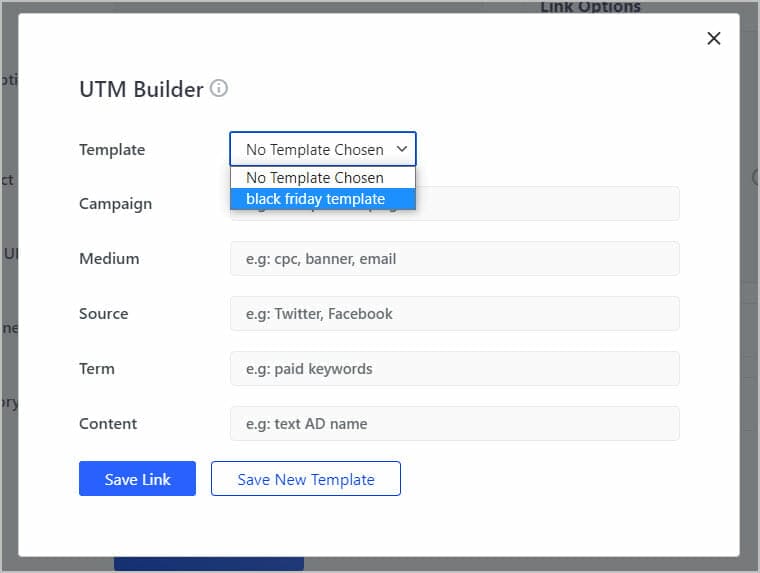 Social Share Builder
The pro version also give you the option to create a social share link. You access this to the right of the UTM builder, next to the target URL input.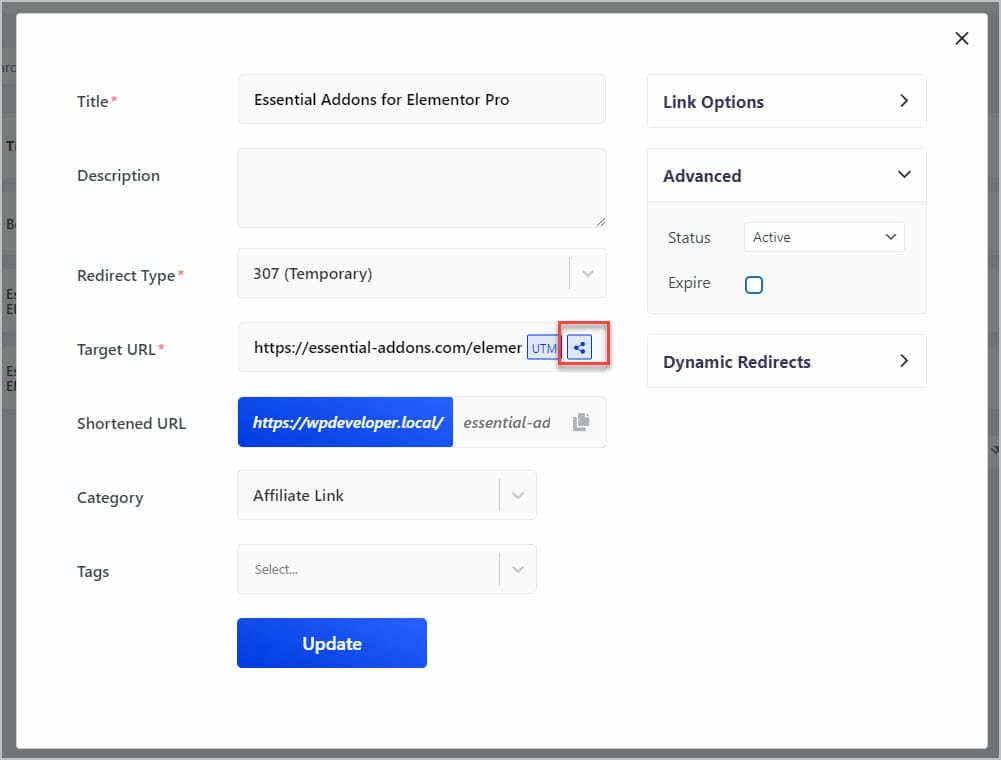 When you click on that then you get a bunch of social share options.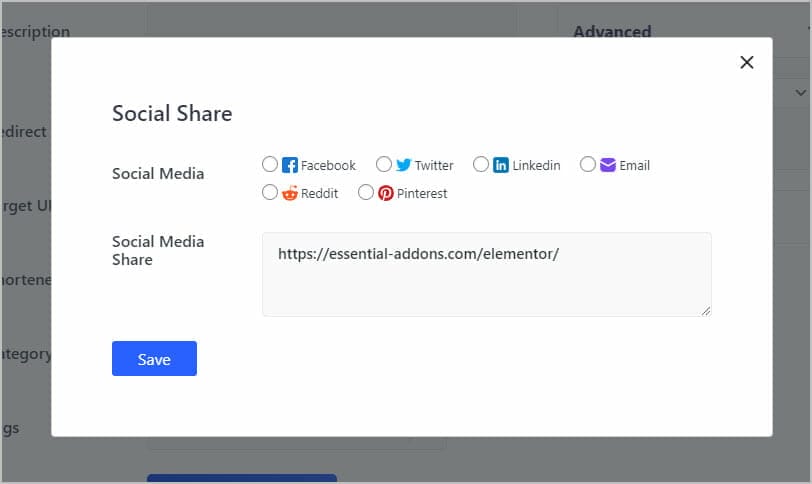 For example, I picked Twitter and filled in some of the parameter options.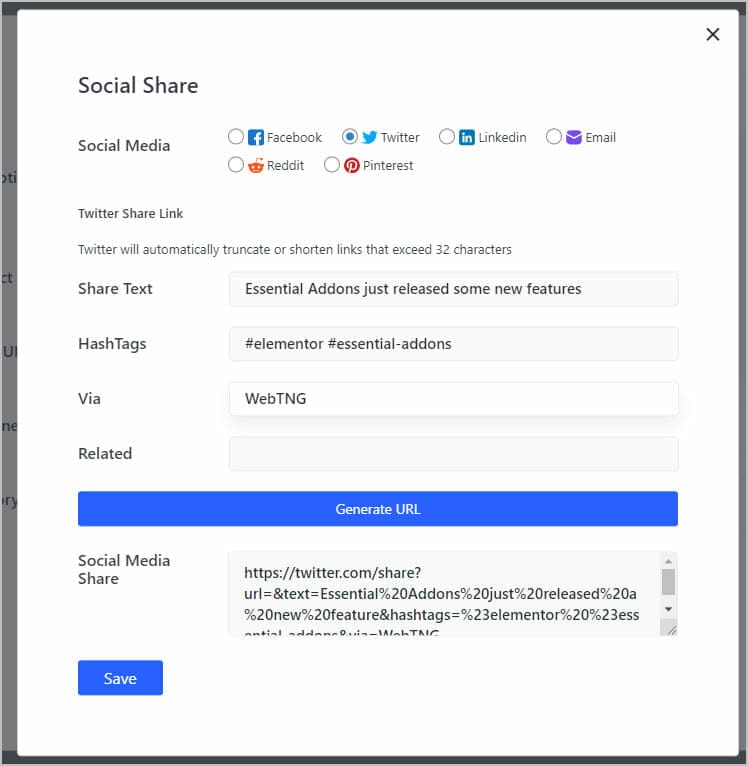 You have to save this dialog and then save or update in the create link dialog. The you could copy the link and you could create a "Share on Twitter" button.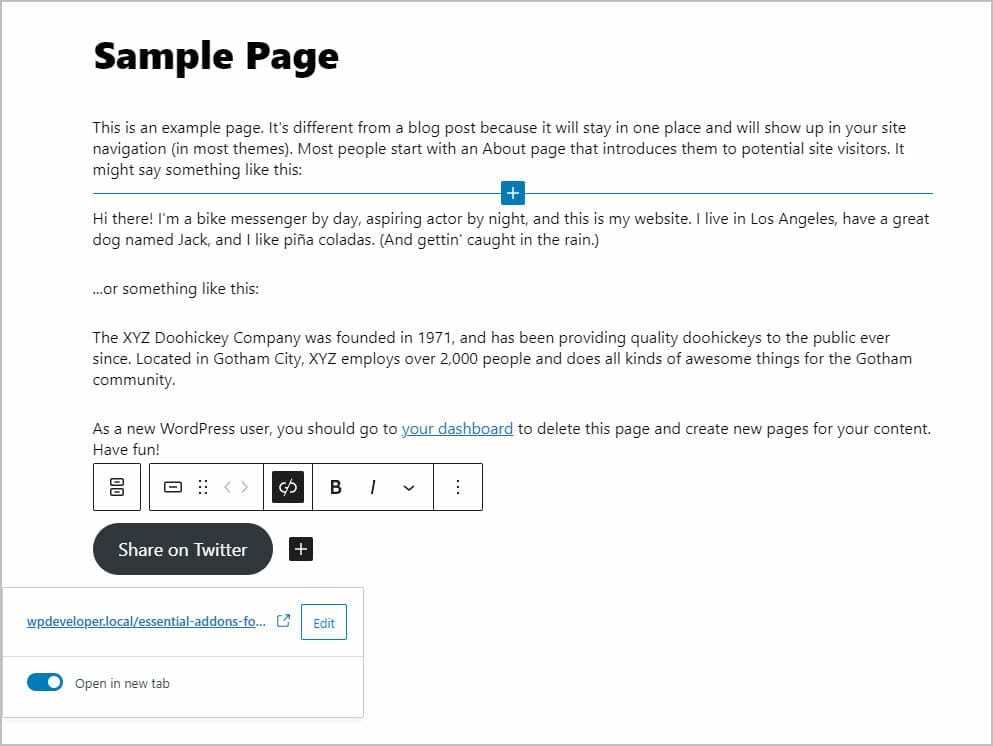 Here is the share button on the front end.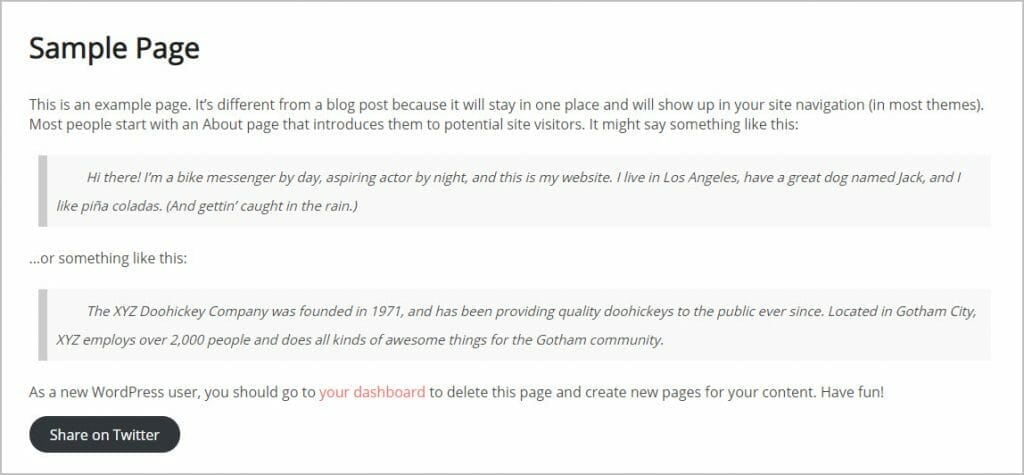 When you visitor clicks the share button they are taken to Twitter, prompted to log in if they are not already, and the tweet options are filled in.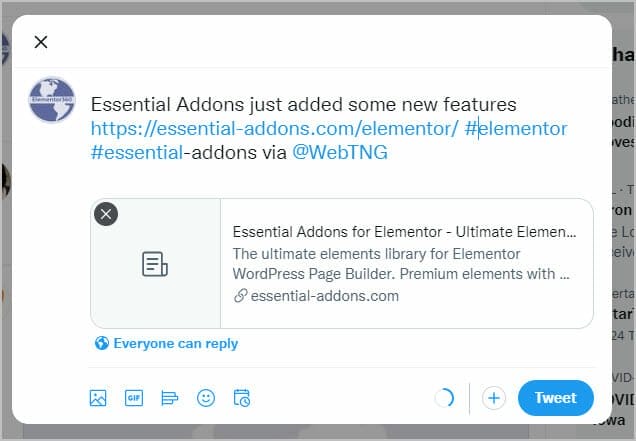 I think this option to create a social share has some promise, but you probably want to experiment to get the links and parameters right. For example, you might want the target link to be one of your site BetterLinks so the link that ends up being shared on Twiiter has your information, if that is important. Definitely test this out and get it right before sharing.
Link Creation Advanced Options
There is an advanced panel in the link creation dialog. You can set the status of a link at Active, Draft, or Expired.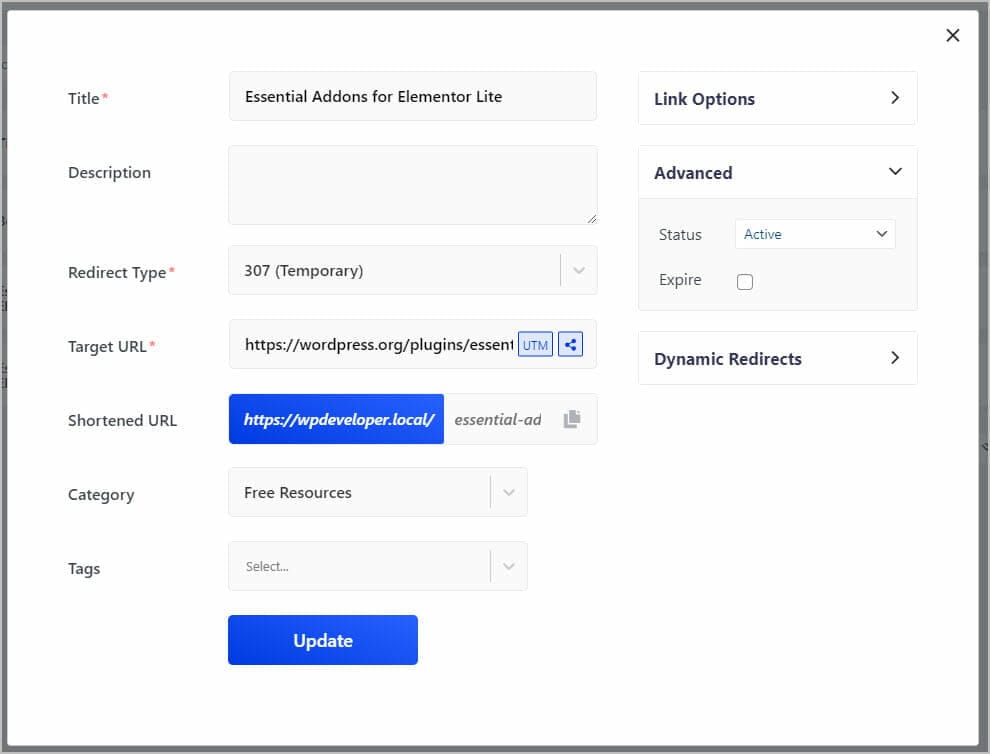 There is a cool option to expire a link in the future. If you check the Expire checkbox then you get a dialog to set a date and time for the link to expire. You can also select a link to redirect to after expiration. This is nice for announcement posts or sales where you want to send the user to a special page, but after the event go back to a default.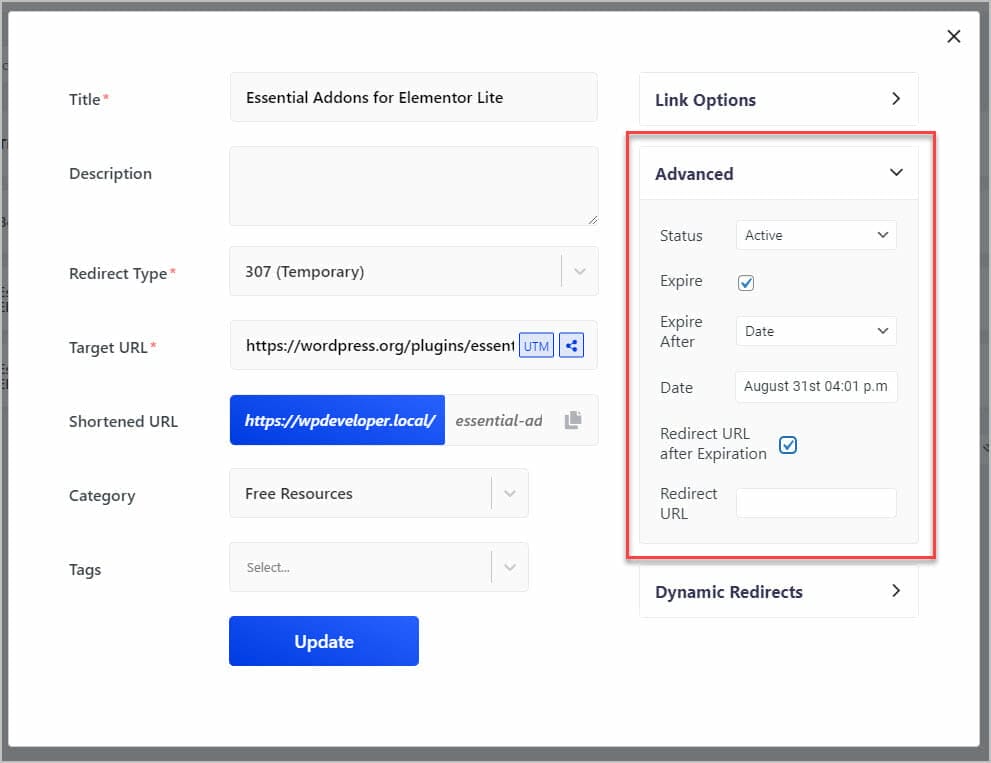 Link Creation Dynamic Redirects
Dynamic redirects are an advanced feature that allows you to have your Shortened URL direct to more than one Target URL. These seem similar to advanced features found in PrettyLinks Pro.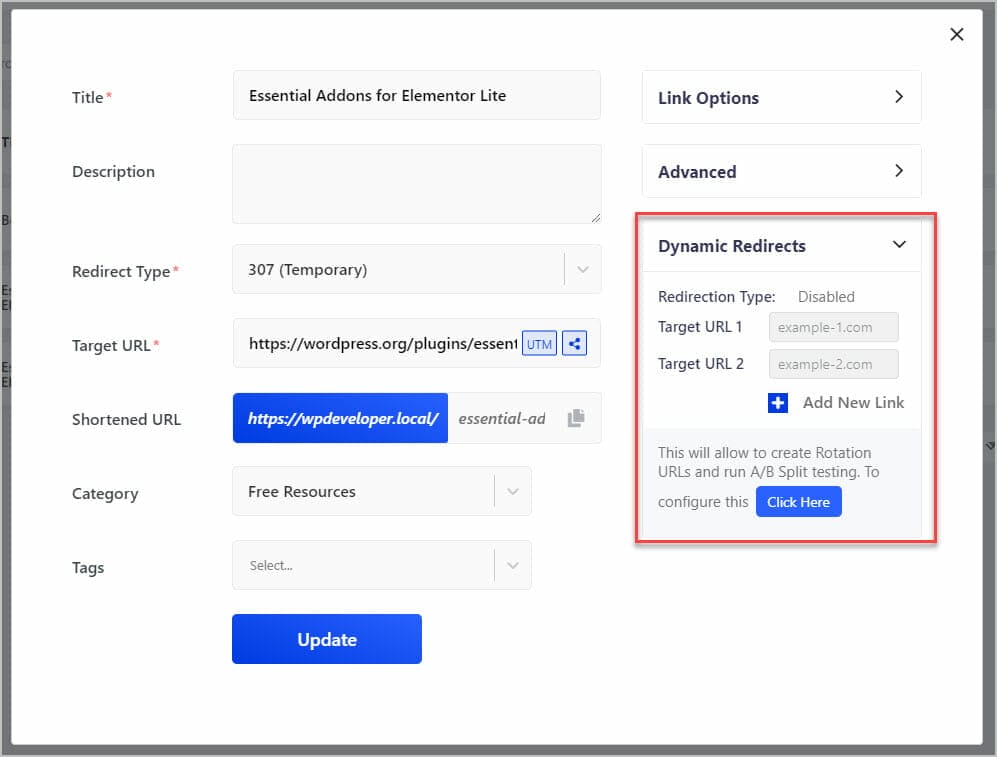 When you click the blue button you see the dynamic redirect options.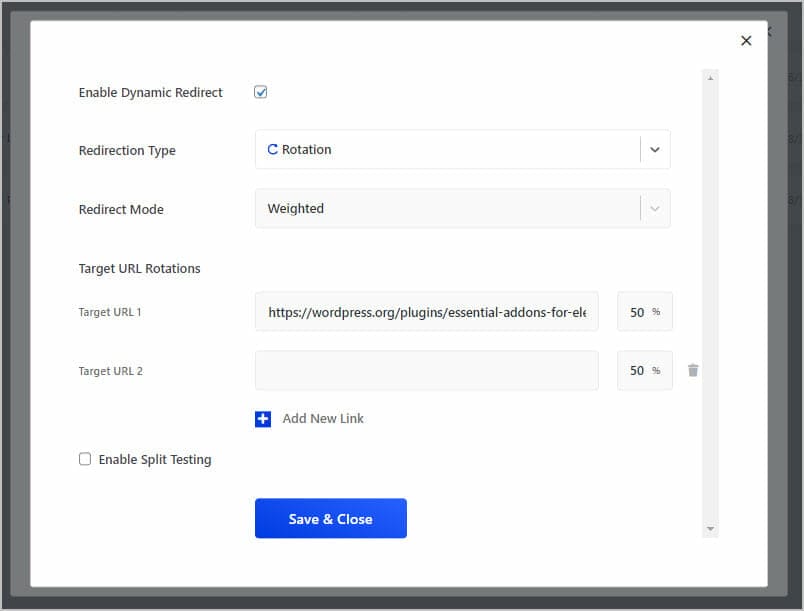 There are several Redirect Types: Rotation, Geography, Device, or Time.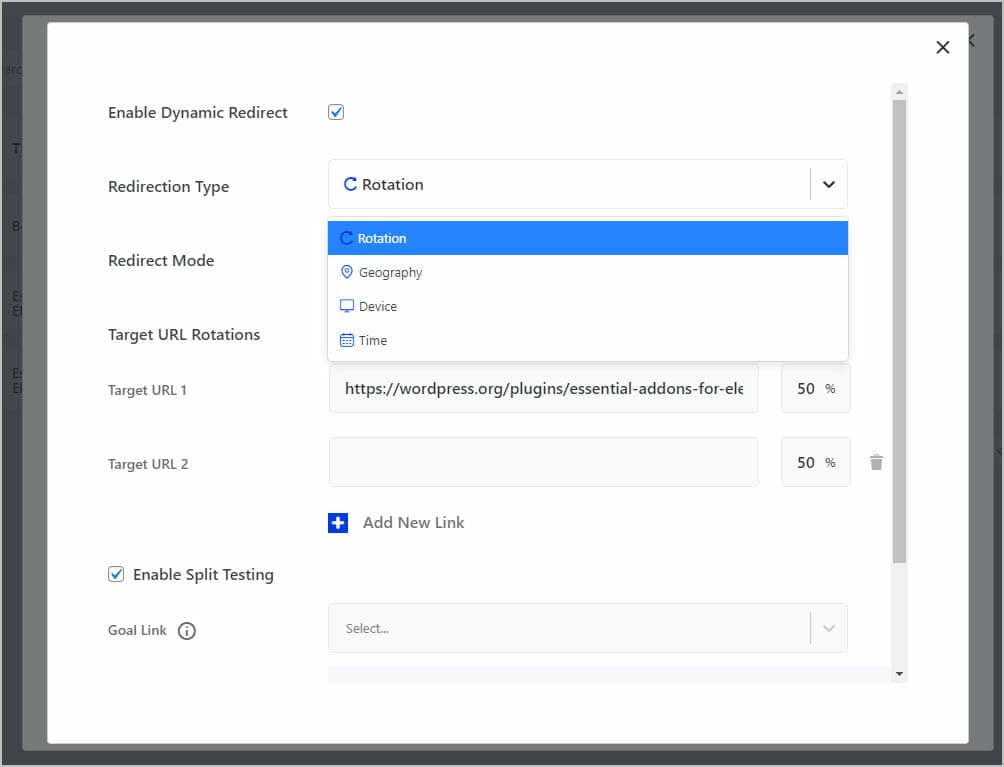 Your Redirection Mode can be Weighted or Random. Note the percentage input box to the right of the target URLs. You could use this if for example your site had more than one contributor and they each had their own affiliate IDs.
If you pick Geography then you can set the link options by country.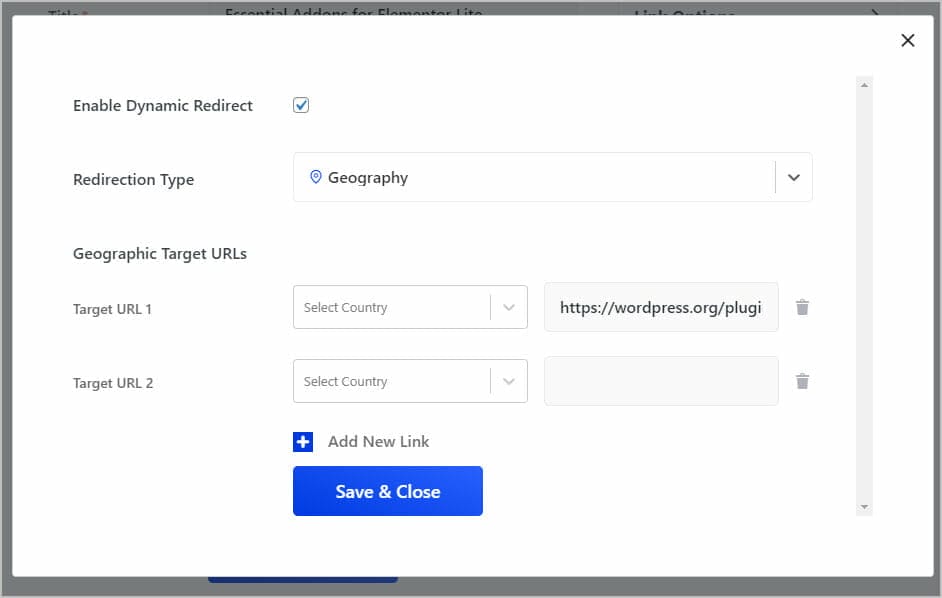 The Device option lets you set your redirects based on the user device.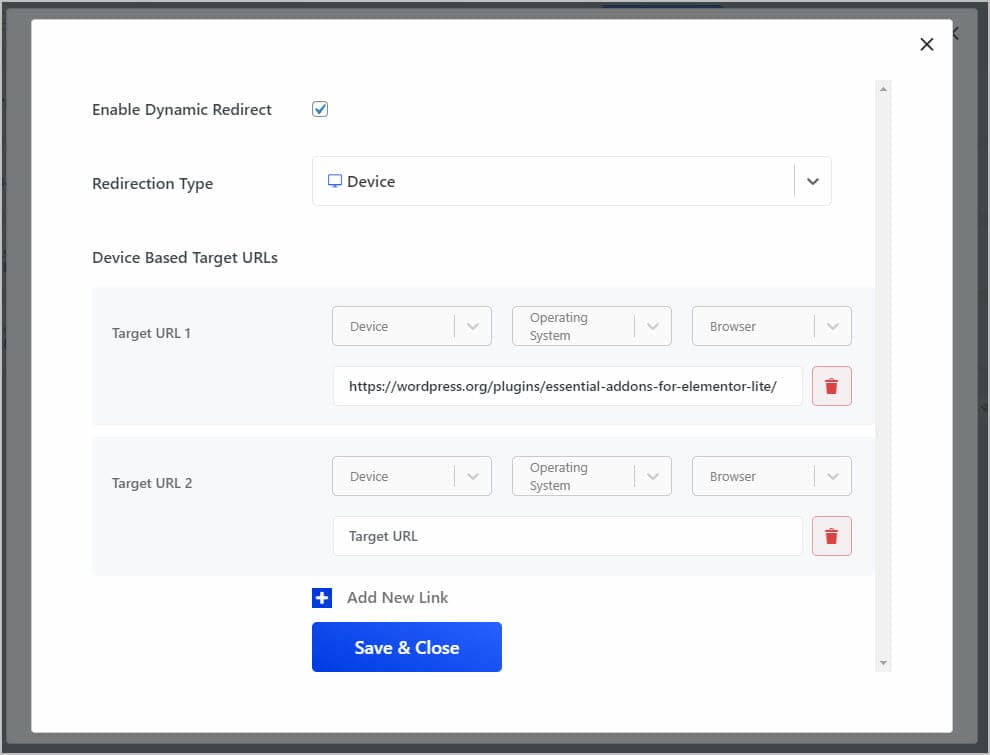 And the Time option lets you set redirects based on date and time ranges.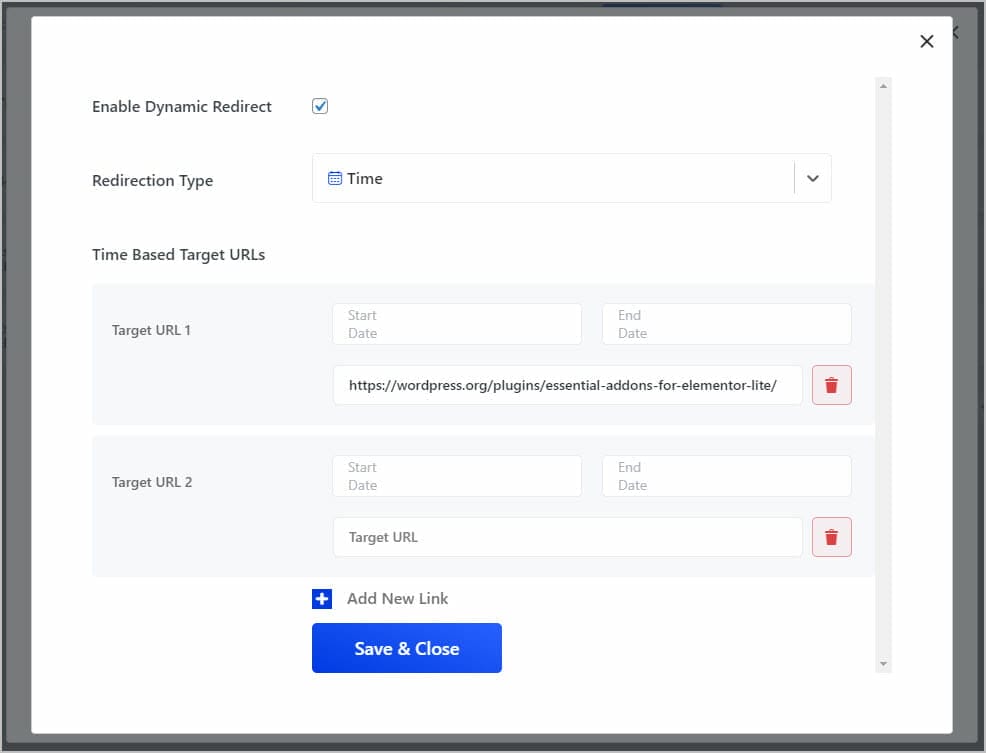 When you click to enter the date then you get a popup to select the time and date.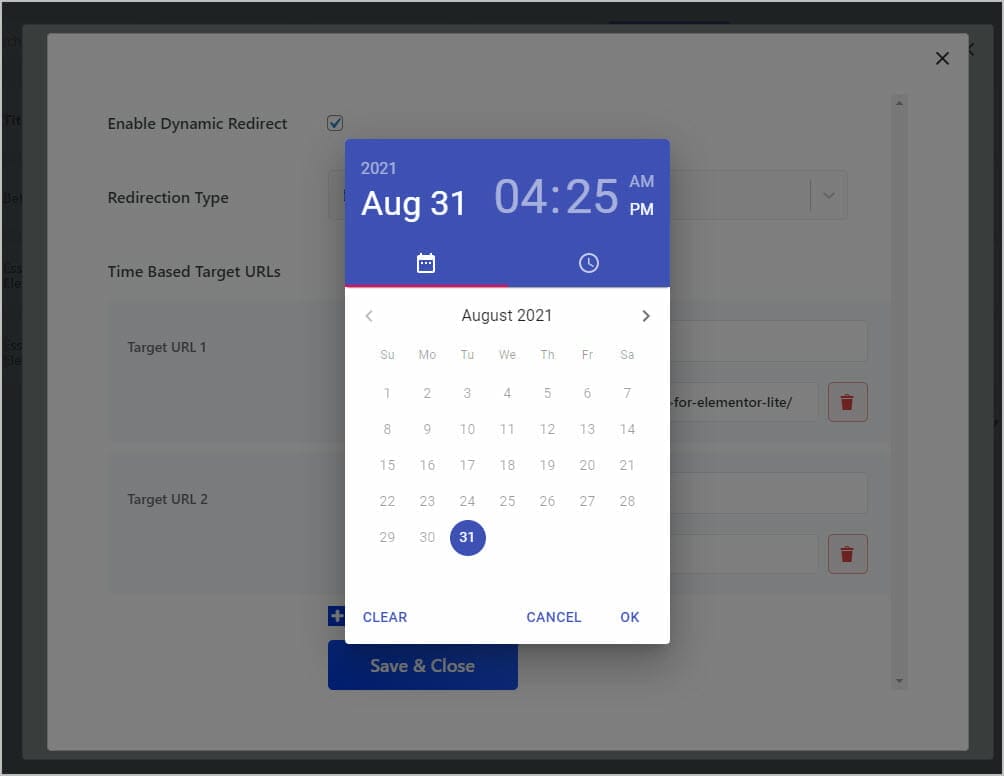 For A/B split testing, you would create a top level link, two offer pages that you want to test against each other, and a final goal page. The top level link will be split between the two offer pages. You can check in the analytics area to see how the offer pages were doing.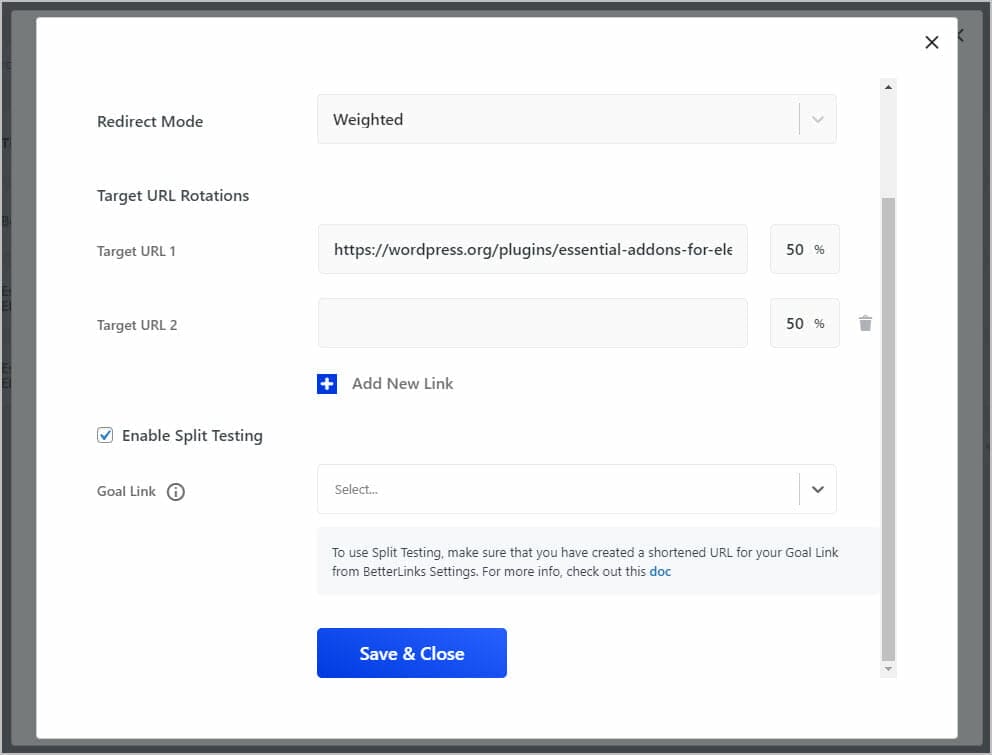 Discussion and Conclusions
As we have mentioned, there are a number of advantages to using a link management plugin. The BetterLinks free version covers all of the basics:
You can manage outbound links from a central location.
You can shorten links to make them easy to share
Set default link attributes that will be added to your outbound links automatically.
You have stats to track link clicks.
If you are doing affiliate marketing then you can use the shortened link so your affiliate ids aren't indexed by search engines.
For simple link management many people will be able to get by with the free version.
I did notice a few things to keep in mind when considering BetterLinks.
There is an option to add tags, but I didn't see how we could use them. Maybe that is a future feature?
I tried creating a BetterLink shortened link that was the same as a page on the site, "sample-page" for instance, and there was no check to prevent a duplicate permalink, which would be an issue. Until such a dupe check is added, you should be careful when creating links.
The social share builder looked interesting, but I think there could be more detailed documentation to show how to use it so users wouldn't need to resort to trial and error.
It would be good if there were more migration options for people switching from other plugins.
I like that there is a lifetime option and I see that the packages are currently discounted, but the non-discounted prices seem a bit high to me.
As I mentioned in the introduction, I was looking to move from the old Simple URLs plugin. A nice thing about BetterLinks is that many of the additional features I gain are the types of things I would likely use. In the free version I liked how simple it was to use link categories. The UTM builder could be useful for people who want to track links in Google Analytics. The documentation is pretty extensive.
In terms of pro features, the role management feature would be good for sites where there are multiple content creators. I was really happy to see the advanced expire redirect option. More than once I've shared a limited time deal only to find much later that Google had indexed it and people were still visiting after it was expired. It is nice to be able to redirect the visitor to a current page. The Dynamic redirect options are an advanced feature providing conditional link options and A/B testing.
All in all, I'm happy with the functionality that BetterLinks free and Pro provide and it will be a good upgrade for people like me who are moving from a simpler option.