Introduction
Brizy is a website builder for WordPress. Brizy promises a lot — to be easy to use, to be able to easily create stunning websites, and to provide the advanced features that site builders expect in a top-class page builder. When Brizy was first released it created a lot of buzz because of the innovative way it approached page building and it created a lot of buzz again with the introduction of Brizy Cloud. However, Brizy has been dogged by long standing bugs which turned off a lot of people. Recently version 2 was released and the Pro version of Brizy has just come out of beta. Many people wonder what they can expect from Brizy now and wonder how Brizy stacks up against other popular options? So in this article I'll briefly look at the Brizy timeline and then highlight some of my favorite features.
Video Version
The Journey So Far

When Brizy free first launched in the Spring of 2018 there was a lot of excitement. Brizy has a number of innovative features and it is easy to use. Also, unlike Beaver Builder Lite, the free version of Brizy is very generous and provides functionality that is often only found in Pro versions. This makes it more like Elementor, which also has a generous free version.

The beta of Brizy Pro launched in August of 2018 and was offered as a lifetime, early adopter deal. It was thought that Brizy Pro would come out of beta in several months.

The Brizy team was on a roll, every few weeks they introduced new features, often with innovations or easier ways to get things done. For basic site building, Brizy was working great. However, advanced users noticed that bugs were not getting fixed. Some people also had trouble getting support.

In the Spring of 2019 the Brizy team launched a new product, Brizy Cloud. In another stroke of genius, the team brought the same user interface and builder, that was so innovative and easy to use, to a hosted cloud platform.

As you can imagine, there was again a huge interest in Brizy, but there was also a great deal of confusion on the difference between Brizy WordPress and Brizy Cloud. Some users who had wished that existing bugs would be fixed, felt that the Brizy team was over-extended. Some major bugs still weren't getting fixed.

It was not until Spring of this year that we started to see major bug fixes. About the same time, there have been a large number of videos added on the YouTube channel and Brizy support has been very active. Then after a long beta, version 2 of Brizy Pro was released on July 30th, 2020. It seems that the Brizy team has gotten their magic back and that with the launch of version 2 everything finally came together. There was never a "version 1" of Pro, but the team felt that there had been so many features added that it seemed more like a version 2 than a version 1. So, about two years after its initial release, Brizy Pro finally came out of beta. Not only were there a number of bug fixes, but also some more amazing features were added.
Now people wonder, what is Brizy Pro 2.0? What can users expect? What are these "innovative features" I keep mentioning, and what are the limitations, if any?
My Favorite Features
The Brizy Builder Is the Same in WordPress and Cloud
There is a free version available in the WordPress plugin directory and a Pro version available from the Brizy website. Brizy also has a cloud option, which is a hosted solution, with no WordPress installed, but that uses the same UI and builder as the WordPress plugin. Brizy WordPress and Brizy Cloud are two separate products, though they can work together.
The Brizy Builder is the user interface of the Brizy editor. Here is a screenshot of the Brizy Builder for WordPress. Note that everything is tucked out of the way so that you can focus on the content.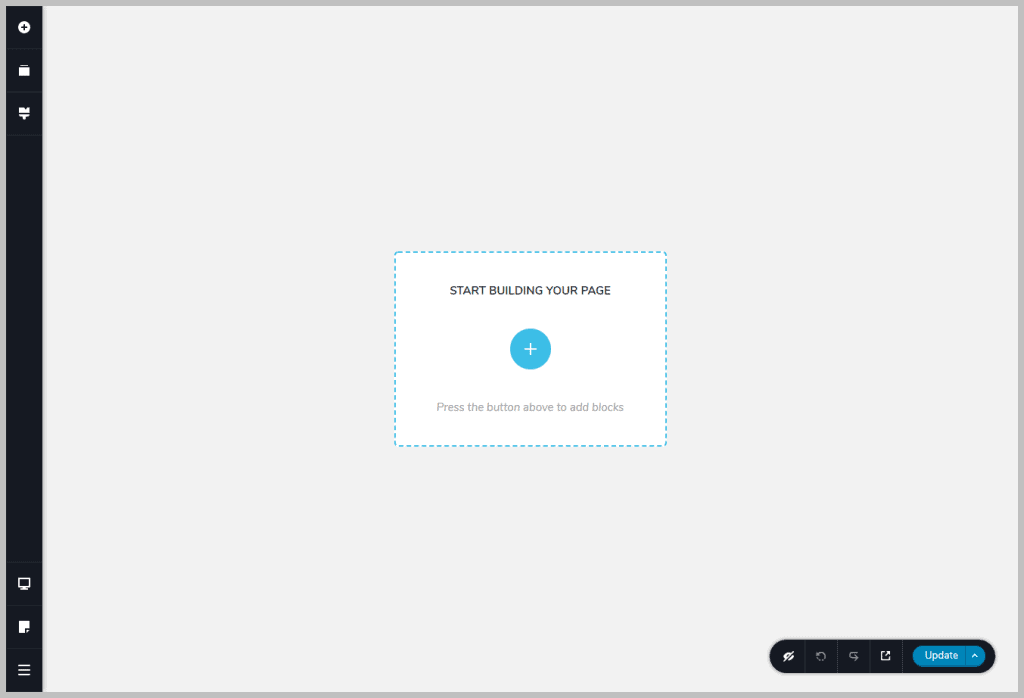 Now, here is a screenshot of Brizy Builder for Cloud. You'll notice that it looks almost identical to the WordPress version. That is because the two platforms, WordPress and Cloud, share the same builder! This is an innovation and I don't know of other WordPress builders with an almost identical cloud option.
Although this article is about Brizy WordPress, there are some aspects of Brizy Cloud that are relevant.
Brizy Cloud
When you purchase an annual subscription to Brizy WordPress you get unlimited Brizy Cloud and unlimited domain hosting for as long as your subscription is active. When you purchase the lifetime Brizy WordPress package you get unlimited Brizy Cloud and domain hosting for 2 years. After two years the Brizy Cloud subscription price is very reasonable, should you want to host custom domains with Brizy Cloud. What does that mean? With Brizy Cloud you can host sites, landing pages, and popups using the URL they generate for you. For example, "https://coconut123.brizy.site/". This type of URL is fine for hosting landing pages and popups and it is included with an annual Brizy WordPress subscription or for life with your Brizy WordPress lifetime purchase. However, many people will want a domain URL like "https://www.mysite.com" and that is what I mean by domain hosting. If you have an active annual Brizy WordPress subscription, are in the first two years of your lifetime plan, or purchase a cloud plan, then you also have the ability to host domains in Brizy cloud. Either way, with a generated URL or your own domain, there is a lot of value with Brizy Cloud, and that is something that people should take into account when evaluating the product.
Also, with Brizy 2 there are now options to sync Brizy Cloud and your Brizy WordPress sites, for things like reusing templates on more than one site. There is also the ability to export pages and sites from Brizy Cloud to static HTML for hosting without the security and update worries of WordPress. These are innovative features.
Resize by Dragging
There are a large number of elements. Brizy free comes with 18 content elements, a row and a columns element, and a sidebar and shortcode element. Brizy Pro comes with 28 elements, the row and column elements, elements for Facebook, Twitter, and Comments, as well as theme builder elements that include Sidebar, Shortcode, Posts, Breadcrumbs, Post Title, Post Excerpt, Post Content, Post Info (meta), Post Navigation, and an Archive element. There are also 4 WooCommerce elements that are available if WooCommerce is installed.
I'm going to start out by adding a row with two columns. To do that, I click the blue circle plus button and select the blank block (#8 above). Then after that has been inserted, I click the blue circle button in the new single column block. This opens the list of all of the elements that you can add to the page. An "element" is the same as a "module" for Beaver Builder or a "widget" for Elementor.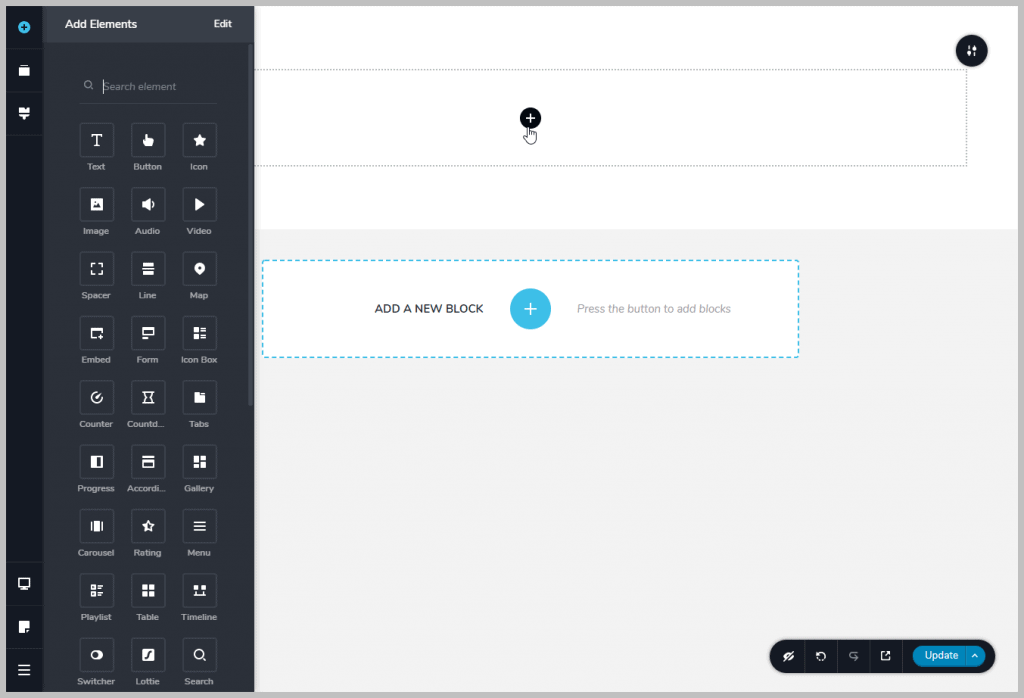 To add a row with 2 columns, I scrolled down the list of elements and then dragged the row element into the single column in the editor. When you do that you get a row with two columns added.

In that screenshot the gray up-arrow icon is how you access the row settings and the blue up-arrow icon the column settings. Note the drag handle in between the two columns. You can drag that right or left to resize the columns. That is very similar to column resizing in Beaver Builder and Elementor. However, in the two screenshots below, note that it shows the spacing above and below the row also. You can click down, hold, and drag to resize that space also. This is another innovation. With Beaver Builder and Elementor you adjust that by entering numbers into text boxes.


Design Library
When you click the blue plus button in the middle of the page you get a popup with a number of block and layout options. This is similar to Beaver Builder and Elementor.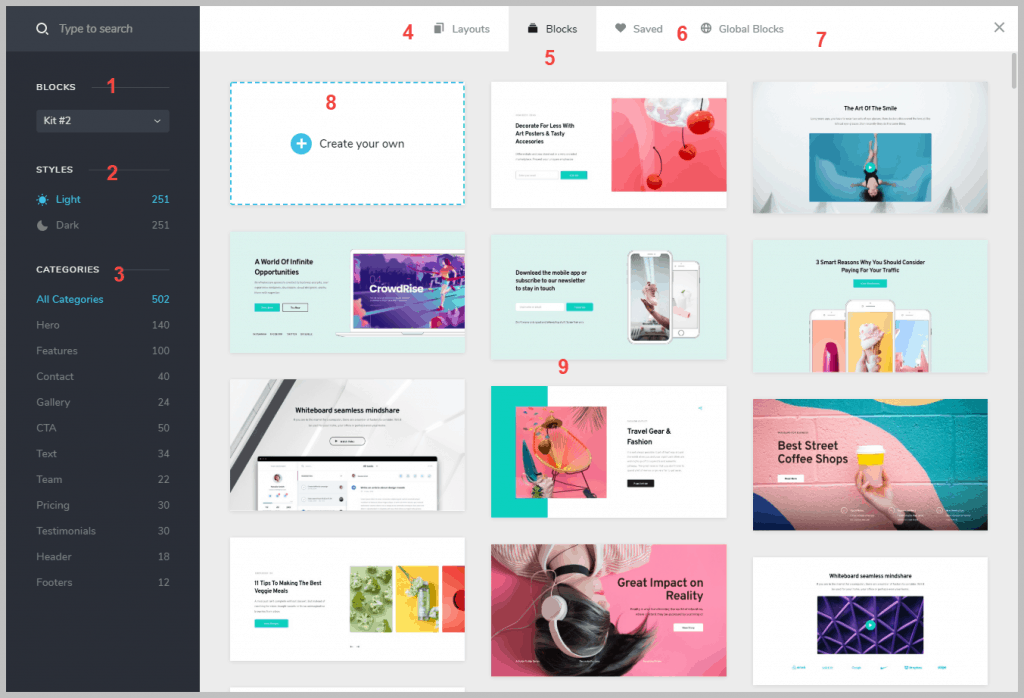 Brizy comes with two design sets. The original Kit #1 and a newer, more stylish Kit #2. You can toggle between them here.
All of the blocks come in a light or a dark version.
The blocks and layouts are categorized for easy searching.
Layouts are full pages and many of the layouts include multiple pages.
Blocks are the building blocks of a page and this is the library of pre-designed blocks.
Where you find blocks that you previously saved.
Blocks that you marked as global. A global block is one where if you change it in one place where it is used, then the changes are reflected in all other places where it is used.
This is how you start with your own block. Clicking it will insert a single column block.
These are the pre-designed blocks that you can browse through and add to your page.
Image Element Flexibility
I add an image to the left-most column and click on it. Note the blue dots. You can use those to resize the image by dragging. There is also a context menu to that shows below the image element.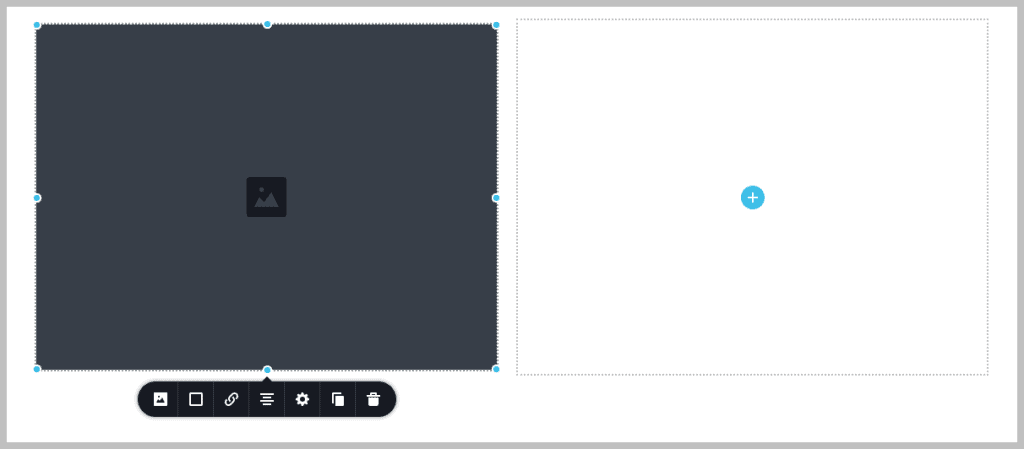 From right to left, the first icon is where you access the image options. If you click on the cloud icon you go into the media library. The database icon to the right of that is where you can chose dynamic data. There is a tab at the top for image filter options, as well as options to open the image in a lightbox and zoom in.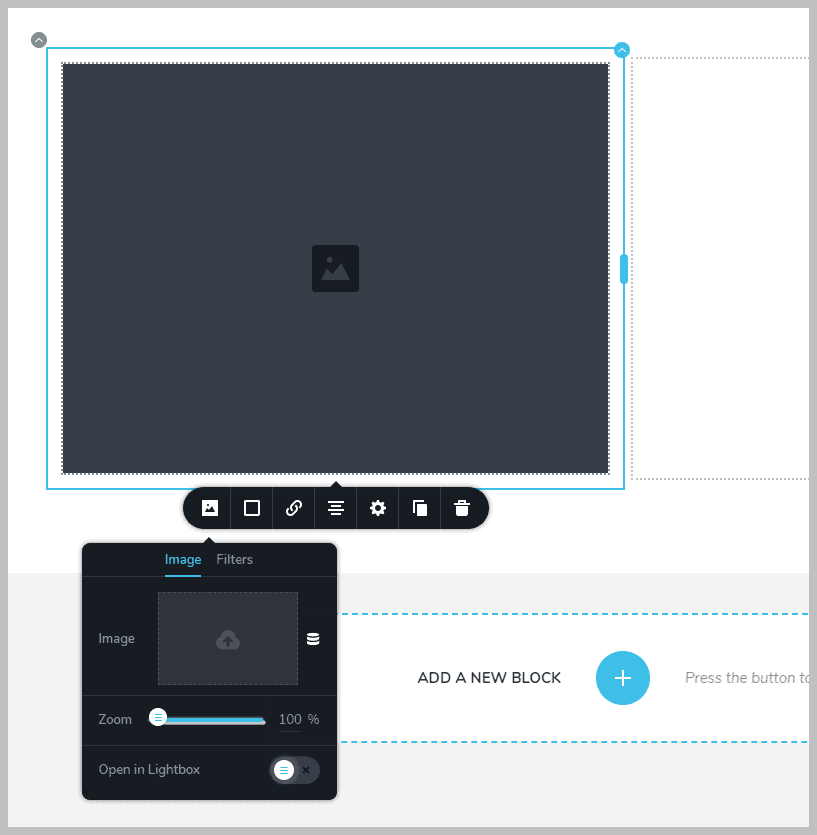 Then there are color options for border and shadow. On the left, the second tab is for hover or active settings.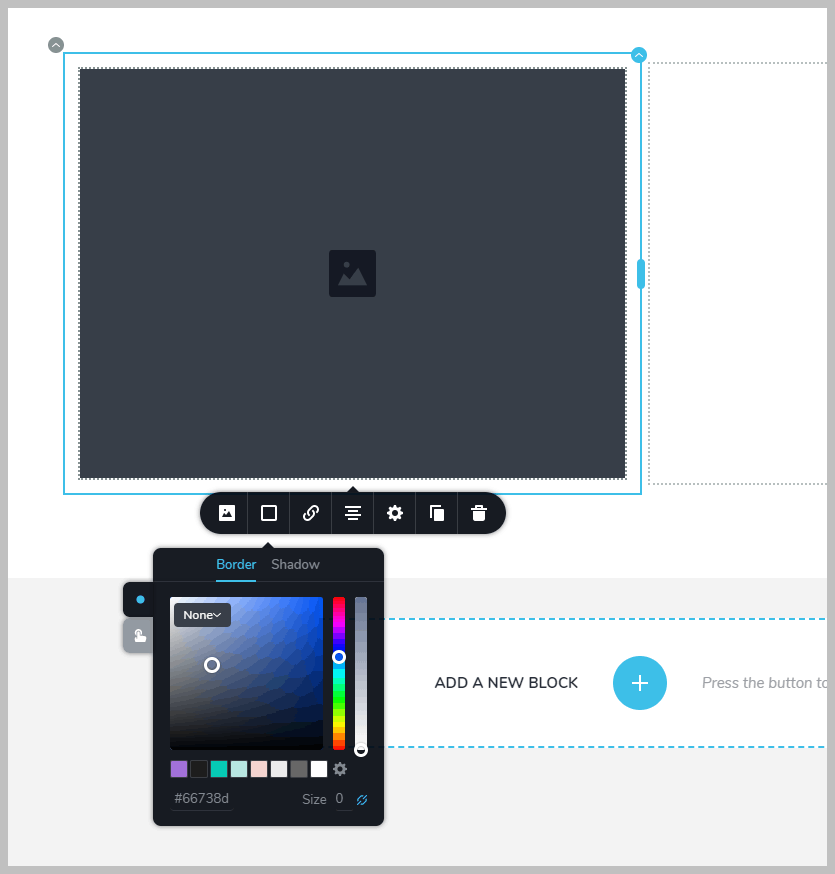 The third icon is the link options. You can apply them to the image or the block. There is also an option for triggering a popup. That's right, you don't have to use a button to trigger a popup. You can use any element. This is another innovation.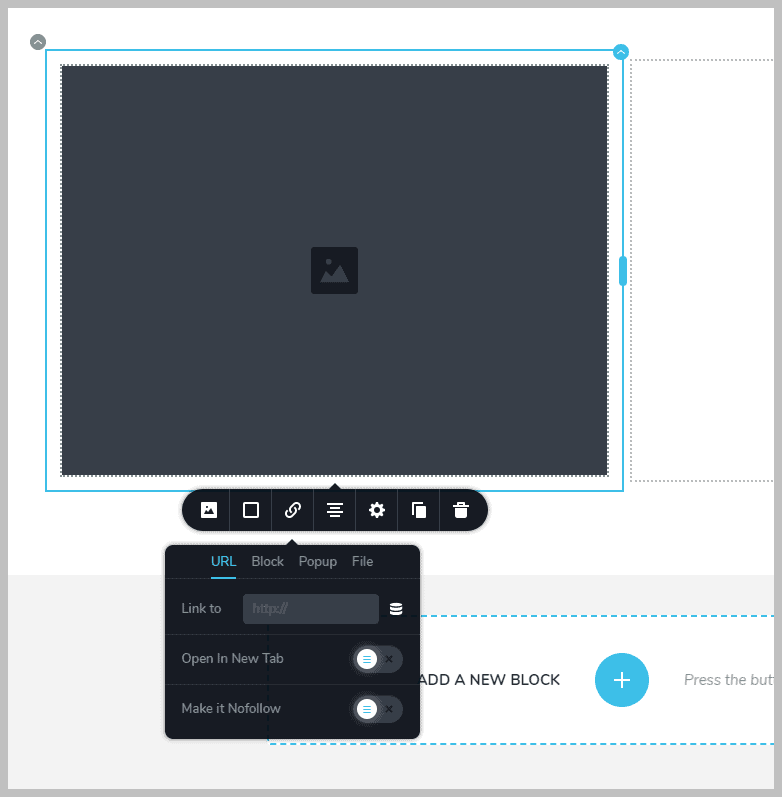 There is an alignment option where you toggle through the settings. Then settings (gear) option where you can adjust the height and width. The more settings option below that opens a panel on the right side.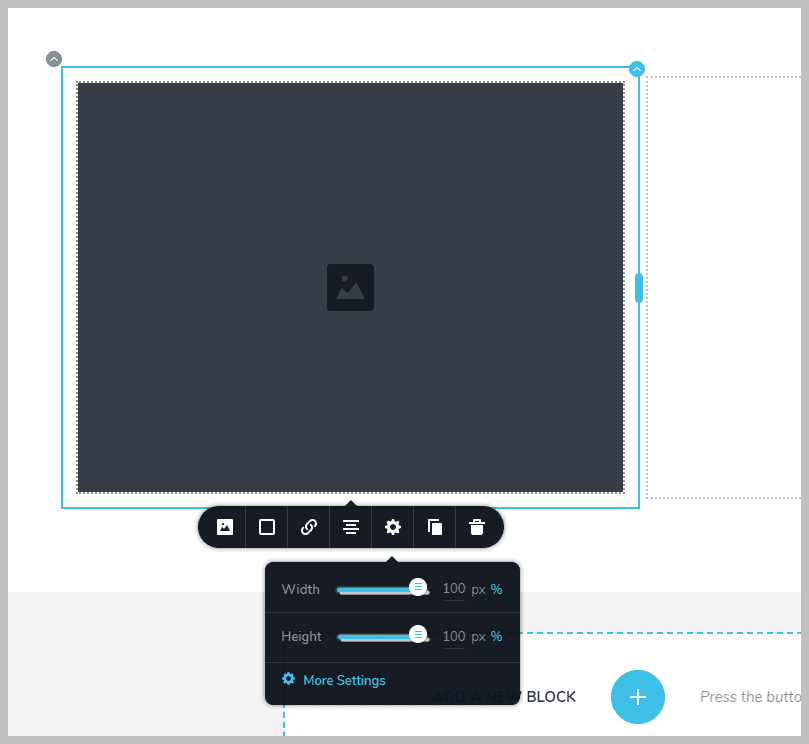 All of the elements and columns have these styling options for padding, margin, shape and position.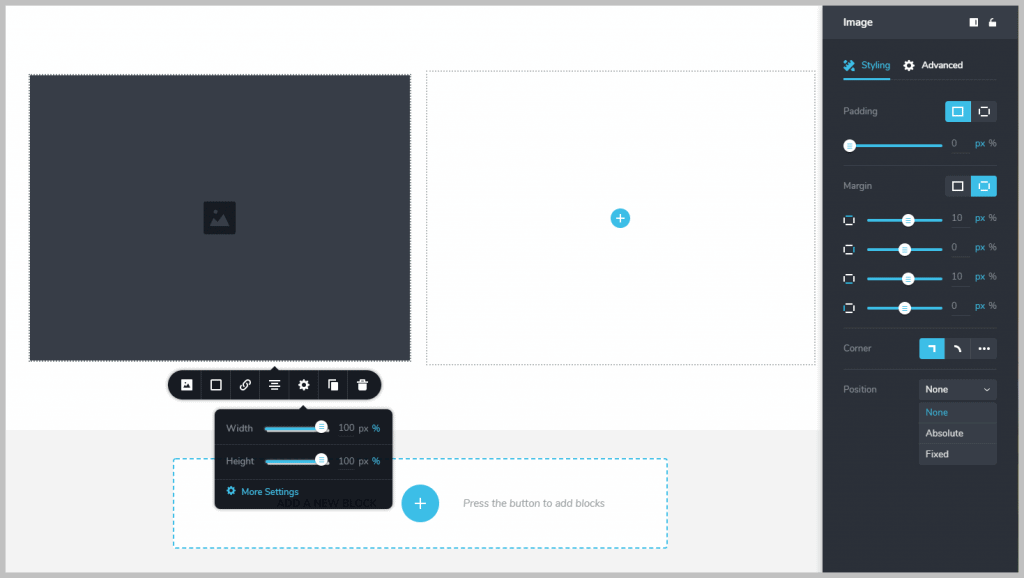 On the Advanced style tab there are options for z-order, to add a custom ID or CSS class, set an entrance animation, and a hover transition.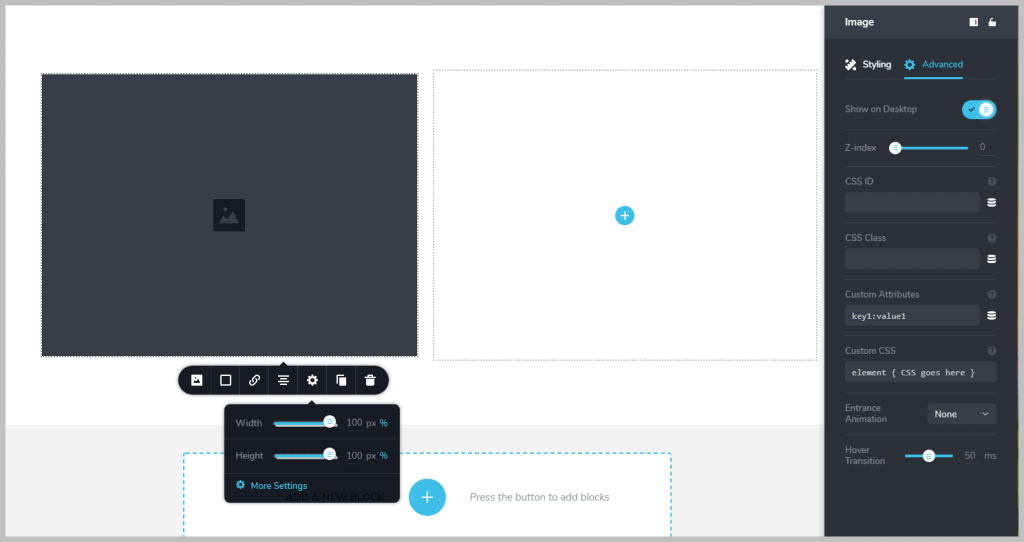 I added an image. Note the blue dot in the middle. You can use that to reposition the center focus for the image.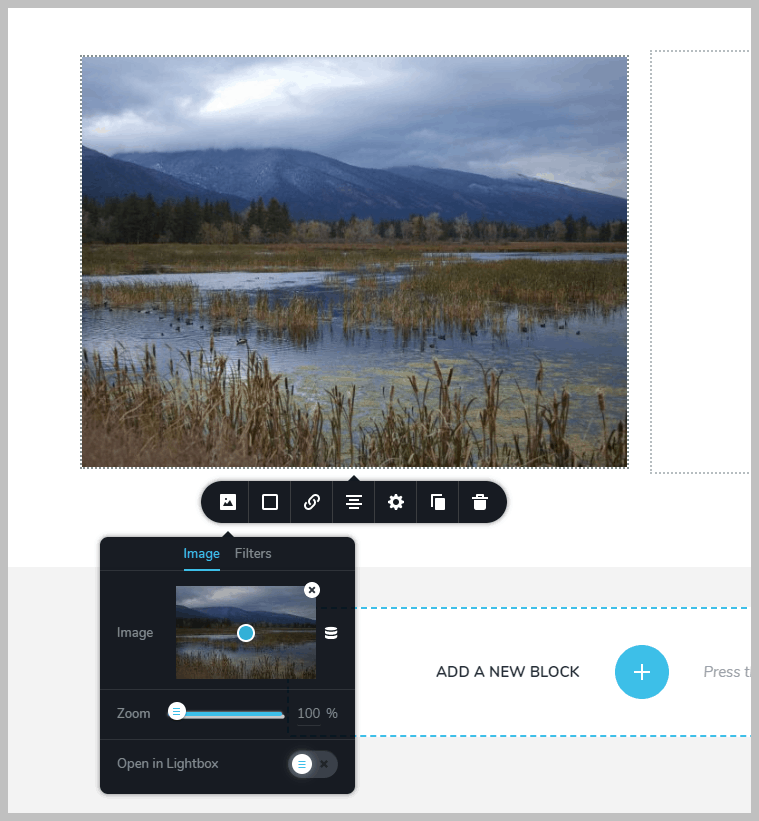 I moved the center focus and zoomed in, as shown in the screenshot below. This is another innovative feature.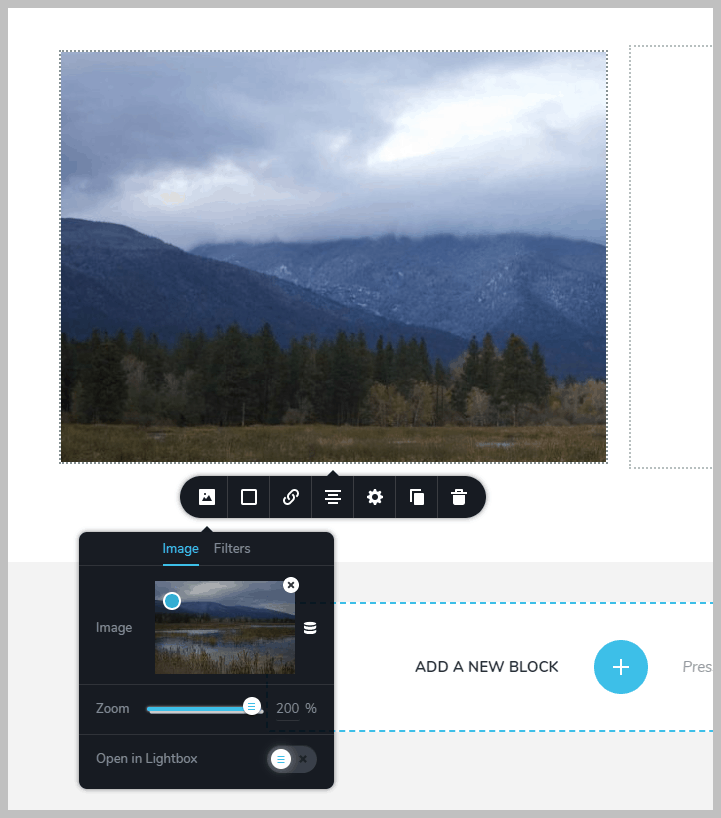 In-Place Text Editing
When you add a text element you edit the content in place. This is easy and very natural.
I added a title into the column on the right side by using the Text element. I then added another text element for the content.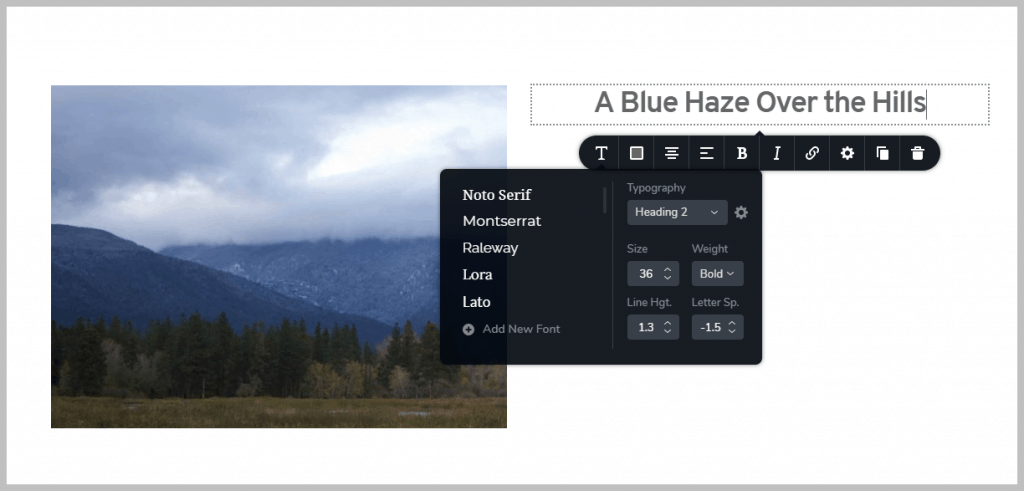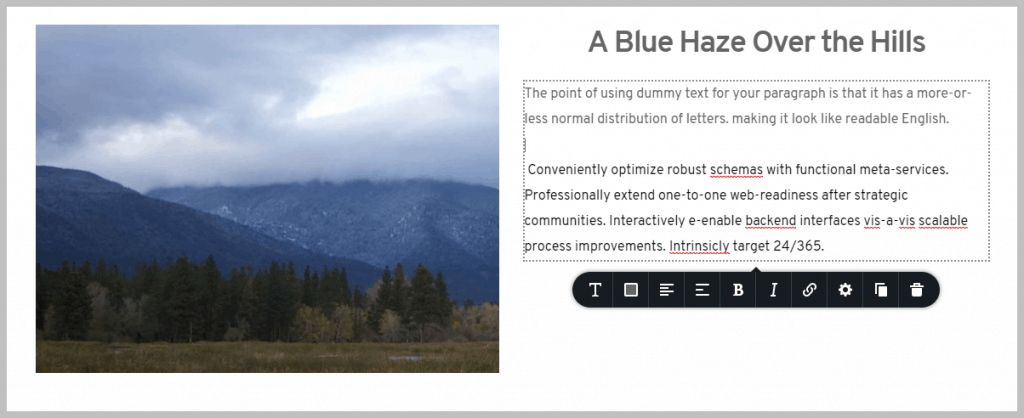 Here is a text module in the Beaver Builder editor. Adding content into a small text box is awkward, especially if it is more than just a bit.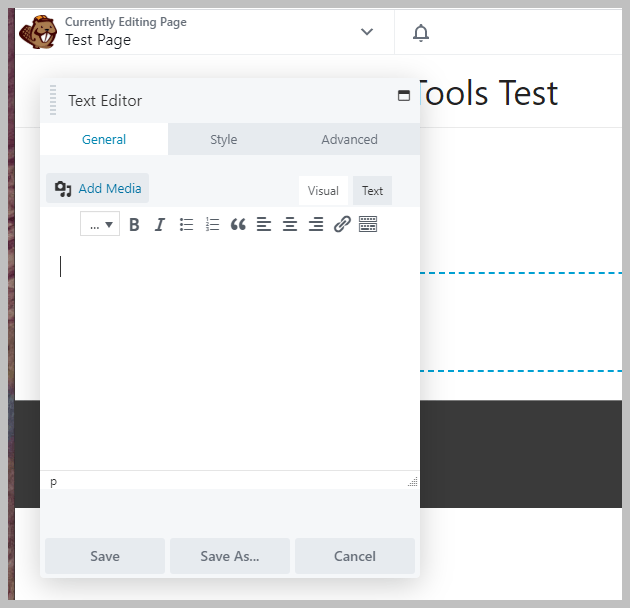 Here is a text module in Elementor. Though you can edit text in-place in Elementor, is doesn't feel natural.

I added a button under the text element.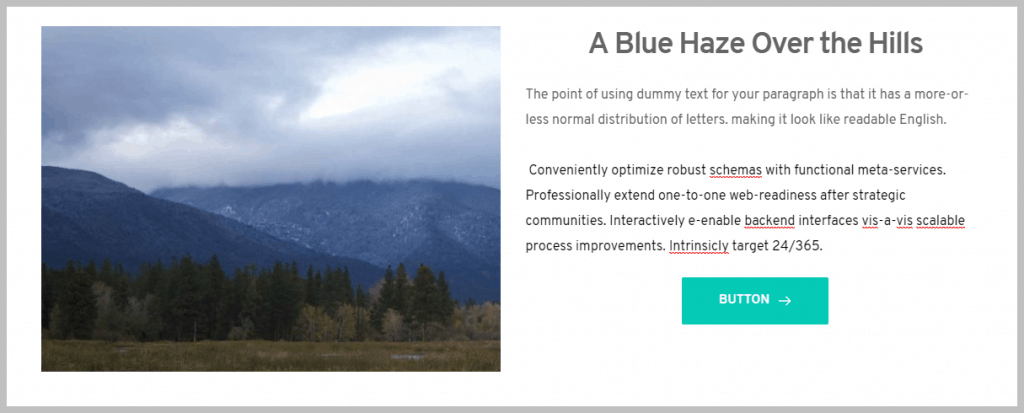 Brizy has a feature where you can sync blocks and layouts with the cloud. When you hover the mouse over a block you get a block menu on the right side.

When you click on that you get some options. There are options to save the block as a global, background image and color options, the heart is the save block option, then the gear opens the right side style panel, there is a duplicate icon and a trash icon. I clicked on the heart to save the block.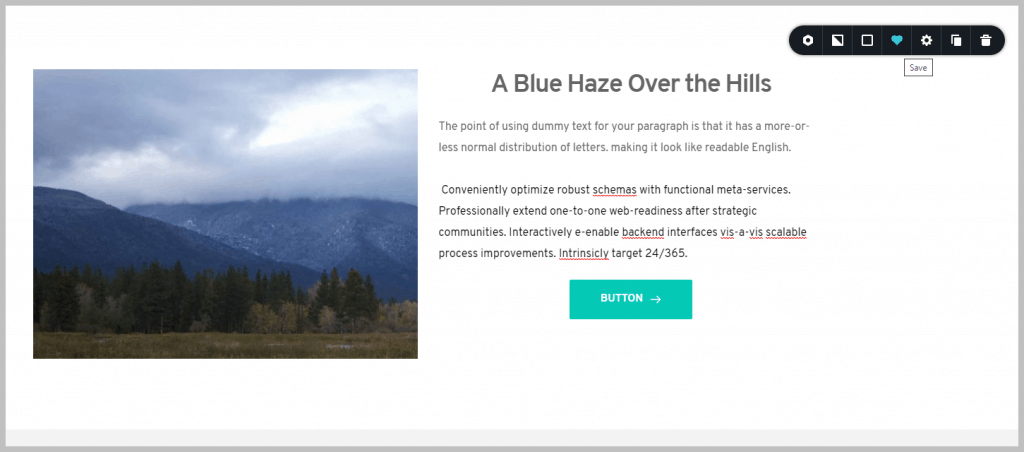 Sync with Cloud
I then went into the saved block area by clicking the blue circle-plus icon and I was prompted to sign into Brizy Cloud.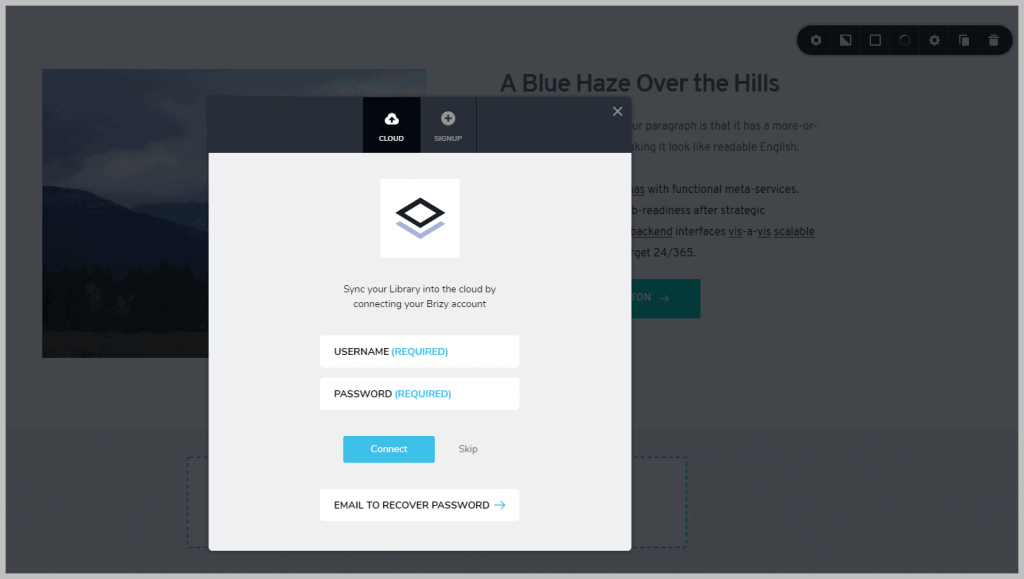 I signed in and then got a screen with a prompt to Sync now. I clicked that button and got a message that it has synced.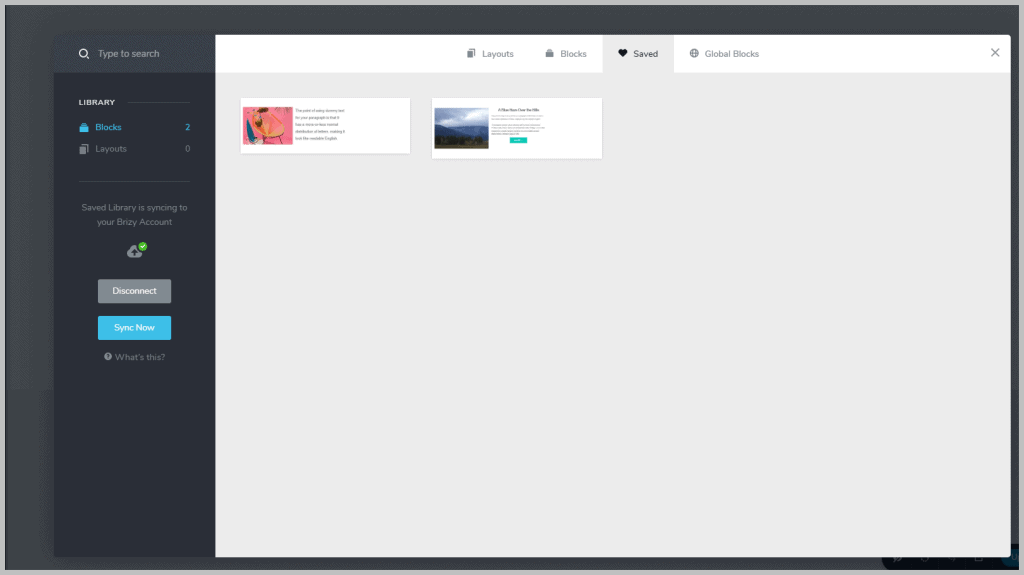 I was thinking that this would copy the block to my Brizy Cloud account. I logged into the cloud but didn't see my block. Perhaps that was because my site was on localhost? I tried a test site that was online and a block created on it also did not sync to the cloud. So I saved a block in the Cloud and signed into to my Brizy account from the Saved block interface.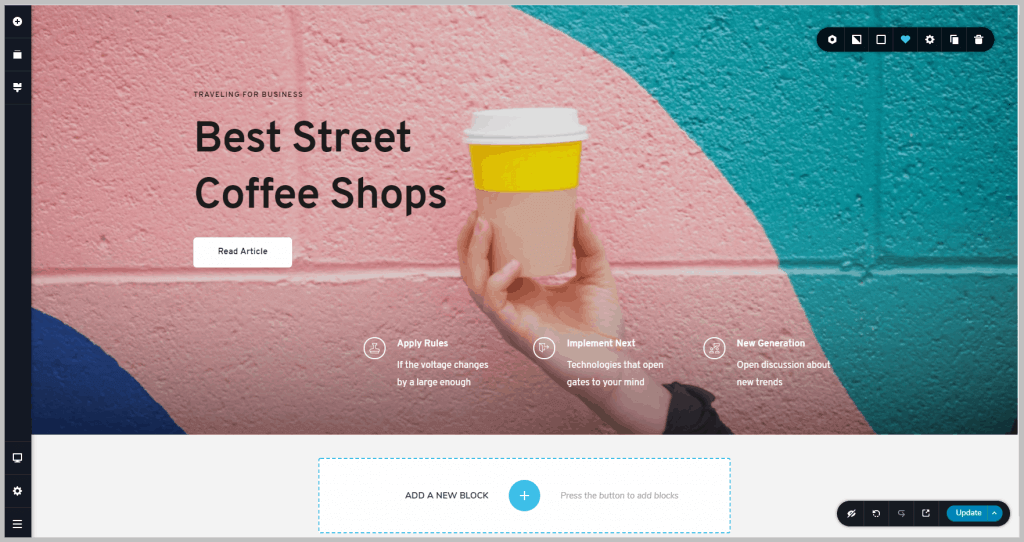 I then went back to my local testing site and clicked the Sync Now button. The block from the cloud appeared.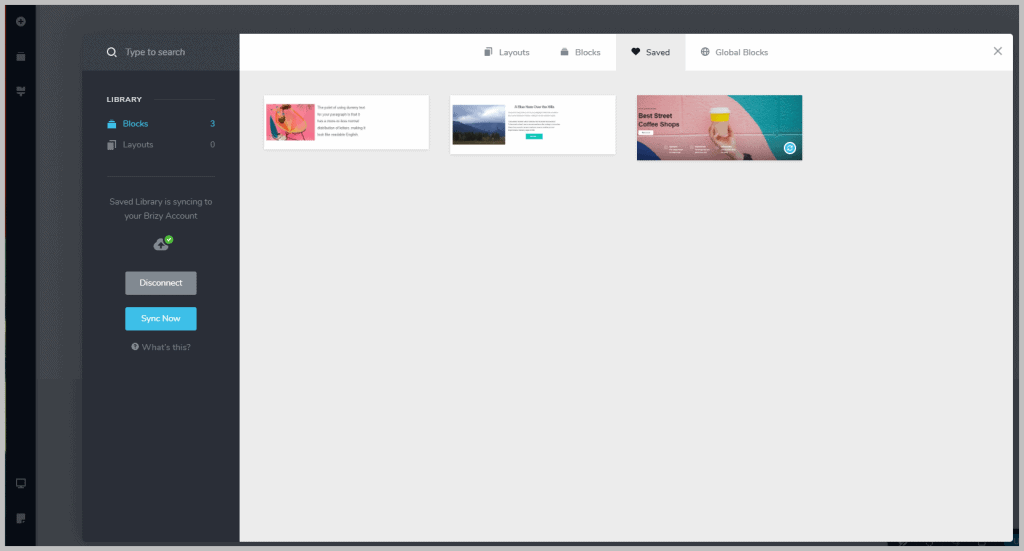 Being able to sync from your WordPress site to Brizy Cloud is an advertised feature, which is currently not working. At this time only the cloud to WordPress part is functioning correctly.
Brizy Global and Linked Styles
Here I've added a block from the design library into the builder. Note the "paint brush" icon on the side. You access the Styling panel in the Brizy Builder by clicking on it.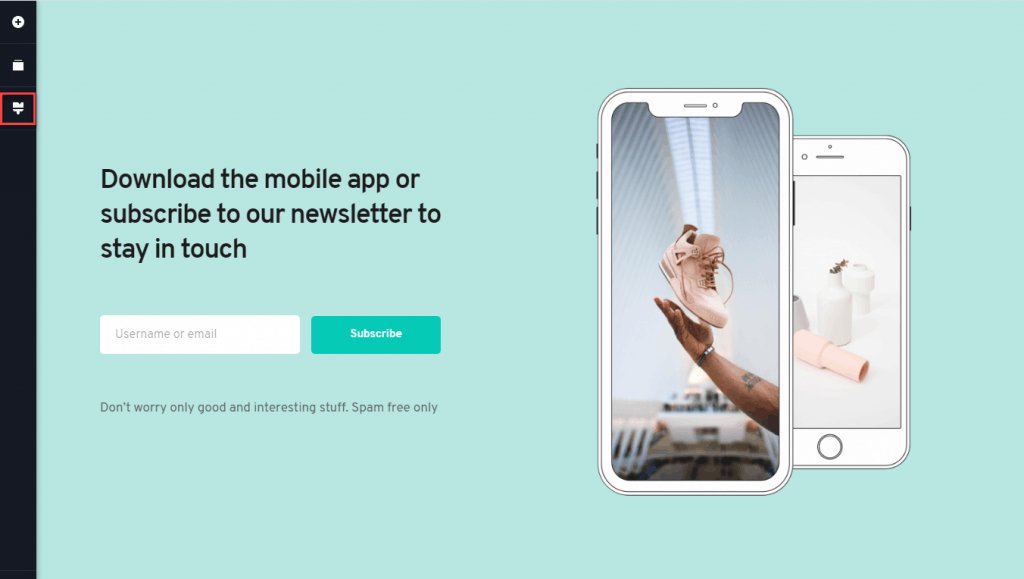 Clicking on the paint brush opens the Brizy style panel. What you see is the current style set in the top drop-down, the color palette, and the typography settings for each HTML tag, starting with Paragraph.
There are 12 style sets in the drop down. It was on Overpass. I change it to Craftwise. See how the colors and fonts change on the block automatically?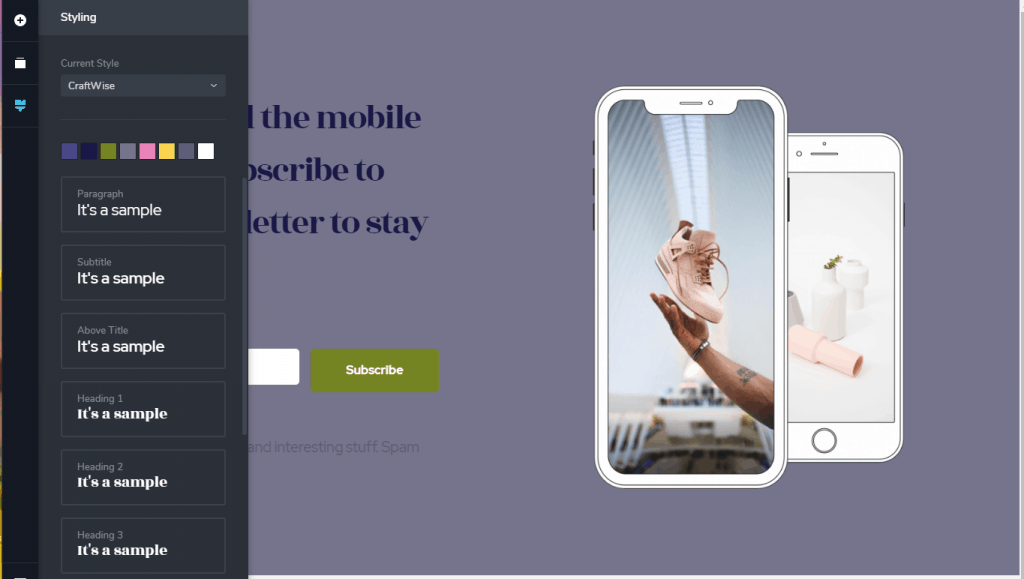 The color palette and topography options are linked styles. Change the settings in the Styling panel and they will be reflected where ever they were used. This is another innovative Brizy feature. Linked styles is something Elementor is just adding now and Beaver Builder doesn't have an option like this.
Block Slider
Brizy lets you change any block into a slider. To do that, just go to the block settings context menu and on the first "bolt" icon, toggle to enable the slider.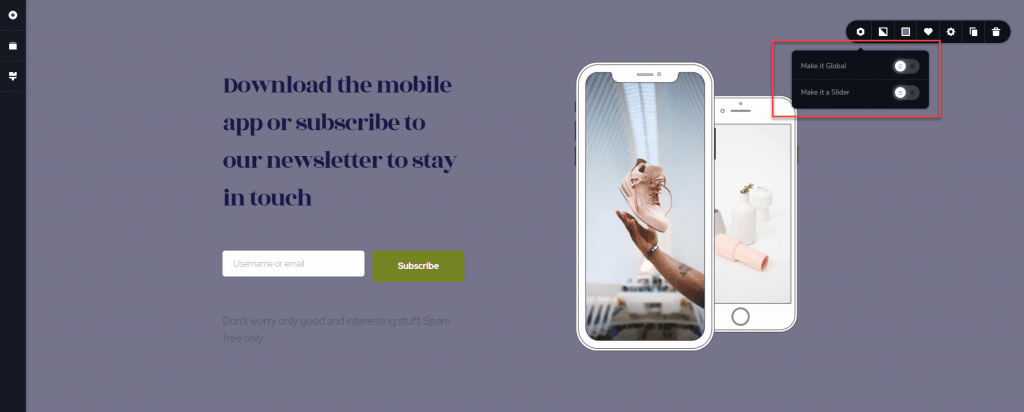 When you toggle it on, Brizy creates a copy of the block as the second slide. You can then go to the second slide and change it's content. Once you are on the second slide, you can use the duplicate icon to create additional slides. Here is the block turned into the first slide. Note the navigation arrows and dots.

And here is the second slide which I modified.

I don't know if this feature is necessarily "innovative," but it is certainly an easy way to create a slider in place.
Mega Menu Element
The last feature that I'm going to look at is the Mega Menu element. This is a new feature introduced with Brizy 2. To get started, I added a one column block to the builder and then dragged in the menu element. Clicking on the menu, you see in the popup context menu a toggle for mega menu.

As soon as I toggle on the Mega Menu a panel appears where you can add blocks, just like anywhere else.

I set the row background to light blue. Then I added in a columns element and duplicate one column so as to have three columns. I put an image element in each column with a book cover and a link to that book review and added a heading. I end up with this easy to create mega menu.

Elementor itself doesn't have a mega menu option, though there are several 3rd parties that add a mega menu widget. Beaver Builder only has a text mega menu option built in. With a bit of effort you can create your own mega menu in Beaver Builder, but with both Elementor and Beaver Builder you usually create the mega menu first and save it as a template, and then add it. With Brizy you can create it in place easily.
Video Library
The Brizy WordPress channel has an impressive number of video tutorials. I like that many of them are focused on individual features and walk you through feature use in a very methodical and easy to follow manner. This is a great resource for Brizy users and I think it is another example of how the team has gone the extra mile to take care of the community. That kind of video library is costly to produce and maintain.

Two Areas for Improvement
There are a couple of areas where Brizy needs to go deeper in filling out their features. In other words, they have the feature, but it is limited.
Archive Templates
For example, when using the Brizy theme builder to create an archive template, there are no previews of the data, just place holders. This means that you will need to go back and forth between the builder and a preview page. Here is an archive page for the Book Custom Post Type. Note the place-holders.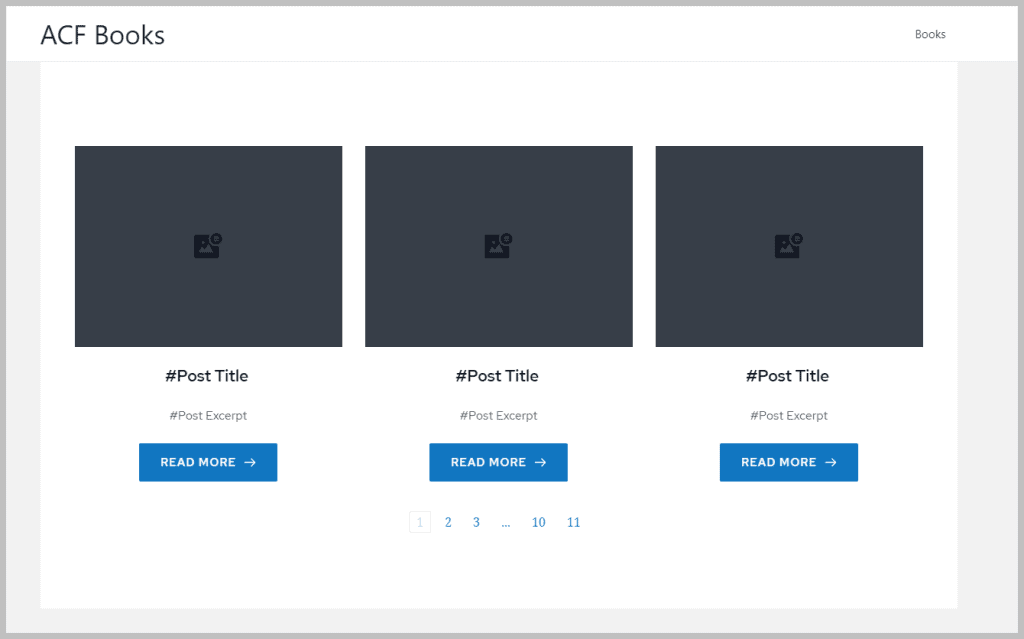 It is good that Brizy has the ability to create an archive template, but this feature lags behind other theme builders where it is customary to see a preview of the page in the editor.
Popup Conditions
Brizy has a nice Popup Builder that is easy to use. However, it has a limitation that when you set a condition to show on all pages, the popup only shows on pages created with Brizy. Of course, other popups work fine, such as those triggered by a button press on a Brizy page.
Summary and Conclusions
I started this article with a look at the Brizy timeline because that has been my experience. There have been ups and downs, and I wasn't willing to use while some important bugs were outstanding. Now I'm glad to see things coming together. I have obviously not done a thorough walk-through of everything Brizy WordPress offers, but I highlighted some of my favorite features and I think I've provided a good insight into Brizy's strengths and limitations. There are a ton of good, innovative features that make Brizy standout. It is an easy to use and full featured website builder, though there are also some bugs and limitations.
It has been a two year journey, but it seems to me that with Brizy 2.0, the product now realizes the vision that they team had for it two years ago. Those who have believed in the product and supported the team have been rewarded with an easy to use and innovative builder. I think Brizy is a product that the developers can be proud of and I'm looking forward to using Brizy on an upcoming project.