Slim SEO is a free SEO plugin that was first released about two and a half years ago. It is developed by the same team that makes the popular Meta Box suite of plugins. I tried out Slim SEO when it was first released and gave the author some feedback. Recently I got the chance to use it again and I noticed that it has become a solid alternative to the monster sized SEO plugins that we are used to using. In this article I'll do a walk-through of Slim SEO and take a look at its features and philosophy. I'll also share some thoughts about its strengths and weakness and so that you can get a sense of when it makes sense to use it.
Video Version
In the WordPress Plugin Directory
If we check the plugin in the WordPress plugin directory we see that it has more than 10,000 active installs and is regularly updated.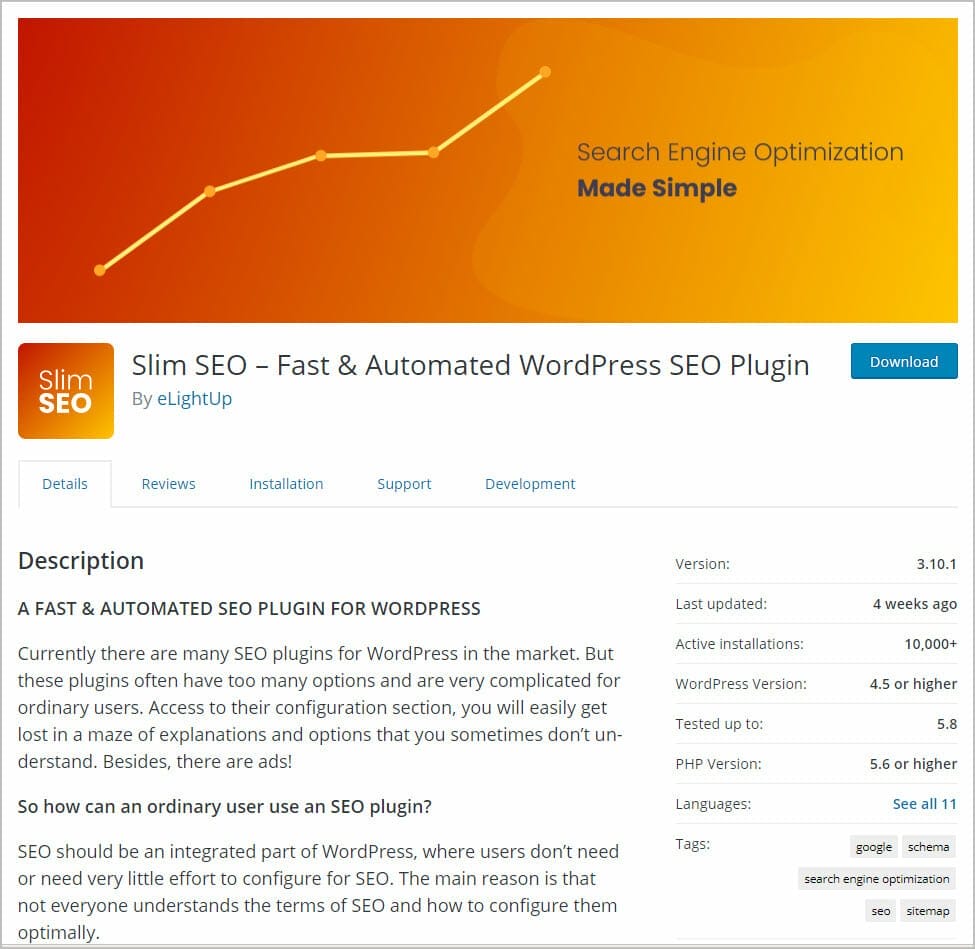 The plugin has a 4.5 star rating. I looked at the lower ratings and see that the developers responded and attempted to help the people with the issues. In some cases the users didn't understand how the plugin or WordPress worked. I checked the support requests and see that the team replies to all support questions.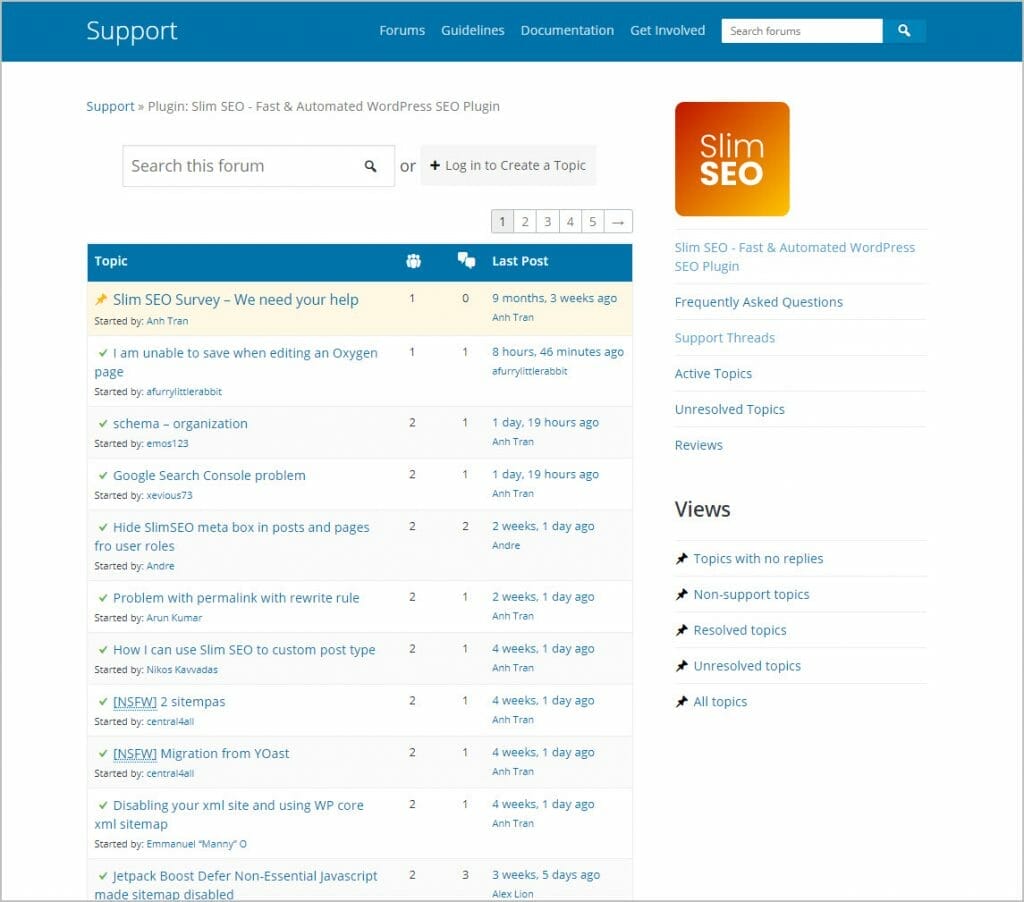 The active install growth is pretty flat, indicating that new plugin adoption is slow.
Test Site
I have a test site with the Blocksy Pro theme installed. I have a number of test posts and a Custom Post Type called Books with some test records.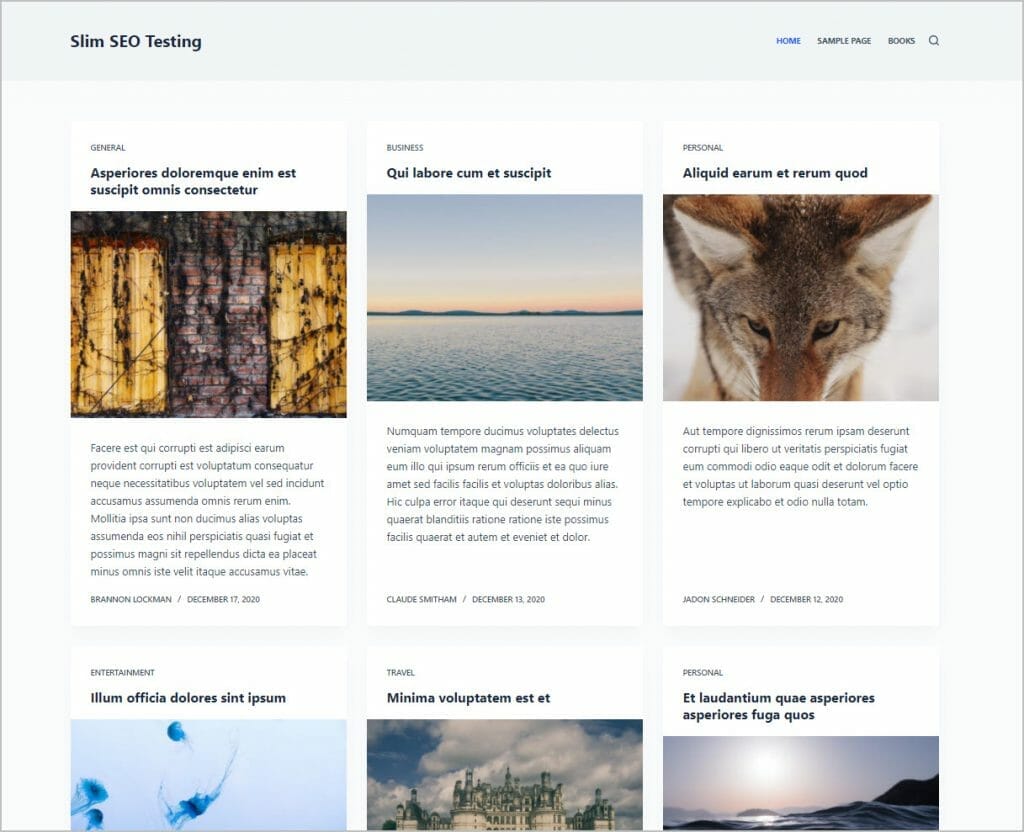 Slim SEO Installation and Configuration Options
You install Slim SEO the same way you install any other plugin. I go to the plugins screen, click Add New, type Slim SEO into the search box, and it is the first one that shows in the list.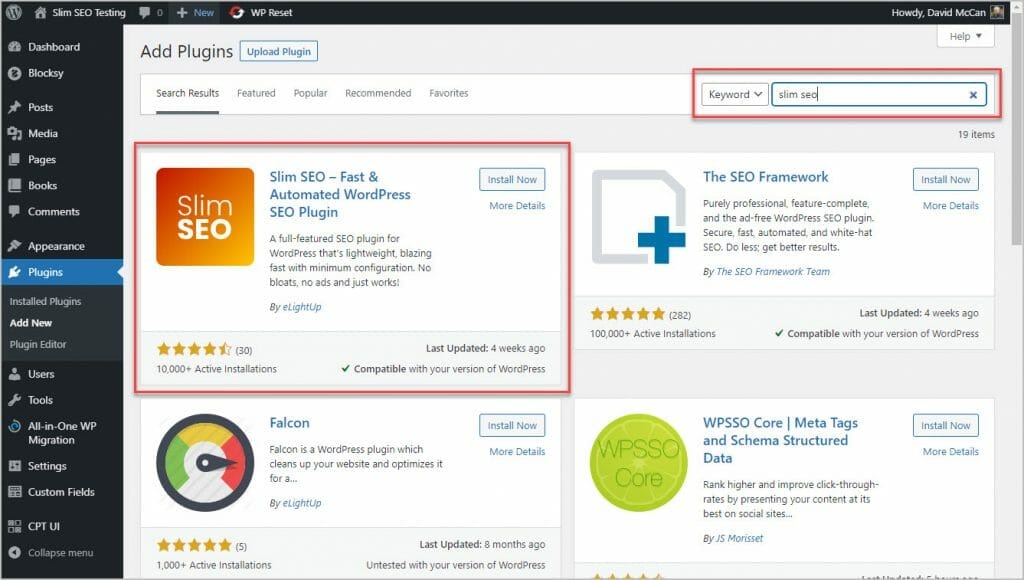 Once you have plugin installed and activated you get a new admin menu item under the Settings menu. The first tab is for features. You can toggle the features off if you don't want to use them or your theme or another plugin provides them. Notice that there are no configuration options for the features. Most SEO plugins give you options of how you want the Meta title constructed, for example. Instead, SEO Slim just uses the format that is used on most sites. We will visit this again when we take a look a the documentation later on.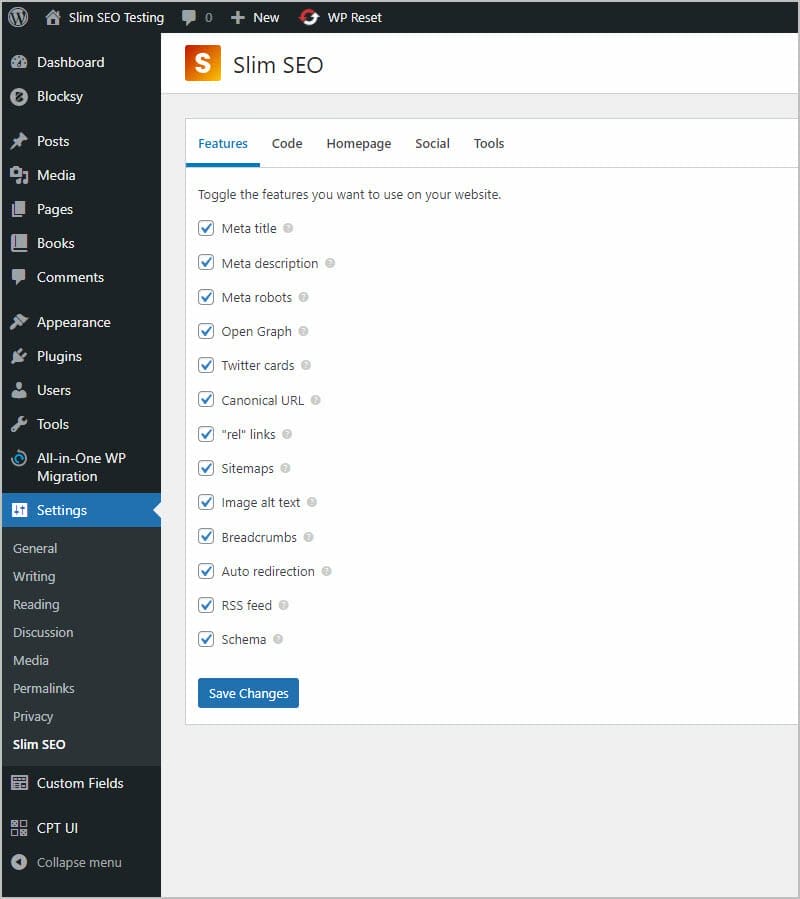 The Code tab allows you add the code snippet for your Google Analytics, Facebook pixel, or other tracking codes.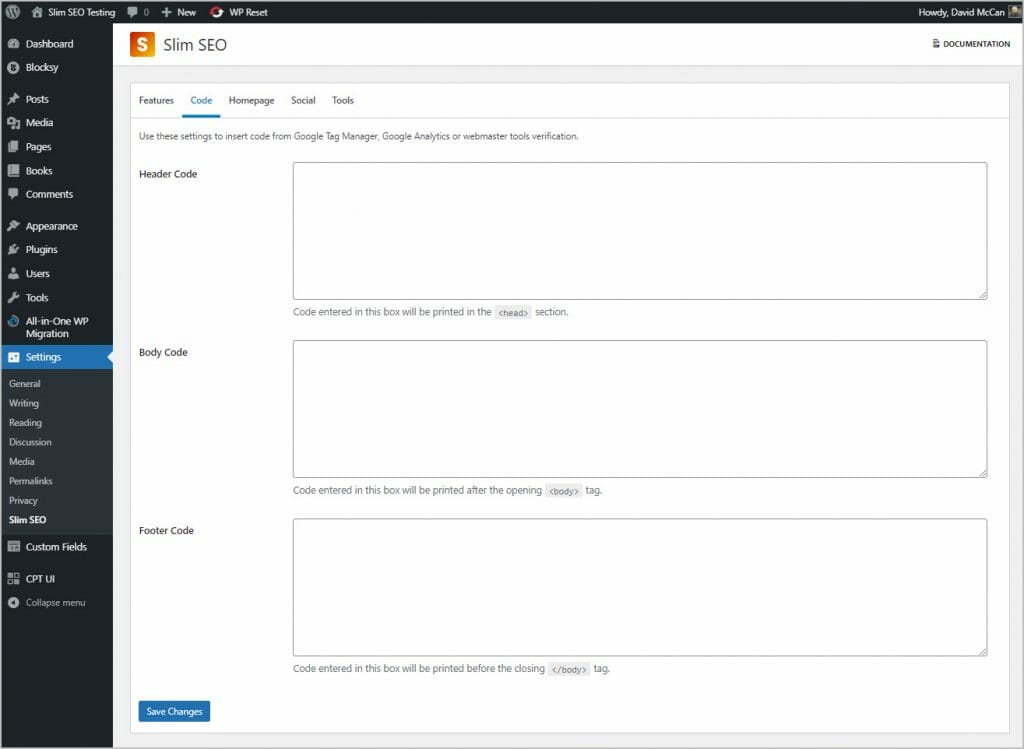 Then there are options for the Home page. It takes the Meta title from your site title. You can add the Meta description and upload a site image for Facebook and Twitter. The suggested image sizes are shown under the input box. I've filled in the values and uploaded images.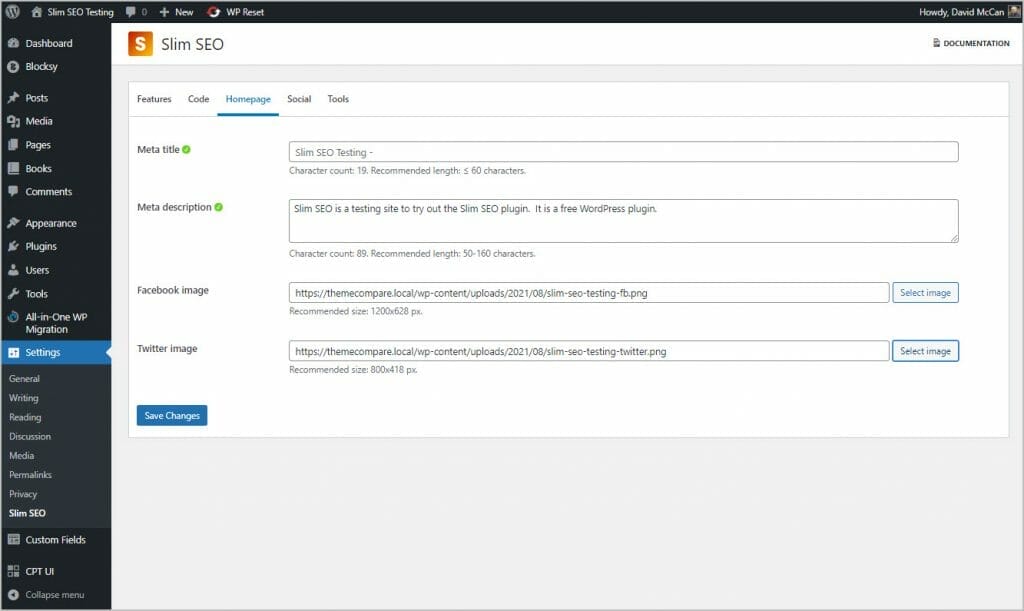 The social tab is where you can update a default image for your content pages. In the event that you don't upload one for each page then the default will be added to the Open Graph output. I uploaded some images. There is also a place for your Facebook or Twitter analytics code, should you be using one.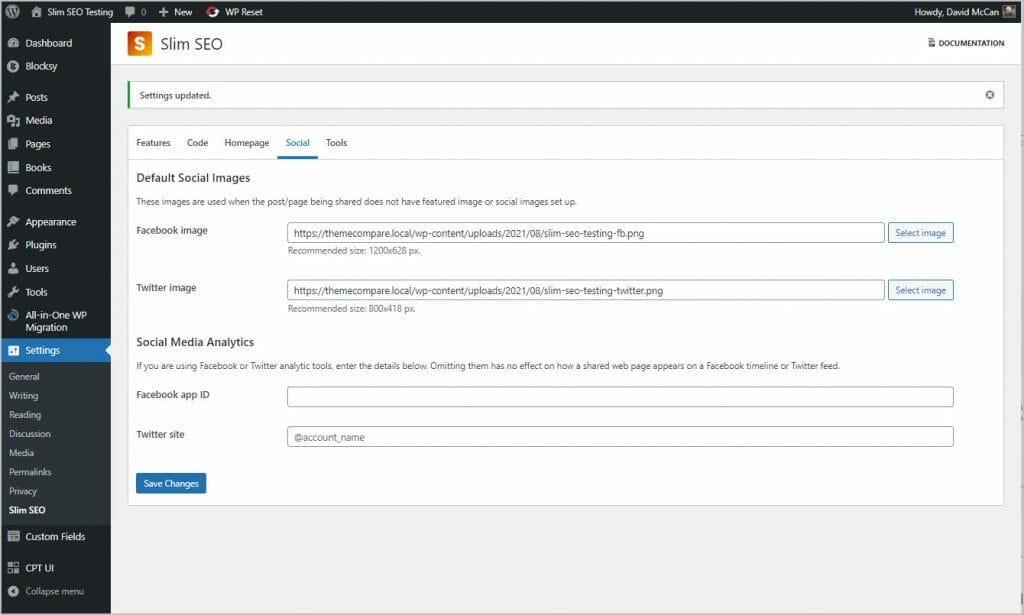 On the Tools tab there is the option to migrate your SEO data from another plugin's settings. Currently Yoast, All in One SEO, The SEO Framework and Rank Math are supported.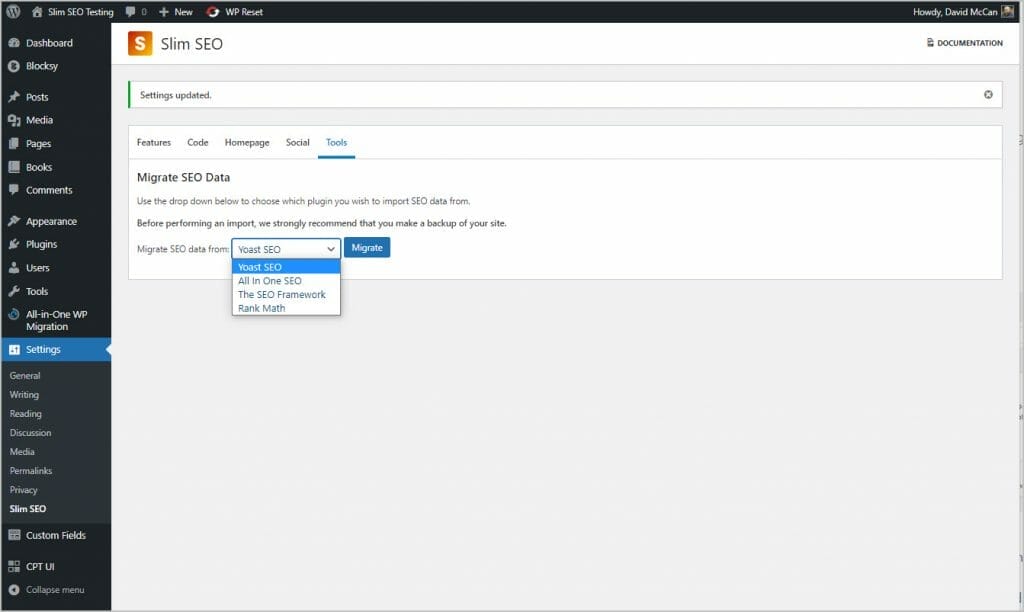 On Page SEO Options for Posts, Pages, and Custom Post Types
When you are editing a post, page, or Custom Post Type there is a meta box at the bottom of the content area for the Slim SEO settings. The Meta Title and Meta Description are filled out automatically from the post title and first part of the content, though you can override them. The Facebook and Twitter images need to be uploaded or otherwise the defaults images will be used. There is also a checkbox for excluding from search engine indexing.
Page Source Output
Slim SEO outputs the Open Graph data to the top header area of the page. Is is an example from the post above. It seems to cover all the bases for Facebook and Twitter.

Further down the page near the bottom is the LD-JSON schema output that Slim SEO produces. It is pretty hard to read, but I see site, author, breadcrumb, article, and image data. Again, the seems to cover the basics.

Documentation – Or Where Are the Options?
It is worth taking a look at the Slim SEO plugins website, especially the documentation area.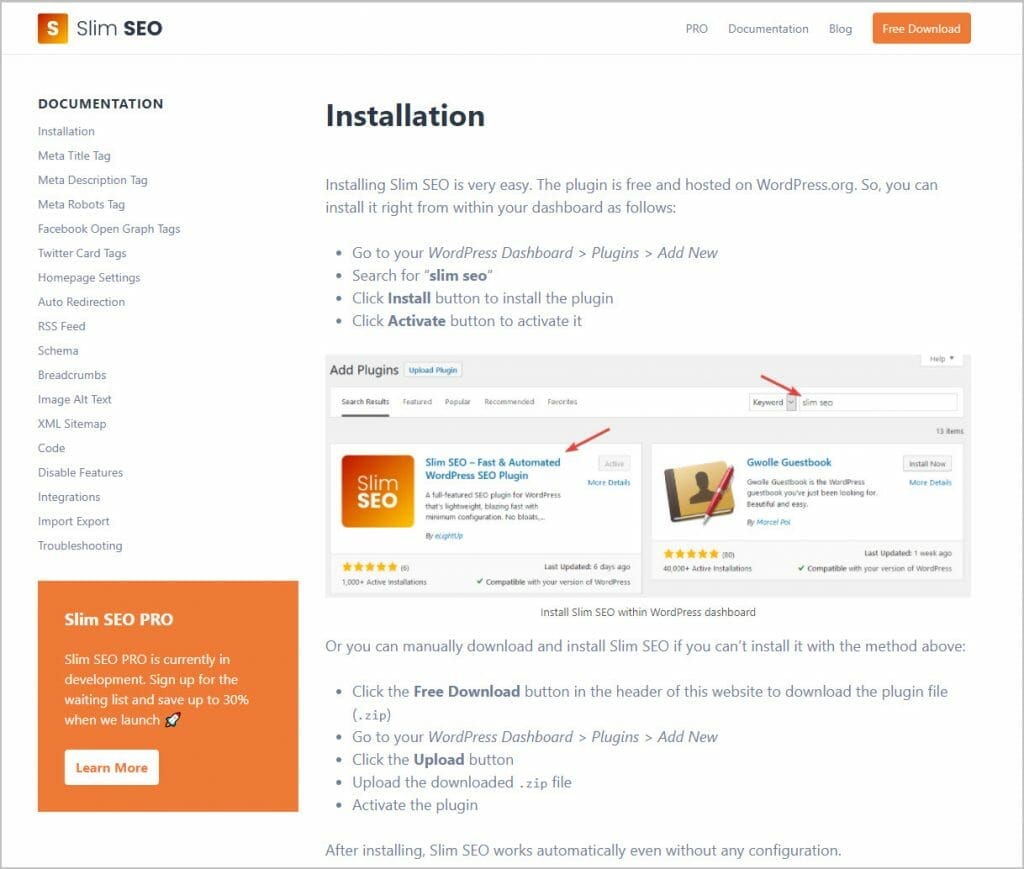 For example, lets take a look at the Meta Title Tag document item. It tells us that the title tag will have the following format:
For homepage: Site title – Site description
For singular pages/posts: Page/Post title – Site title
For other pages: Page title – Site title
You can change these using the Meta Box below the content, as shown above, or there is a filter available to do it with code. If you look at the other help docs you notice the exact same pattern. There is a sensible default and a filter to change it with code it you need to. This is how Slim SEO stays lightweight. It follows the WordPress principle of decisions over lots of options. There is also an option to hide the SEO meta box by role.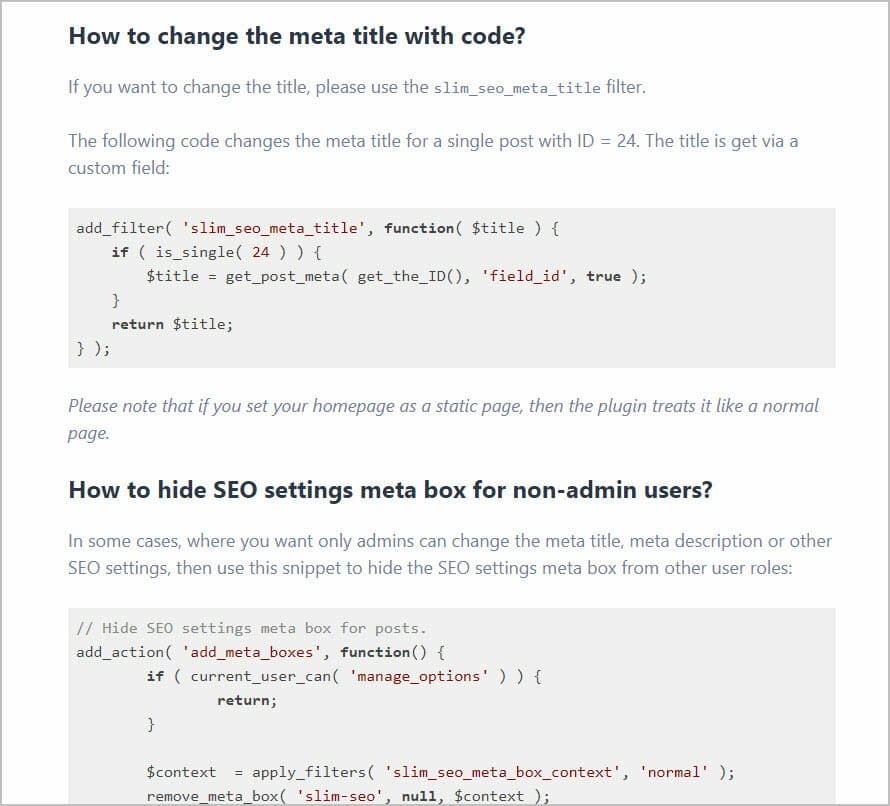 Slim SEO performs some tasks for you without and configuration. For example, breadcrumbs, creating an XML sitemap, adding a return link to your articles in the RSS feed, and so on. Like the Meta title settings, you can turn them off or if you want to adjust them then you can use the provided filter.
Slim SEO Is Also A Smaller Plugin Size
David Waumsley in the Dynamic WordPress Facebook group shared a screenshot showing the file size of downloaded SEO plugins. I recreate that here with some additions:
| | | |
| --- | --- | --- |
| Plugin | Active Installs | Zip File Size |
| All In One SEO | 2 million+ | 4,407 KB |
| Rank Math | 900,000+ | 2,180 KB |
| SEOPress | 100,000+ | 2,600 KB |
| Slim SEO | 10,000+ | 87 KB |
| Squirrly SEO | 100,000+ | 3,509 KB |
| The SEO Framework | 100,000+ | 524 KB |
| Yoast SEO | 5 million+ | 3,796 KB |
While most of the SEO offerings are in the megabytes, Slim SEO is the smallest file size at only 87 kilobytes. The SEO Framework is larger, but the only other one under a megabyte.
Pro Version Coming
The free version of Slim SEO has been out for about two years. It looks like the team is now working on a pro version. Initially they plan to include a schema builder, link analysis, redirections, and local SEO. There is a signup form at the bottom of the page talking about pro to get notified when the pro version is released.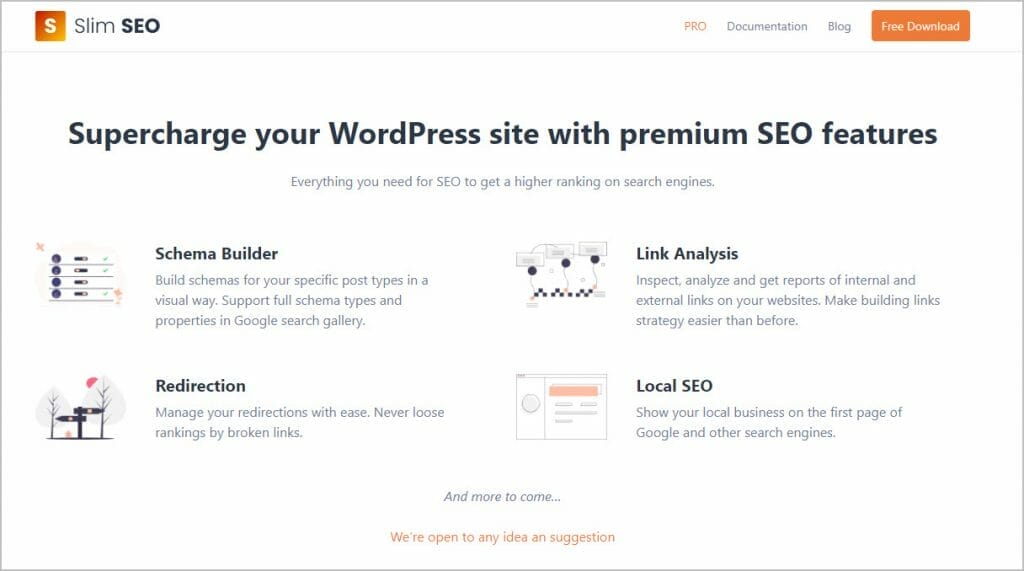 Discussion and Conclusions
Most SEO plugins these days are in a feature race to pack the most SEO-related helpers into the post edit screen. Can these features be useful and help your content rank higher? Absolutely, but I ask those of us who have some of these feature rich plugins, do you regularly use all of the features?
I've experienced being presented with a lot of options and I don't know what to pick. At that point, do you skip that setting and continue setup or stop and do research? Slim SEO takes the approach of going with the conventional defaults and not overwhelming the user with lots of choices. There is something to be said for simplicity.
There is a catch-22 in the mind of WordPress site builders. On the one hand we want everything to be fast and lean, but on the other we want all of the options and features. Slim SEO is targeted towards those who want to keep it fast and simple.
Is Slim SEO too simple? Here are several SEO-related functions that are not included in the free version:
Content analysis for readability (suggestion for pro)
Advanced schema options (coming in pro)
Internal link analysis (coming in pro)
Redirection (coming in pro)
Local SEO (coming in pro)
Keyword research (use external tool)
Backlink tracking (use external tool)
Four of those features are coming in the pro version: advanced schema options, link analysis, redirection, and local SEO. I would suggest that local SEO could be an option in the free version and content analysis for readability could be a suggestion to add to the pro list. In my opinion, keyword research and backlink tracking is better handled using a dedicated SEO tool.
If you need and will use one or more of the SEO functions that are not included, then Slim SEO might not be the best choice or, if you just need one or two of them then perhaps you could use a dedicated plugin or other tool for that purpose.
In the Dynamic WordPress Facebook group the developer of Slim SEO mentioned that he intends the pro features to be modular. That is the approach that his team has taken with the Meta Box plugin. Designing software this way is a slight inconvenience to the user, but it does help to avoid bloat. I think this modular approach makes sense given the emphasis on being lightweight.
Everyone knows that quality content is the number one reason that articles rank high in search engine results. To some extent, I think that the WordPress community is obsessed with SEO, but it surely makes sense to attend to the basics. Slim SEO puts the focus on the basics and doesn't overwhelm the user with a ton of options. Obviously there will be some users who are SEO experts and want to squeeze as much out of the content as possible and there will be sites where this is a priority. In these cases Slim SEO may not be not the best choice, at least until the pro version is available. However, there are many types of sites, such as brochure sites, one page resume sites, and so on where the user is not going to go the extra mile in SEO research or where clients are not going to pay attention to advanced options that they don't understand. In these types of cases the free Slim SEO plugin makes sense. Do you agree?