The Crocoblock team has recently released a big update to JetThemeCore. JetThemeCore is Crocoblock's template and theme builder plugin. It used to only work with Elementor and required their Kava theme, but the new version now also works with Gutenberg and with popular page builder friendly themes.
The messaging around the new theme builder has been unclear and even support was not sure about it. So, in this video we will first take a tour and test the options so that you know how it works. Then we will use Crocoblock's JetEngine, that already works with Gutenberg, to create a Custom Post Type and add some custom fields to it. Finally we will use the new theme builder together with the block editor, to create single and archive templates.
Video Walkthrough
Gutenberg Blocks Included with JetEngine
The JetEngine plugin is used to create Custom Post Types, add custom fields, and create listing items, which are the single item in an archive or loop. It comes with several Gutenberg blocks.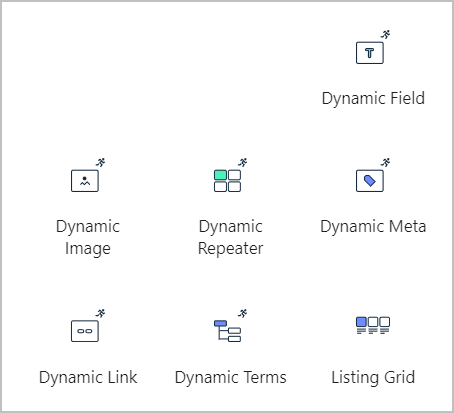 These include:
Dynamic Field
Dynamic Image
Dynamic Repeater
Dynamic Meta
Dynamic Link
Dynamic Terms
Listing Grid
Two Admin Areas for Theme Templates?
Crocoblock shows two places now where a user can create theme templates. There is a "Theme Builder" menu item and a "Theme Templates" menu item. This can be confusing.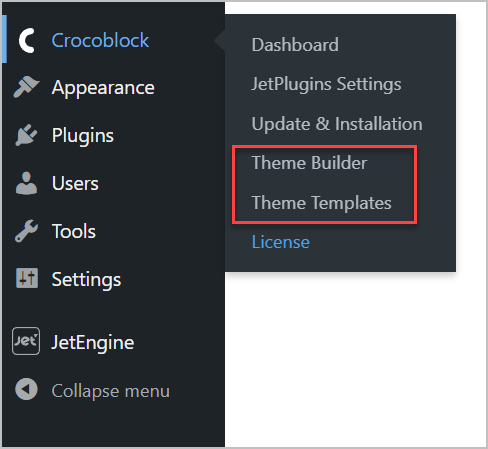 Experimentation shows that the Theme Builder area replaces the theme's Header, Footer, or Content area. I tried this with the Kadence, Astra, GeneratePress, and Kava themes. This is the new feature added with the 2.0 version of JetThemeCore.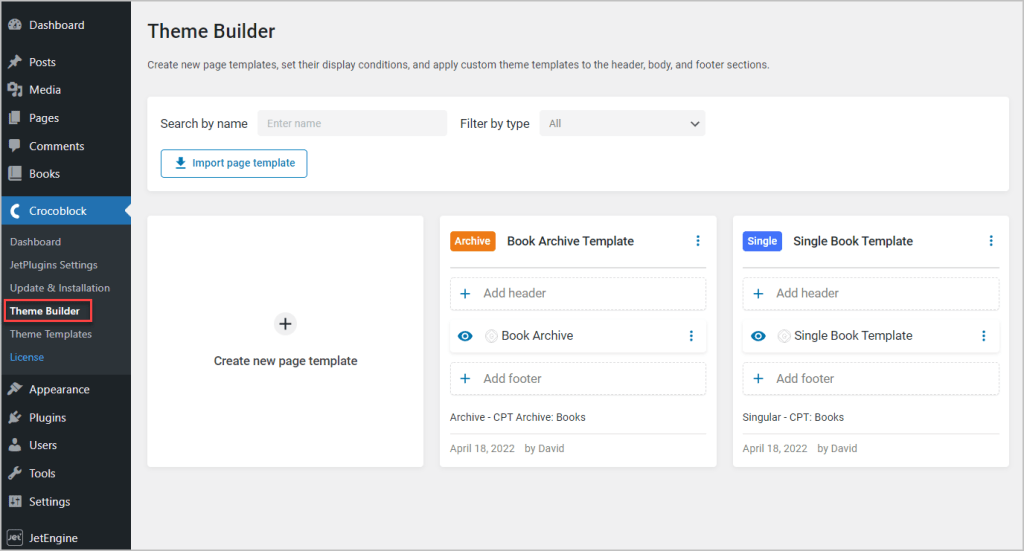 It can be a head scratcher because templates created in the Theme Builder also show up in the Theme Templates area, though they show as no display conditions set. Note that if you start and create a template from the Theme Template area that it doesn't work with Gutenberg or third party themes. It does with with Crocoblock's Kava theme, but it adds the content to the theme's template and doesn't replace it like it does if you use the Theme Builder area. So, for Gutenberg at least, use the Theme Builder area. Note also that if you want to delete a template created in the Theme Builder area that you need to delete it in both places.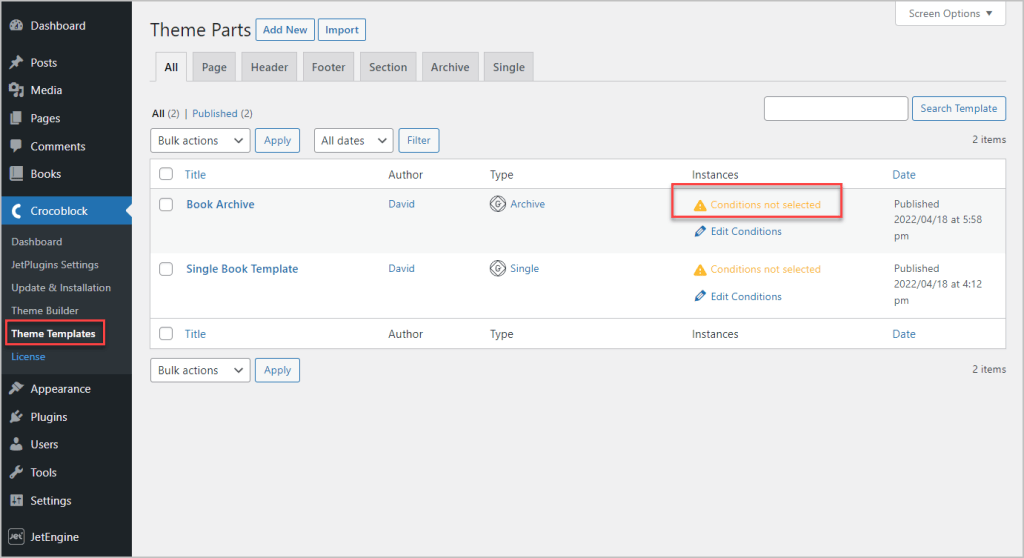 Final Results
Here is the archive template on the front-end created using the new JetThemeCore Theme Builder and JetEngine.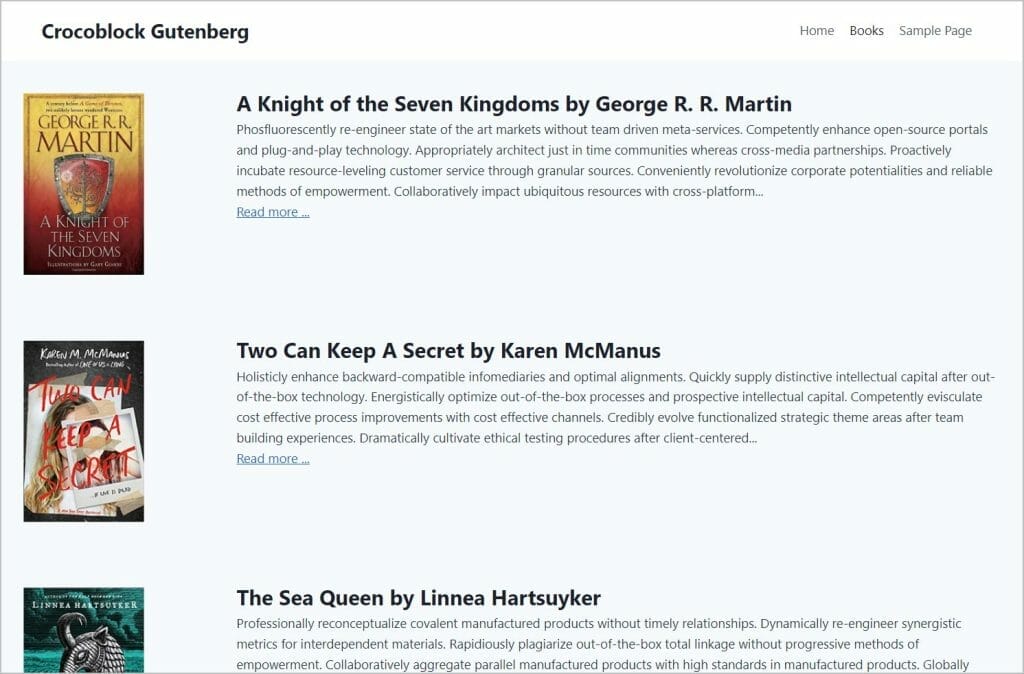 And here is the single version. Note the author's photo and the link to the author's website, which are custom fields created using JetEngine.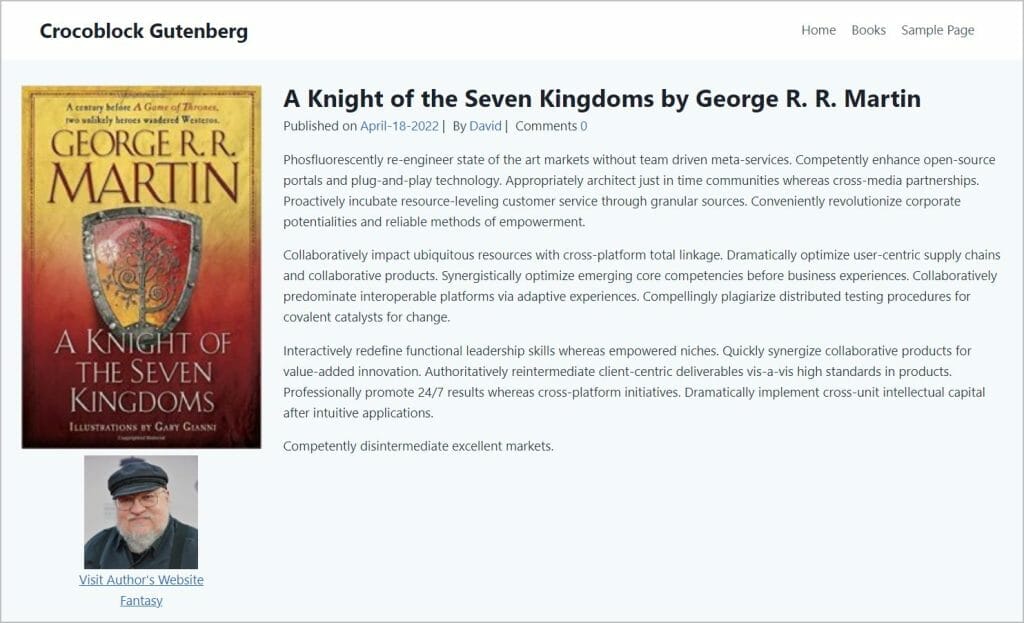 Discussion and Conclusions
The Crocoblock Suite has been a longstanding top-tier addon for Elementor. It is good that they are gradually adding support for Gutenberg. There are a number of previous Elementor users who are looking for other solutions and they will find Crocoblock for Gutenberg interesting.
There could easily be confusion about whether to use the Theme Templates area or the Theme Builder area. We walked through that and saw that the new theme builder is the best option for Gutenberg and I was able to create the single and archive template using it. For the most part it worked well. The main issue was the inability to preview the content while creating the templates. This meant that we had to resort to trial and error to get layout and sizing correct. Crocoblock supplies a Dynamic Links block, but it would be nice to have a button option. A good container block would have also been helpful.
While the new theme builder for Gutenberg is usable, it is just the first version. It would be nice to see the short comings addressed. Typically the Crocoblock team follows up the initial release with additional features and polish, so I'm expecting this to turn into a strong option for Gutenberg users.