We now have available a new resource to help us track the market share of popular page builders. W3Techs, a popular site that tracks web technology usage, now tracks subcategories for WordPress, giving us some insight into popular plugin usage. This post takes a look at the page builders they are reporting on to see how they are doing. At the end of the post there is some discussion and conclusions about what the stats show and about the stats themselves.
Video Version
The Growth Story
In this year's State of the Word address Matt Mullenweg reported that a year ago WordPress powered 39.1% of the web and now it has a 43.1% market share. Four percent growth is huge. This is awesome progress for WordPress that gets lots of attention. There are also other WordPress growth stories that are worth following.
WordPress Subcategories
W3Techs now reports of WordPress subcategories, that is other software used with WordPress. If we look at the W3Techs data for the subcategories of WordPress we see some more interesting numbers. For example, 20.4% of WordPress sites have WooCommerce installed. Among page builders we see these stats:
Elementor is installed on 15.9% of WordPress sites
WPBakery on 15.4%
Beaver Builder on 1%
Visual Composer on 0.2% of sites
Oxygen on 0.2% of sites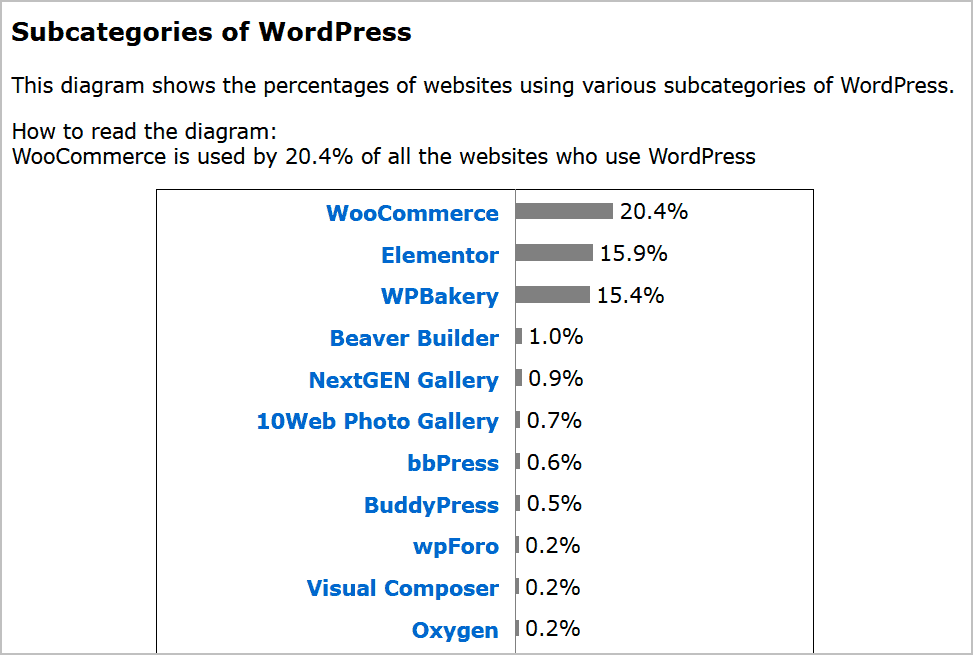 A note about the W3Tech stats. They are based on the top 10 million sites on the web according to Alexa and the 1 million site list provided by Tranco.
Elementor's Growth Skyrockets
The Elementor stats are very interesting. While Elementor is installed on 15.9% of WordPress sites, it is being used on 6.8% of all websites.
Further, Elementor market share has grown 3% in the last 11 months.
Elementor is growing so quickly that Yoast analyzed the growth of Elementor in relation to the growth of WordPress. He concluded that a large percent of new WordPress sites were using Elementor.
WPBakery's Growth Is Flat
Close behind Elementor, WPBakery has 15.4% market share. However, while Elementor is still growing, WPBakery appears to have leveled out. Here are the WPBakery stats for the last 11 months.
Beaver Builder Is Climbing
The Beaver Builder stats are also interesting. Beaver Builder is used on 0.4% of all sites and 1% of WordPress sites are using it. We can see that Beaver Builder also has an upward trajectory and is enjoying growth.
Visual Composer
The Visual Composer page builder is installed on 0.1% of WordPress sites. We can see that Visual Composer is also enjoying positive growth.
Oxygen Builder
Oxygen has the same market share as Visual Composer, running on 0.1% of WordPress sites. However, take a look at the growth chart. It is interesting to see that Oxygen, like Elementor, has a steady upward climb.
Discussion and Conclusions
I'll admit that I was surprised that WPBakery has such a large market share. WPBakery, formerly called Visual Composer, has been around a long time and has fallen out of favor. It is bundled with a lot of themes on ThemeForest, so perhaps these stats are the result of the popularity of the ThemeForest marketplace.
I was also surprised to see Visual Composer in the list. You don't hear much about the new Visual Composer, so I wonder where those numbers are coming from? Visual Composer has gone through some name changes. The original Visual Composer was renamed to WPBakery, and its market share is shown above. Then a new page builder was released and the name "Visual Composer" was recycled. For our purposes I'm calling it the new Visual Composer. So an interesting question would be if these stats are all the new Visual Composer, or if they include some old Visual Composer sites that were never updated to WPBakery? In any event, there is some growth and we can assume that the new sites are running the new Visual Composer. The new Visual Composer team confirmed that the stats are for the new version.
What I was expecting, that we didn't see, is to have Divi included in the list. Divi has been around for a long time and indications are that there are a good number of active installs. However, since Divi is a premium only option, usage counts are unknown.
Another page builder not found in the list is Brizy and active installs are known for this page builder. Brizy is one of those plugins, like Elementor, that has a free core and a premium addon. You have to have the free version installed, it is not a single plugin. We can see in the WordPress plugin directory that Brizy has 90,000 active installs.
Now an interesting thing is that the new Visual Composer, which is installed even if using premium features, also has 90,000 active installs.
So it seems that the W3Tech list is incomplete and we should exercise some caution. For example, the fact that Divi and Brizy aren't in the list doesn't mean they are used on fewer websites than Visual Composer or Oxygen, that they are further down on the list. They are just missing. However, even though it doesn't include all builders, I still think that the W3Tech list is useful. I think it is safe to assume that the software they are picking up will be tracked consistently, so the historical usage trends over time provide good insights.
Speaking of usage trends, Beaver Builder fans will be heartened by its good positive growth. Something to keep in mind with Beaver Builder is that there are very few installs of its "lite" version, meaning that its stats are mainly pro installs. This means that the active growth shown in the Beaver Builder stats are paid subscription installs and that bodes well for the longevity of this solution.
Similarly Oxygen was another one of the builders that is showing rapid growth. It was interesting to see Oxygen in the list and I suspect that it is increasingly being used by small agencies and freelancers who are focused on performance.
Yoast speculated that Elementor's popularity could be helping to fuel the growth of WordPress. I wonder what that could mean? Certainly Elementor has a lot going for it that is helping to drives its growth. I'm not sure we can really say, however, that if Elementor was not around then fewer people would be using WordPress. Rather, I suspect that the growth of WordPress is benefitting the best builders, as shown by their positive history stats, and that people who are happy with their chosen solutions return to them on build after build, meaning that WordPress and these popular page builders are synergistically helping each other to grow.