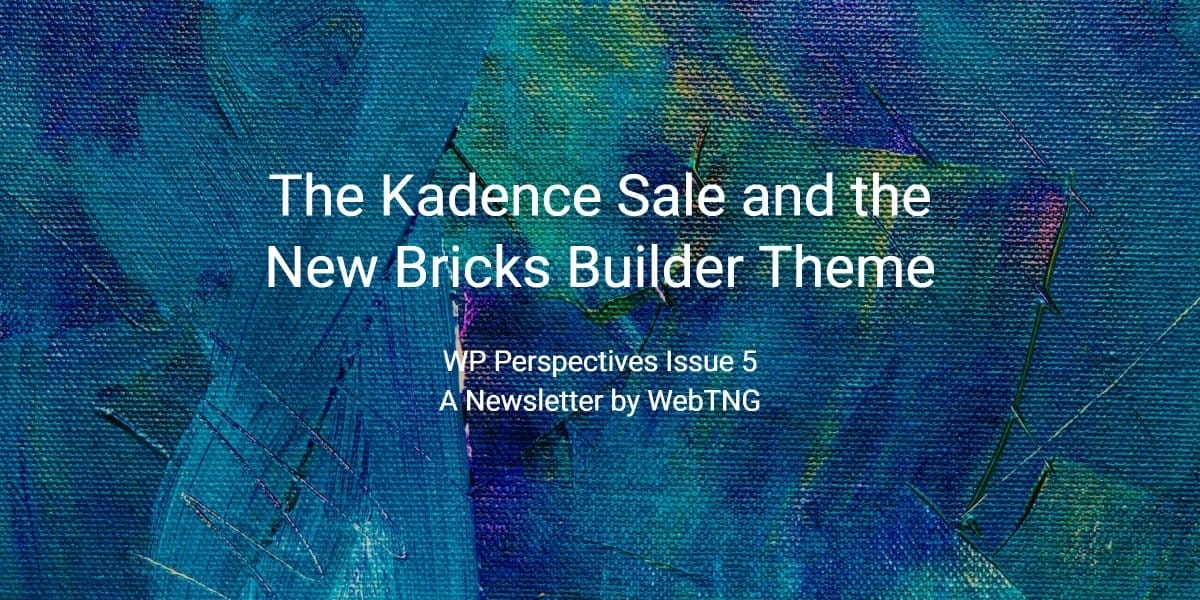 In this issue: My thoughts on the Kadence sale and the Bricks Theme, the latest posts on WebTNG, and some useful links from around the web.
The most important part of any acquisition is your ability to culturally integrate the people in the companies you acquire and your company.
Baba Kalyani
Recently Published
The Kadence Sale – Good or Bad?
Background
By now you have heard about the sale of Kadence Themes to iThemes. For those who are not familiar with Kadence Themes, Ben Ritner is the developer and his sister Hannah provides helpdesk support. Beginning around 2015 they offered two well coded themes and a number of plugins in a membership package. The themes were well coded and got good reviews, but they were "pre-Gutenberg" themes. The transition into the Gutenberg era began with the well received Kadence Blocks plugins. It continued when a little more than a year ago they released their flagship theme, Kadence, a fully modern and feature rich page builder friendly theme. The Kadence Theme has a number of advanced features and works well with their own Kadence Blocks plugin. The author has repeatedly introduced new and innovative features at a very fast pace. Adam Preiser, of the WPCrafter YouTube channel, began promoting Kadence and it took off.
iThemes has been in business for a long time. As its name implies, it started out as a theme company and has a theme builder which back in the day was popular and innovative. The company shifted attention to its BackupBuddy plugin and then acquired the Better WP Security plugin, which they rebranded as iThemes Security. Early in 2018 iThemes was itself acquired by LiquidWeb, a higher end hosting company owned by an investment firm. This follows the pattern of hosting companies buying up WordPress companies, GoDaddy purchased ManageWP and WPEngine bought StudioPress and ArrayThemes (Atomic Blocks). Since becoming part of LiquidWeb, iThemes has purchased Restrict Content Pro and The Events Calendar, among other plugins.
Announcements
On April 6th Ben Ritner announced on the Kadence blog, "Kadence WP is joining iThemes! I (Ben Ritner) and the whole team at Kadence WP will join with theirs." He went on to say that with the rapid growth of Kadence he has had to focus on the business side of things and had less time to code. Ritner said that the partnership with iThemes would allow him to more quickly develop the ideas and projects he has been working on. Kadence would be run as a separate company under the iThemes brand. Nothing will change for Kadence members.
There was a simultaneous announcement on the iThemes blog by iThemes COO Matt Danner who wrote that "Today, I am very excited to share that iThemes has acquired Kadence WP and the whole team …" Danner noted how this was good news for iThemes agency subscribers as the Kadence suite of themes and plugins, notably Kadence Theme and Kadence Blocks, would now be included. He also announced that iThemes legacy Builder themes would be sunset and that the price of the agency bundle would increase to reflect its new value.
Best Case Scenario
Danner's post makes it clear that for iThemes this was a strategic acquisition. The Kadence Theme and Kadence Blocks plugins would replace iThemes out-of-date Builder themes. In one stroke, iThemes modernized its agency offering to the latest and greatest. Perhaps more importantly, LiquidWeb, who includes iThemes plugins with their managed WordPress hosting packages, also now has access to Kadence products.
iThemes will provide back-office services and look after the business side of things for Kadence, freeing Ben Ritner up to do what he loves most, develop innovative WordPress software. The day after the acquisition announcement Ben Ritner held a "townhall" livestream hosted by Adam Preiser. During the livestream several new features for Kadence members were announced.
First, next month Kadence Blocks would receive the first of a series of updates focusing on dynamic data. In the first round, users would be able to display basic ACF field values using Kadence blocks. This follows on the recent release of support for Toolset dynamic data by some of the blocks. Meta Box and possibly Pods would be supported as well, though the timeframe for that was not mentioned. In a later release focused on dynamic data, users would be able to create templates for Custom Post Types.
Second, Kadence will be releasing a "Cloud" plugin, also included in its membership package. It was explained by analogy that users will be able to designate a site along the lines of how MainWP works with a parent and child sites connected by a plugin and key. On the parent site people can host their own Gutenberg sections and full pages, generate access keys, and then connect to their own "cloud" library. Further, users could generate keys and give or sell them to others. The cloud feature will also work together with the Kadence child theme builder, which allows users to share or sell Kadence child themes.
Third, in relation to Full Site Editing (FSE), coming to WordPress this summer, it was announced that the intention is to allow users to selectively, or progressively, use FSE to replace current theme templates. So, for example, if desired, you would be able to use the FSE to create your site header, instead of the theme's header builder.
Handling explosive growth is a big challenge for a small business. It is difficult to keep focus on product development while simultaneously growing the business. The Ritners were doing a fairly good job of that, bringing on board and training new support staff and developers. The sale to iThemes accelerated that process.
I have worked with and followed the progress of the Kadence Theme, Blocks addons, and other membership offerings. What is clear is that Ben Ritner is a very talented developer. Remember, he had a successful product line which he basically reimagined and reinvented to leverage the opportunities presented by Gutenberg and the changing WordPress ecosystem. The announcement in the livestream of new features and plugins show that he is far from done.
iThemes strategic purchase of Kadence is evidence that iThemes recognizes Kadence value, and that Kadence will complement iThemes offerings and can be further integrated to provide even more synergy. So, it would make good sense for iThemes to do as suggested, provide infrastructure support to Kadence, and then get out of the way and let Ben Ritner work his magic. If that happens then the acquisition will be a win all around, for Kadence, iThemes and both sets of customers.
Worse Case Scenario
Did you notice the difference in the introductory wording of the two blog post announcements? I did. From the Kadence side the event was described as Kadence "joining" iThemes, as a "partnership," and as an opportunity for Ben Ritner to spend more time on development. From the iThemes side the event was described as "an acquisition of Kadence WP and its team." The acquisition would allow iThemes to modernize its offering and raise prices.
The Kadence version of the announcement was shared in a number of Facebook groups and reactions were mixed. Some people were happy for the Ritners, that they got a payday for all of their hard work, and Ben having more time for development sounded like a good thing for customers with a subscription or lifetime membership. However, iThemes as purchaser was overwhelmingly seen as a likely negative.
Remember, iThemes let their own themes die on the vine. BackupBuddy, which was for time a top, if not the premier backup option, was eclipsed by other newer offerings that were easier to use. BackupBuddy was kept up to date with WordPress and PHP changes, but new features, if any, were slow in coming. Today BackupBuddy has very mixed reviews and is rarely recommended. After the initial purchase and rebrand of Better WP Security, iThemes Security saw a number of rapid improvements, but that changed. Like BackupBuddy, the addition of new features for the security plugin has slowed to a snail's pace. My recollection was that at one point the active install numbers of the free versions of iThemes Security and its closest competitor, WordFence, were about the same. Today the free version of iThemes Security has over a million active installs and WordFence has over 4 million active installs. You see, WordFence has been steadily improving its plugin and offerings.
iThemes is not growing through innovation and new products, but by acquisition.
I worked for two large companies, in different markets, that were acquired by investment firms. Not only were the companies I worked for acquired, but the acquisitions continued and I saw lot of other companies purchased and folded in. In both cases, the process worked like this: smart capable founders built a business from scratch. They were offered a chance to cash in on their efforts. If the founders were essential to the operation of the company then they were given a contract and incentives to stay. In the initial stages, the larger company provides back-office services, particularly those involving accounting and HR functions. Bills, payroll, and taxes are a pain that most small businesses are happy to shed. The larger company has healthcare and retirement plans that everyone is happy to receive. Obviously the smaller company needs to bring its reporting processes in-line with the larger company and there is a big push at the end of each year because of taxes. The year-end reports are also used by investors to monitor growth, set goals for the new year, and create budgets. Anyone who is not onboard is headed out the door. Usually, though, the smart founder has picked up the business speak and is playing the corporate game. My point is that acquisitions by investment firms have an established integration process that focuses on sales and reporting and not on innovation.
To be fair, I don't know how LiquidWeb operates and a few businesses do really get out of the way when creative talent is on a roll. In any case, however, I'm not worried about the short term when Kadence can help revitalize the iThemes portfolio, and I'm not worried about the medium term when it seems that Ben Ritner has a good idea of where he is going. I'm worried about what happens in three to five years.
Nick Roach had a thriving theme business based on the model of a lot of niche themes. He reimagined the theme and created Divi. Tom Usborne's GeneratePress theme was hatched around the same time as the early Kadence themes. Tom recently rewrote GeneratePress from the ground up to take advantage of Gutenberg and the advances in frontend web technology. Ben Ritner likewise made the transition from the previous generation of themes to be at the forefront of modern general purpose page builder friendly themes. My worry about the future of Kadence is what happens after Full Site Editing? Will Ben Ritner have the freedom in 3 to 5 years to reinvent his themes again? IThemes track record indicates they are more comfortable calling a product "mature" and putting it into maintenance mode.
Dynamic WordPress – The Bricks Builder Theme
A few years ago I frequently heard developers lament that the golden age of WordPress themes had passed. The reception and success of new themes like Blocksy and Kadence show that is far from true. There is plenty of room for creativity and innovation. Gutenberg shook up the theme market and Full Site Editing will continue that trend. We are watching for and expecting new developments in the Gutenberg space, but it is surprising when a new builder theme is released and it receives great fanfare.
In March Thomas Ehrig released the Bricks Builder theme. Like Divi, it is a builder included in a theme. Unlike Divi, and a number of page builders, Bricks is pretty performant out of the box. The developer has previously released the Happy Files plugin for managing the Media Library. He received props from the community for listening to feedback and for incrementally making a useful product better. Here again we have a talented and personable developer who introduces a new product that catches people's attention.
And it was remarkable how much attention Bricks gained at launch. Dyed in the wool Beaver Builder users and staunch Oxygen supporters all paused to take a look. Elementor users frustrated by its lack of optimization and the continuing series of update issues, think perhaps Bricks is an option. Site builders who don't feel that Gutenberg is ready yet also expressed interest. So yes, even given a saturated builder and theme market, there is still room for a better mouse trap.
With Bricks it seems like there was a review of the currently popular page builders and their best features were identified and included. Also, it is very unusual for a first version of a builder to include the support for custom fields and the ability to create theme templates for Custom Post Types. So far the approach the developer is taking is to focus on stability and fixing bugs. This is quite different than Brizy, which keep releasing new innovative features, but doesn't fix bugs. As a result, Brizy is unusable for anything other than a simple site. Bricks version 1.0 is better than Brizy version 2.2.8.
Bricks has some rough edges, bugs, a long roadmap, a lot of new users, and only a small team. The Bricks team has the challenge to build the team and realize the product's potential. I'm optimistic about the future of Bricks because of Thomas Ehrig's talent and good attitude.
Your Turn
What do you think about the sale of Kadence to iThemes? I see similarities between Kadence and Bricks. It is the pattern of a talented WordPress developer who launches a good product that fills a need, gets recognized, and has to grow the business while continuing to introduce improvements. Will Bricks get acquired like Kadence, or stay independent like GeneratePress? Join the conversation in the Dynamic WordPress Facebook group, leave a comment, or contact me directly using the contact form on the site. Use the subscription form in the sidebar to be notified when the next issue is published.
From Around the Web
Deals
What's Up Next?
I started working on a Gutenberg tutorial, but there is a lot to cover it still needs work. I'd like to finish that as I think it would be useful. I'd also like to continue adding content to the WP Dynamic Toolbox site.
Thank you for reading. I'd like to hear what you have to say about the newsletter content and what you are excited about. Feel free to comment or send me an email through the contact form.

David McCan
April 8, 2021