Last Updated June 4, 2019
ThemeIsle, a WordPress theme shop that started in 2012 and offers a number of highly rated themes and plugins. Their themes are sold individually in either an annual subscription or an unlimited lifetime option. They used to have a "club membership" model that gave access to all of their themes and plugins, but now you only purchase the items you want to use.
I'll start with a short overview followed by a more in-depth review.
Here Is The Skinny
Almost all of their offerings are available in a "Lite" version that is free, and in a "Pro" version that is available by direct purchase. You can download the Lite versions from WordPress.org or their website. The Pro versions have more features.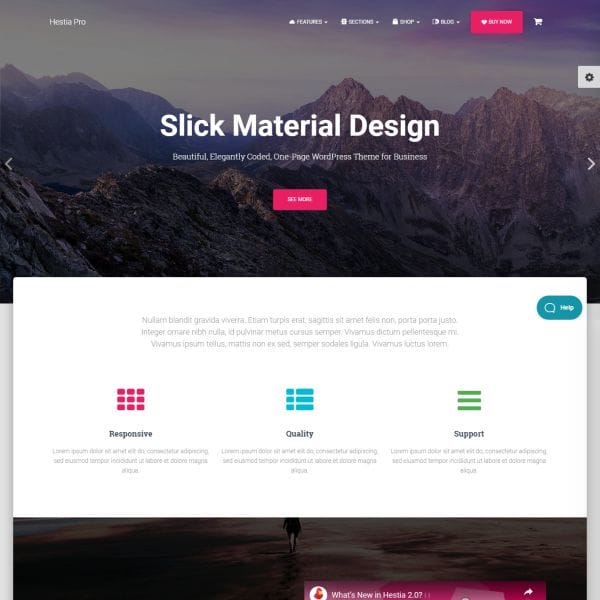 ThemeIsle currently offers a variety of themes that target a specific purpose. Want a one-page brochure theme, a restaurant theme, a law office theme, a music theme, themes for online shops, for reviews, for your business or your blog? All that and more, they have you covered. There are more than 30 themes in their portfolio.
Some of the themes have home page "sections" that you can populate in the Customizer. This gives you the ability to add sections, such as for a team, portfolio, or newsletter without using a page builder They take the approach that you should add specific features using plugins. Using plugins makes your content more portable. For example, say you were writing reviews with product ratings. If the review features were built into the theme and you decide to change themes in the future, then you would have to reenter all of your ratings. If you use a plugin then those ratings are available no matter what theme you use.
As examples of pricing, here is the annual and lifetime pricing grids for the Hestia Pro theme.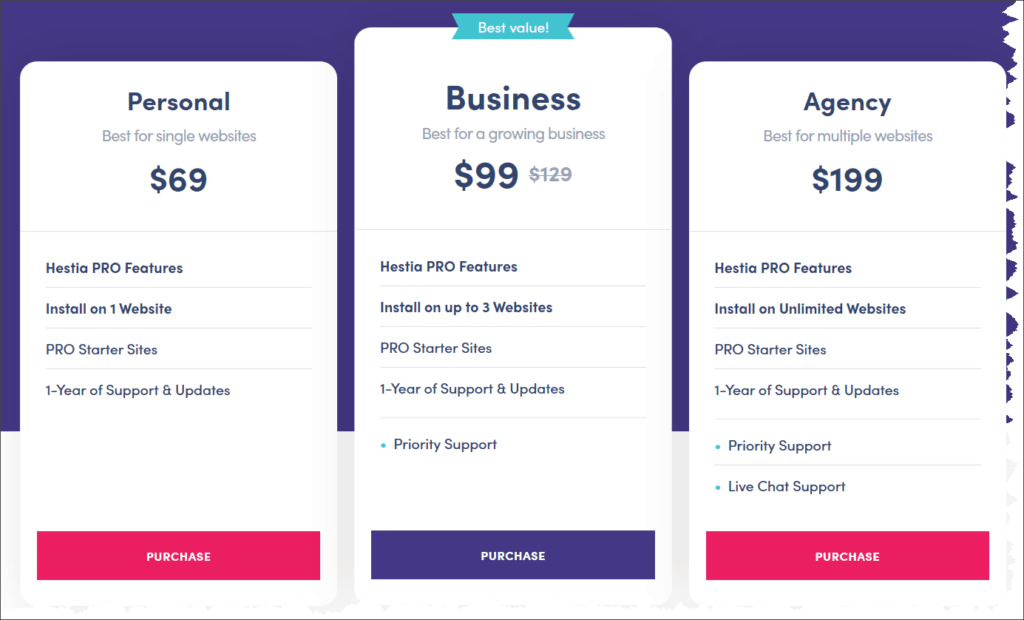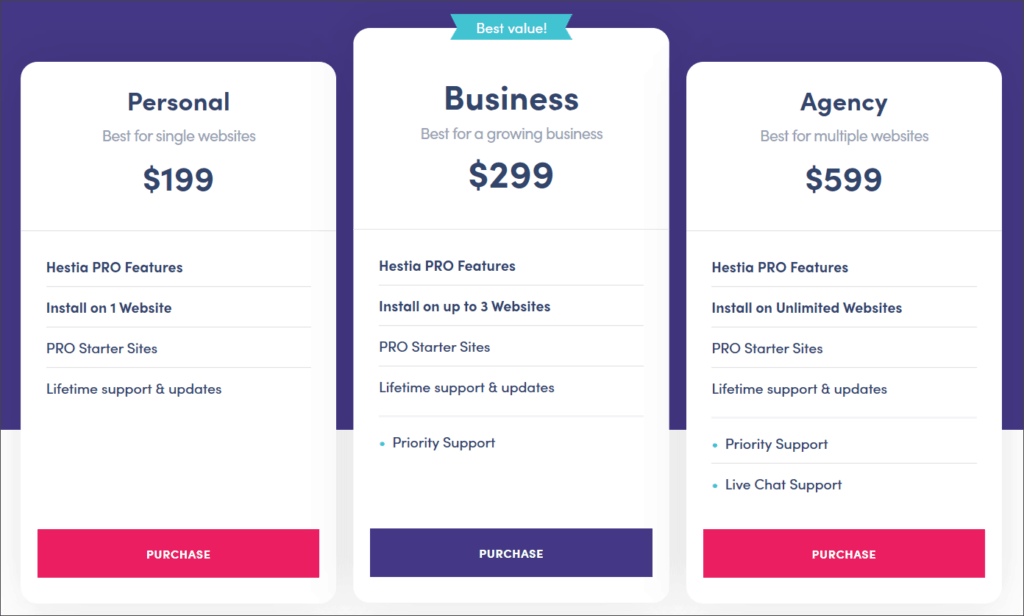 ThemeIsle has changed their packages and pricing several times, so I suggest that you check over their offerings. Their themes and plugins are tailored for particular market niches, so if you find something that matches your project you can try out the Lite version. ThemeIsle is a solid company. If you are happy with the Lite version and want more features then there is no reason not to buy.
So, that is the quick overview. Want more information? Keep reading for the "deep dive."
Deep Dive
How I became interested in ThemeIsle
I've been interested in ThemeIsle for a couple of years. They have a number of competitively priced, highly rated, attractive themes along with some useful plugins. The owner, Ionut Neagu, has periodically published transparency reports about how his business is doing. These reports offer a rare peek into running a successful WordPress business and are a fascinating read. I've gained a lot of respect for the company from reading them.
Good things come to those who subscribe
I have a good impression of ThemeIsle as a company and thought that a purchase from them would be a safe bet. I signed up for their newsletter and kept my eyes open for a sale. The newsletter typically listed their most recent articles and tutorials. I'd been getting it for a few months when I received a surprise email from them offering me a "Pirate Club" membership if I wrote a review. There was no requirement for a positive review, they just asked that I share — the good and the bad. This review was prompted by their offer, but as you will see below, it is a thorough and balanced review.
Overview of the ThemeIsle theme portfolio
ThemeIsle has an extensive collection of themes, but the past few years they have focused on a few "flagship" themes. Currently, those are Hestia and Neve which we will look at in more depth below. No matter which theme you install, there are some common features. All of them support the Elementor Page Builder.
Theme surfing is a thing.
I spent an afternoon "theme surfing", yes that's a thing.
Also, when you install and activate one of the themes you are prompted to install free plugins for features that the theme supports, such as to support a portfolio or contact form. These plugins are free ones that were chosen to work with the theme. You don't have to worry about extra costs and you don't have to go hunt for these plugins either. Click on the link and you go to a page where you can download and activate them. Using plugins for more functionality reflects one of their design goals, which is to make high-performance themes without extra bloat. ThemeIsle themes have fewer options than some other themes because they expect you to use plugins for extra functionality.

One of the plugins you are prompted to install is Orbit Fox, the ThemeIsle multipurpose plugin that add blocks for the Gutenberg editor and other features. The Orbit Fox modules are nice convenience features.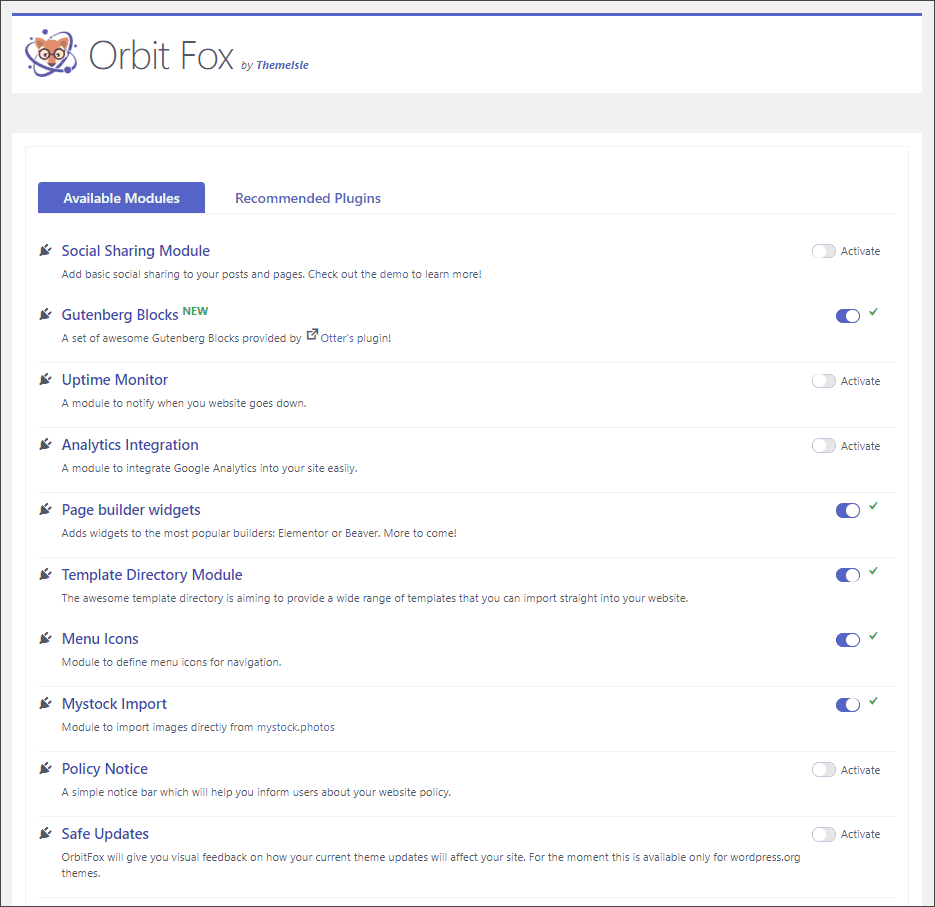 Theme portfolio – observations
Inspecting a large number of themes I noticed that the customization options vary by theme and its target usage. Some might have a lot of color and typography options, for instance, while others only have more home page layout options. The Pro versions have more features and you see placeholders for them in the Customizer when using the Lite versions. There is documentation for all of the themes and ThemeIsle has begun to make available "starter sites" of pre-designed pages to give users a running start in their designs.
One of the themes I checked out was the Oblique theme. The first time I saw it I blurted aloud, "Wow!" It was that striking.
When I saw the Oblique theme I blurted aloud, "Wow!" It was that striking.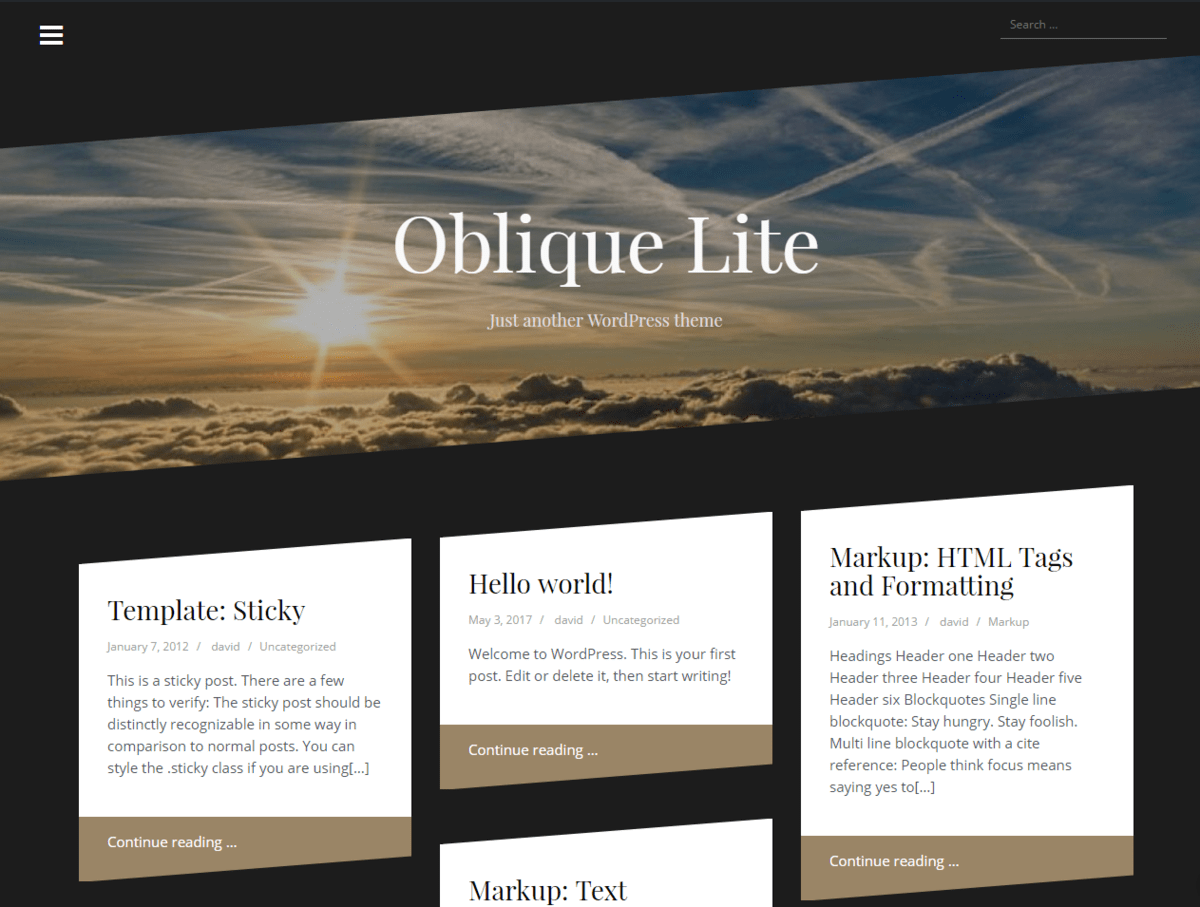 While the Oblique theme has a very distinctive style that would limit its usage, Hestia and Neve are more general purpose.
Hestia Pro
The free version of Hestia in the WordPress theme directory has more than 100,000 active installs and 210 five star reviews. It is being actively updated and new features are being added. Version 2 of the theme was just released March 2019.
All of the layouts in the demo can be achieved using the WordPress Customizer. It has built-in support for WooCommerce and has the ability to "white label" the theme to remove the branding. Here is a screenshot of the demo.

Neve
Neve is a relatively new theme that was just released in 2018. It already has more than 30,000 active installs and 95 five star reviews. Unlike many of the other ThemeIsle offerings, it does not have a Pro version. Version 2 of the theme was released May 2019. One of the new features is a header and footer builder. The theme also has built-in support for a mega menu. Neve is optimized for use with AMP, Google's mobile publishing option.
Neve has more layout, header and footer, and other Customizer options that most of the other ThemeIsle offerings, covering the areas that might not be normally handled by a page builder. Another standout difference is that Neve has a minimal clean design that makes it an attractive option for people who want a good starter theme to use with a page builder. Here is an example home page I created using Neve and Elementor.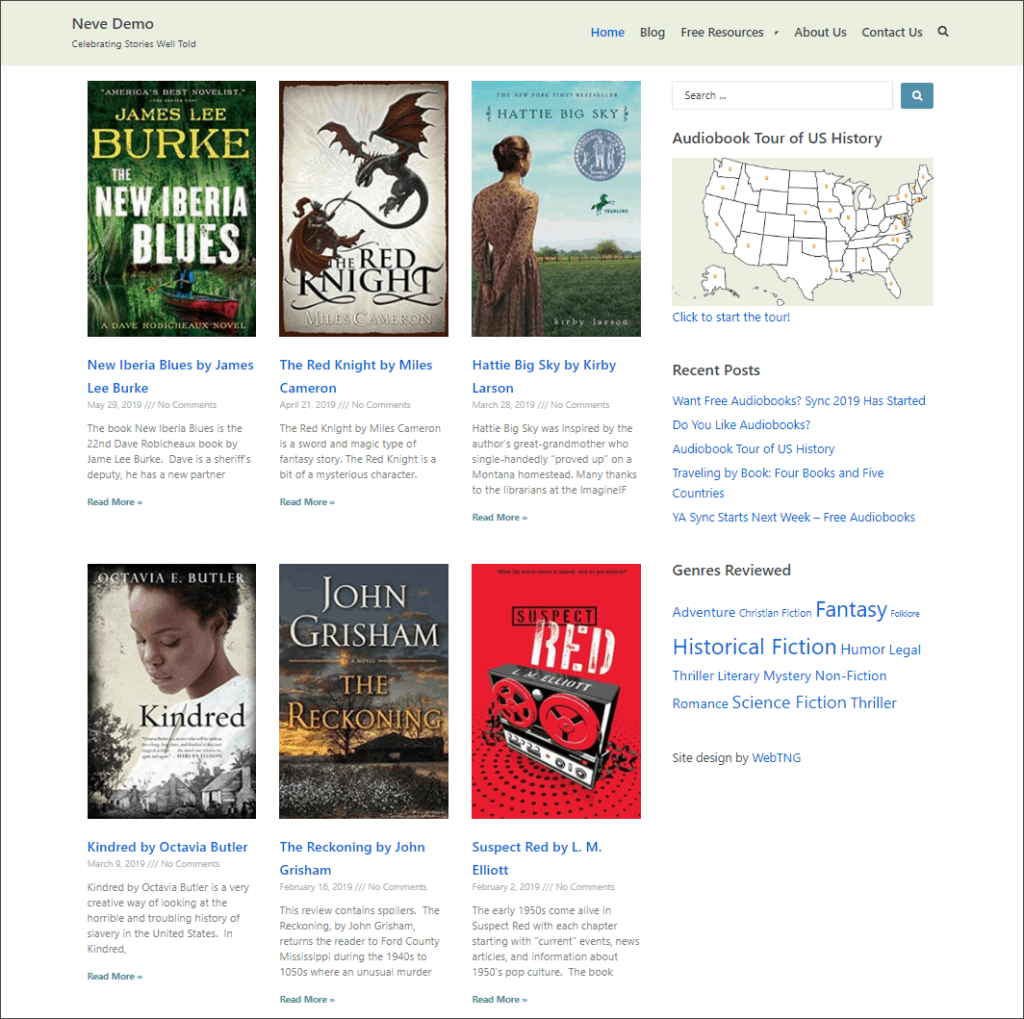 I was very pleased with the clean design and how easy it was to customize the theme.
Gotchas
While updating this review I noticed that some of the themes, such as the Oblique, recommended installing the Pirate Forms plugin so as to provide an easy contact form. However, this plugin was sold to WP Forms and is no longer supported. This is not a big deal as a savvy user will turn to one of the many good contact form options available, but for a new user it could raise some questions as to what they should do. I was also a bit surprised to see the Orbit Fox plugin recommending third party plugins with affiliate links. While there is nothing wrong with including affiliate links, and there is a notice, I was expecting the plugin to only feature ThemeIsle's own plugin offerings. Perhaps ThemeIsle has a partnership with Yoast, WP Forms, and other plugin developers?
Support
Over the years, I have had a few support contacts with the ThemeIsle team. They have always responded professionally and in a timely manner. Looking around online, I saw favorable comments about ThemeIsle support, which reinforced my positive impression.
Conclusion
ThemeIsle themes and plugins are well coded. If you find a design that fits your needs, you can save time by using one of their niche themes. Their themes are a good match for people who are new to WordPress or who don't want to dig into layers of customization, but who prefer to put their energy into their content and business. One feature of their many themes and plugins is that they come in a Lite version, so you can "try before you buy," or maybe the Lite version will have all of the features you need.
Hestia Pro and Neve are more general purpose themes. Hestia might be a good fit for a small business that wanted to add sections to the home page without using a page builder. Neve is a nice theme, currently one of my favorites from ThemeIsle, which is more of a blank slate that would allow someone who wanted to use Elementor (or another page builder) to create their own vision.
I have a good feel for ThemeIsle and their products after going through the "deep dive" process. I uncovered a few issues, but for the most part, everything worked as it should. While "attractive" is subjective, I felt that some of the themes stood out from the pack.
---