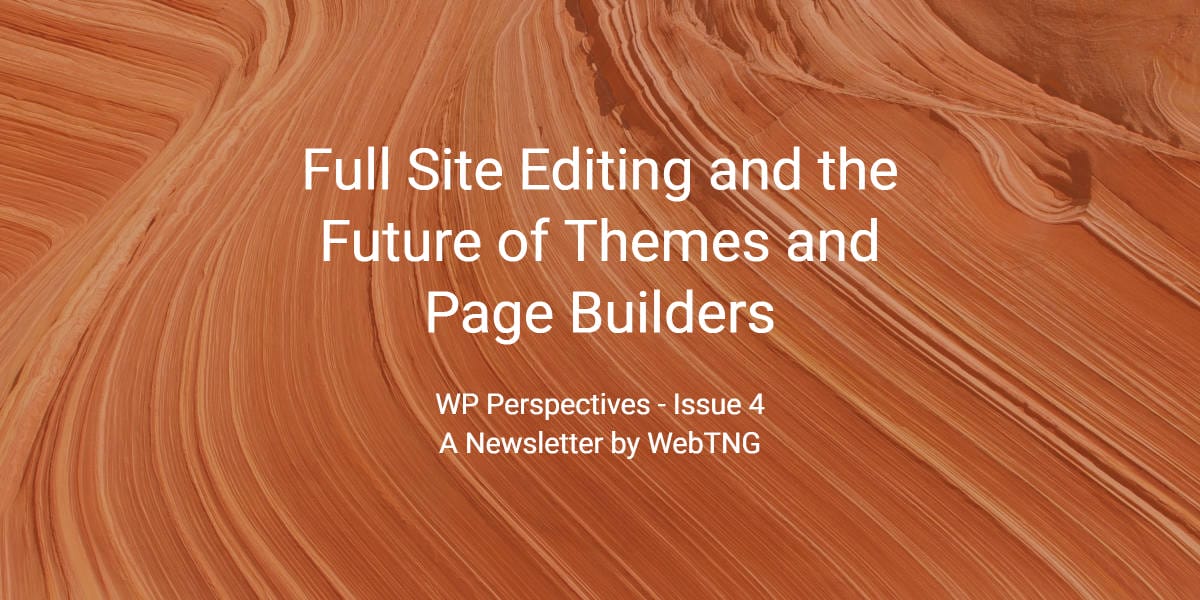 In this issue: My thoughts on Full Site Editing, the latest posts on WebTNG, and some useful links from around the web.
Full Site Editing has a chicken and egg problem. Full Site Editing lets you create a theme, but you need a theme that supports it.
Recently Published
Dynamic WordPress – Full Site Editing and the Future of Themes and Page Builders
There is an expectation that Full Site Editing (FSE) will mean the end of themes and page builders. No it won't.
I've seen it said in response to posts about page builders and working with dynamic data, "soon you will be able to do that with Full Site Editing." No you won't.
Full Site Editing is coming to WordPress 5.8 in June 2021. It will include FSE as a "minimum viable product," otherwise known as a limited first version. The target functionality for FSE in WordPress 5.8 is the ability to recreate the Twenty Twenty-One theme templates using Gutenberg. Everyone who is using the Twenty Twenty-One theme for their sites raise your hand.
What's a theme? A theme is a collection of templates for the layout and display of your content. The pro version of many modern page builders include a "theme builder," or the ability to create templates that can replace the ones that a theme provides. We are talking about templates for header, footer, single, archive, blog, home page, 404, search results, and so on. FSE is going to be a theme builder. You will be able to create your own theme templates using Gutenberg, but you will still need a theme that supports this functionality, so themes aren't dead. Even conventional "classic" themes like we have today aren't dead. All they will need to do is add support for FSE. Kadence and Blocksy have already said they will support FSE, and many of the other big players may also, or they may provide their own fully functional variation.
GeneratePress just released an alpha version 2 of their pro theme. From the announcement, "GP Premium 2.0 brings you theme building using the core block editor and the GenerateBlocks plugin." And further on, "Over the last 18 months, we have been carefully planning, designing, and developing the necessary components to realize what has been a long-term vision for the future of GeneratePress – block-based theme building." Right, why wait for Gutenberg.
While GeneratePress implemented the idea in their own way, I expect that most themes will just find a way to support FSE and allow theme templates to be overridden by ones created using FSE. There is no reason why page builders can't support FSE templates also. I'm waiting for "Beaver Builder Blocks" (that's a thing isn't it?) and for Beaver Themer to support Gutenberg. For that matter, who would be surprised if instead of killing off page builders, FSE gives rise to a whole new generation of FSE builders, because many people will find FSE, like Gutenberg, as being too limited and not full featured enough.
FSE may support Custom Post Types, but there is no talk of supporting custom fields. We have seen some blocks that support custom fields, and some block builders that let you create blocks that support custom fields, but so far Toolset is the only tool that provides the ability to create theme templates using Gutenberg. By the way, Toolset only supports the creation of templates for the area between the header and footer. Toolset, ACF Blocks, ACF Pro, and Meta Box are well positioned to leverage FSE, if they are nimble enough to do so.
So when Full Site Editing drops with the release of WordPress 5.8, the trumpets will not sound, themes and page builders will not turn to ash, and we will not be freed from the shackles of needing to pick the best theme and builder options to match out skills, goals, and workflow. Full Site Editing will be the breeding ground for more options, not fewer. That's just life with WordPress.
Did I get it wrong? Did I miss something? Let me know in the comments below.
From Around the Web
Deals
What's Up Next?
There is more I could write about Oxygen, but what I really want to do next is create a "getting started with Gutenberg" tutorial.
Thank you for reading. I'd like to hear what you have to say about the newsletter content and what you are excited about. Feel free to comment or send me an email through the contact form.

David McCan
February 28, 2021