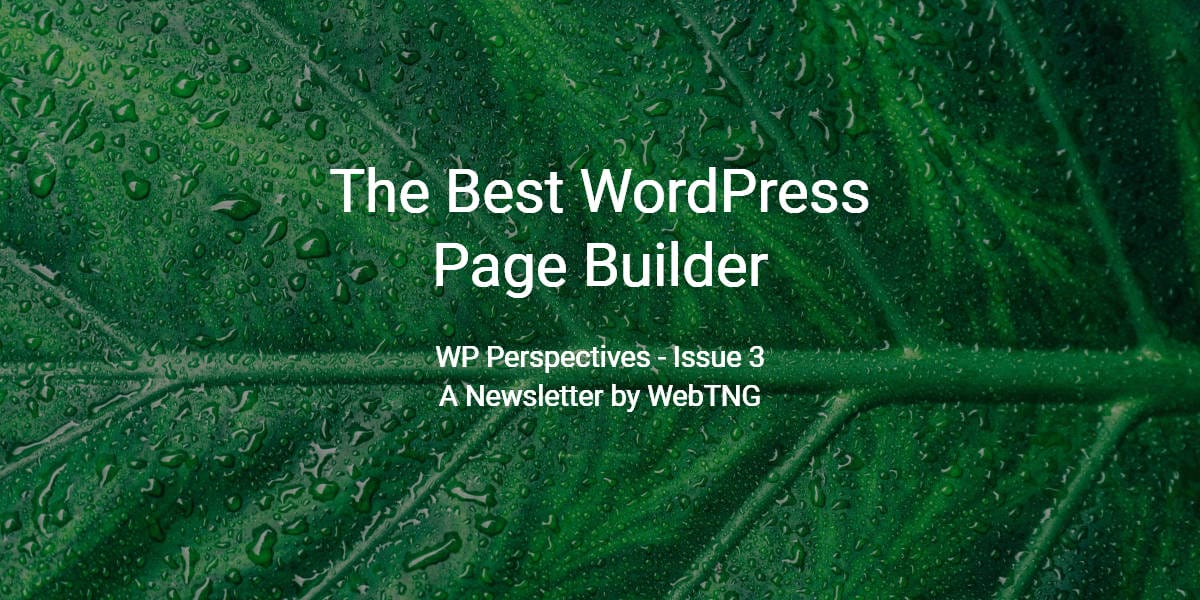 In this issue: Dynamic WordPress, what I learned from searching for the Best WordPress Page Builder, the latest posts on WebTNG, and some useful links from around the web.
It is what we know already that often prevents us from learning.
Claude Bernard
Recently Published
Dynamic WordPress
Two projects turned the corner last year. First, many WordPress professionals have stopped arguing about Gutenberg and have started using it. I like it better than the classic editor for longer content. Second, Oxygen has reached a point of maturity, is being more widely adopted, is attracting more attention, and is supporting third party addon developers. It makes sense then that recent discussions in the Dynamic WordPress Facebook group have centered around learning Oxygen and around Gutenberg as a possible replacement for page builders. If you are on Facebook then come join the conversation.
What's the best page builder?
Every day people ask "what's the best page builder?" Perhaps the most helpful answer is, "not mine." Let me explain. In the last couple of years I've used a large number of page builders and, although there are exceptions to every generalization, it seems the builders can be placed on a continuum.

Easier to learn
Easier to use for new user
Create stylish pages faster
Verbose output
Less access to dynamic data
Less powerful
Appeals more to designers
Harder to learn
Harder to use for new user
Takes longer to create stylish pages
Light-weight output
More access to dynamic data
More powerful
Appeals more to developers
It is not surprising that different page builders have different strengths and target different types of users. However most of the time people will recommend their own personal choice regardless of a builder's strengths or the user's skill set. One reason we believe "mine is best" is because the builder empowered us to create something. We have experienced success with our builder and success is an emotion we identify with positively. Further, we self-select into birds of a feather groups not only for mutual aid, but also because by surrounding ourselves with like-minded persons we affirm the correctness of our choice. These things help us to "know" that our personal choice was the best choice.
Imagine Joe, a graphic designer with little web experience who gets laid off. The rent is due soon and he needs to buy food for his family. He decides to try freelancing and uses Divi to build a site relatively quickly. The client is thrilled and sends him several referrals. Joe is now an ardent Divi fan. Joe says with confidence, even though he has not tried any of the other builders, that Divi is the best.
Consider David, a digital nomad, "have laptop, will travel." David screens his clients carefully and picks those whose sites can be built within an allotted timeframe and that will require minimal maintenance. While some people poo-poo Beaver Builder because development of new features is so slow, Beaver Builder is perfect for David. He is happy that new releases are rare, because that means Beaver Builder is very stable and there is less chance for something to go wrong. What good is it being able to travel the world if you have to sit in the hotel all day fixing websites that broke due to an update.
Then there is Amber. She was offered a big contract to take over a site that uses Brizy Pro. "No way," she told them, "Brizy Pro is not GPL."
What about Mike, who has a Computer Science degree and worked as a programmer. Mike likes nothing better than to rewrite code to make it more efficient. He tried Divi, but felt sick when he looked at the page source. However, when he tried Oxygen, which gives him full access to code and produces light-weight output, he felt right at home.
We haven't even considered budget or type of site being built. You probably see when I'm going with this. The best page builder for a person depends on matching the builder's strengths with the person, the project, and perhaps other considerations as well. The choice of builder depends on the person, but it is not just personal preference.
So, "what's the best builder?" The best answer may be, "that depends on you." That answer is not as satisfying as "mine," but it may be more helpful. What do you think?
From Around the Web
Deals
What's Up Next?
I want to dive into using Oxygen with dynamic data and I want to see how Oxygen works with Gutenberg.
Still on the list is seeing if I can replace Toolset Content Templates on the WebTNG website using Kadence Pro Elements.
Thank you for reading. I'd like to hear what you have to say about the newsletter content and what you are excited about. Feel free to comment or send me an email through the contact form.

David McCan
January 22, 2021