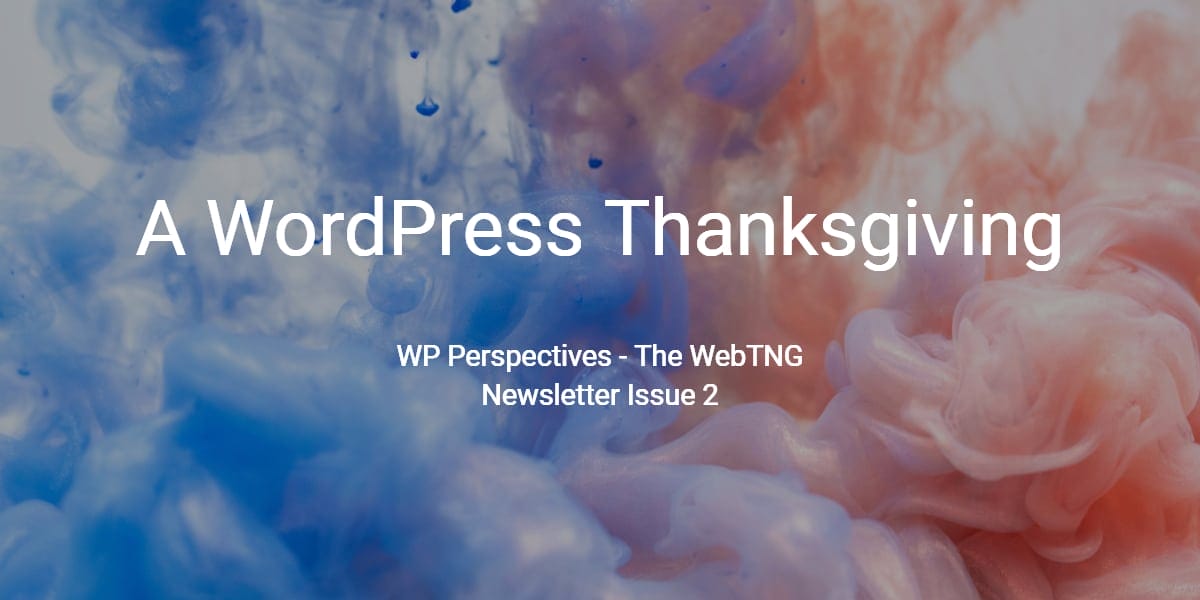 In this issue: A WordPress Thanksgiving, the latest posts on WebTNG, and some useful links from around the web.
The roots of all goodness lie in the soil of appreciation for goodness
Dalai Lama
Recently Published
A WordPress Thanksgiving
In the United States, Thanksgiving comes before Black Friday, but you wouldn't know it by looking online. A lot of people are caught up in the sales mania, myself included. I'd like to suggest, however, that we also take the time to celebrate a WordPress Thanksgiving. At thanksgiving time we pause to take stock of what has happened during the year and what we have to be thankful for. It is also a time to express appreciation.
This isn't a normal year and many of our activities have been overshadowed by the pandemic, but that makes it even more important to appreciate what we have.
I'm thankful for the core developers and the WordPress.org volunteers who gave us another year of WordPress. I appreciate the plugin developers who gave us free plugins that make running a site easier and safer. I am thankful for the people who took the extra time to answer my questions and help me understand how something works or troubleshoot a problem I was having. Thank you to the helpful people I've interacted with online who have shared user experiences, personal assessments, answered questions, and created tutorials. Thank you to those people who have been friendly, told jokes, shared stories, and camaraderie. I very much appreciate all of the people who have taken the time to say thank you to me for the videos, tutorials, and walk-throughs I've created.
Thank you for signing up for and reading my newsletters.
Please take a few minutes, look and see what free themes or plugins you are using and, if you haven't done so already, go leave a review. Also, please think back over the year and remember anyone who has gone out of their way to help you, and say thank you. If you already thanked them, maybe just say hi, because recognizing them as a person is a gift.
Stay safe this Thanksgiving, take care of yourself, and spend time with friends and family.
From Around the Web
Deals
What's Up Next?
I used Toolset to create the content template for Posts on WebTNG.com. I plan to try and replace that using Kadence Pro Elements. I'll share what I learn.
Still on the list, Meta Box Views is plugin that is part of the Meta Box suite. With it you can use Twig to create content templates. If I like it then I'll add it to the Custom Post Types and page builder series.
Thank you for reading. I'd like to hear what you have to say about the newsletter content and what you are excited about. Feel free to comment or send me an email through the contact form.

David McCan
November 25, 2020