In this review I'm comparing Kadence Blocks and Stackable Blocks. I'll be looking side by side at the different aspects and features. These are two of the best Gutenberg addons, especially if you are interested in dynamic data and using Gutenberg instead of a page builder. You will see that while there are some similarities and overlap, there are also some significant differences. Consequently I think there are times when it makes sense to use one over the other and I'll share my thinking on that in the discussion and conclusion section.
Video Version
Please note that the text version is a summary of the video. Please see the video for the complete walk-through.
A Retrospective
This is not the first time comparing these plugins. Sixteen months ago I reviewed Kadence, Qubely, and Stackable. Most everything has changed since then. Qubely has pretty much fallen by the wayside and Kadence and Stackable have both seen many new features. One thing the previous look gives us is that we have the stats from sixteen months ago and we can see how those have changed.
Product Overviews
Turning back to Kadence and Stackable lets take a quick look at the free versions on WordPress.org, the product websites and documentation, the pricing and the teams, before starting to compare the plugins and blocks themselves.
Kadence Blocks on WordPress.org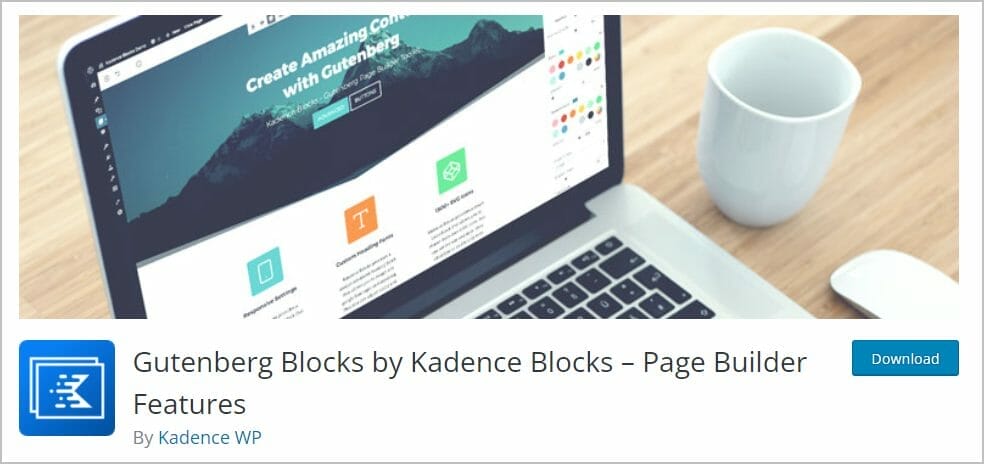 Sixteen months ago Kadence Blocks had 70,000+ active installs and 64 5 star reviews. Now Kadence has 200,000+ active installs and 101 5 star reviews. So there has been good growth.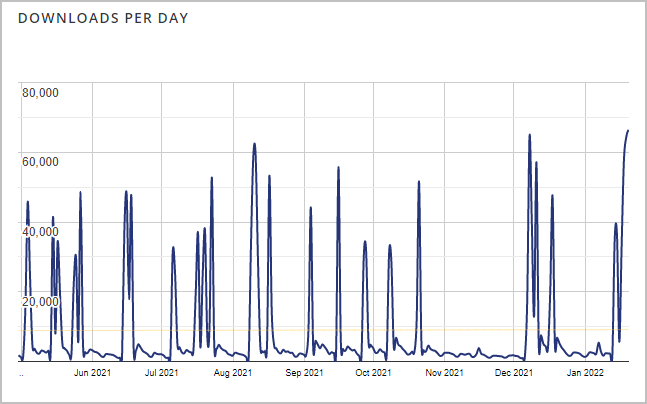 Kadence Blocks
Quick Stats
Kadence Blocks Website, Docs, and Pricing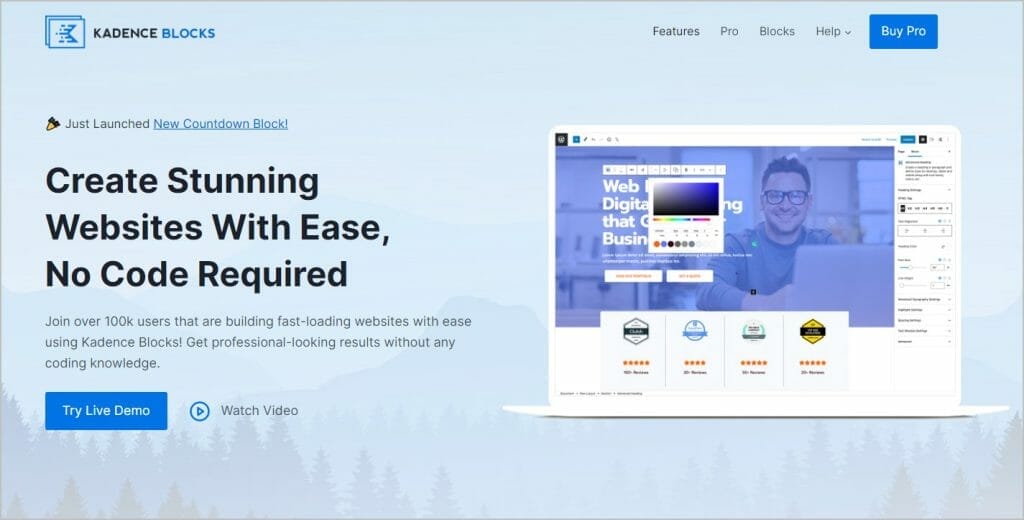 Kadence has good documentation. Support is good and there is a large, very active Facebook group.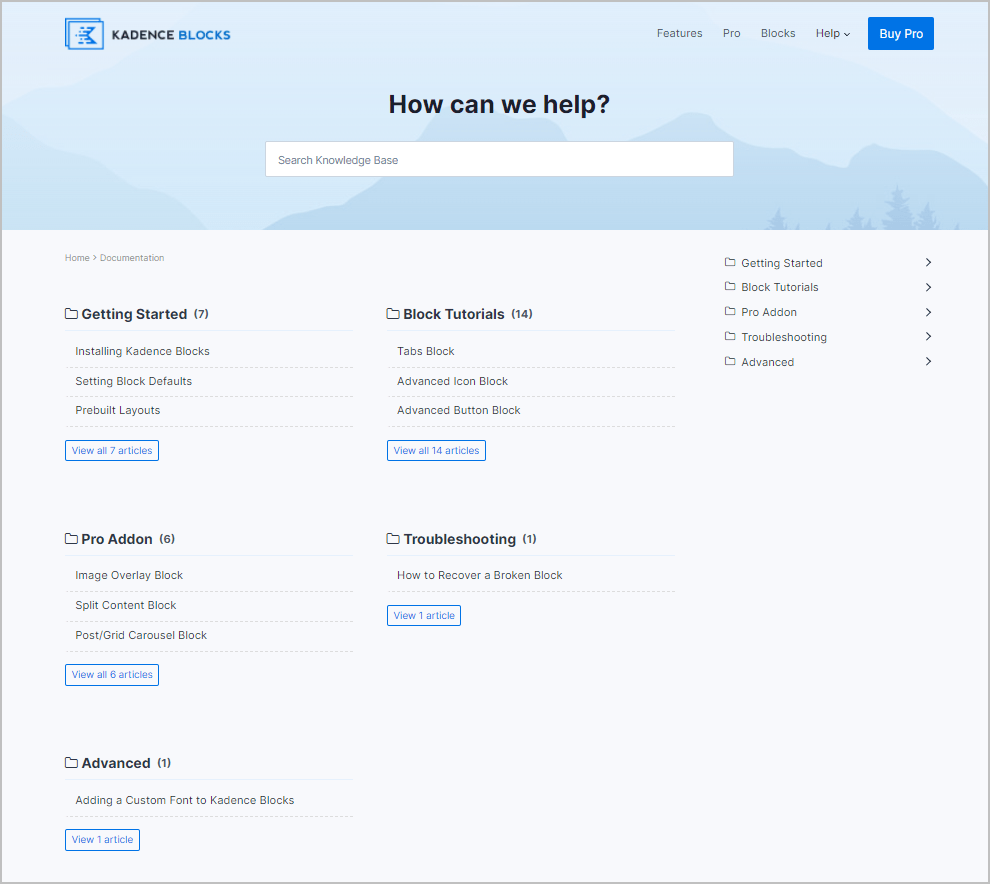 Kadence also has a roadmap for their blocks.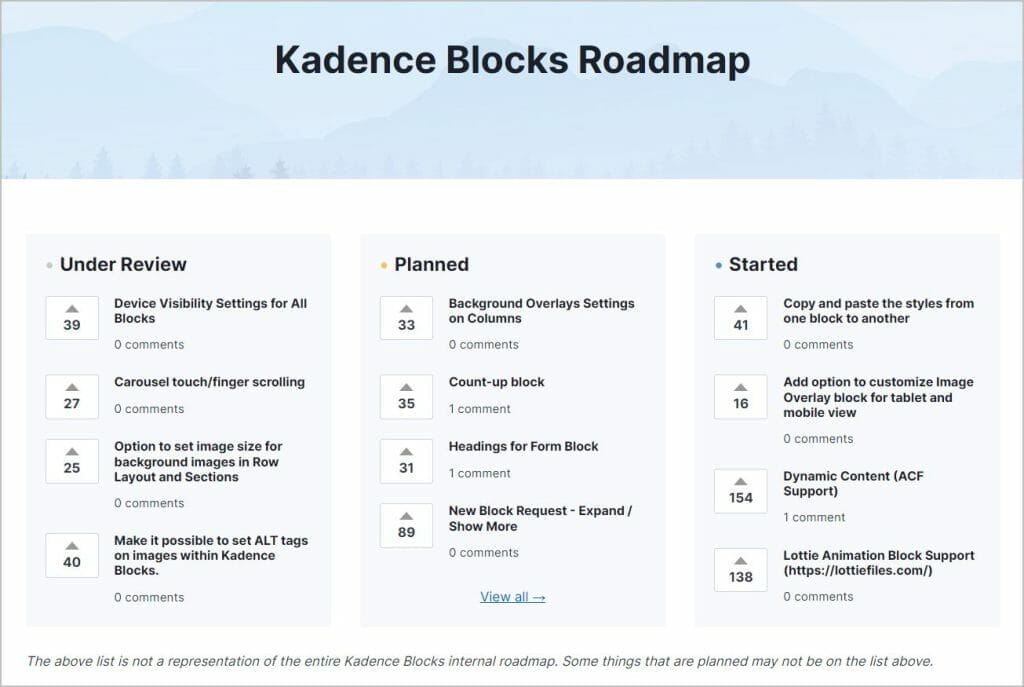 Most of the YouTube videos are about the Kadence theme. There are only a couple that focus on blocks.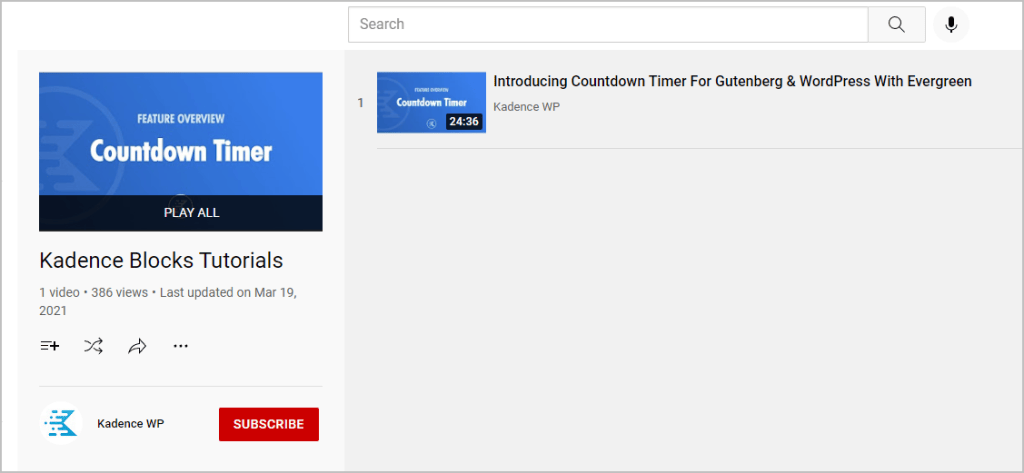 You can get an annual subscription for just Kadence Blocks or get the blocks in a bundle with the theme and all of the other plugins. There is also a lifetime package, but it is for the full bundle and there is not an option for the blocks separately in a lifetime package.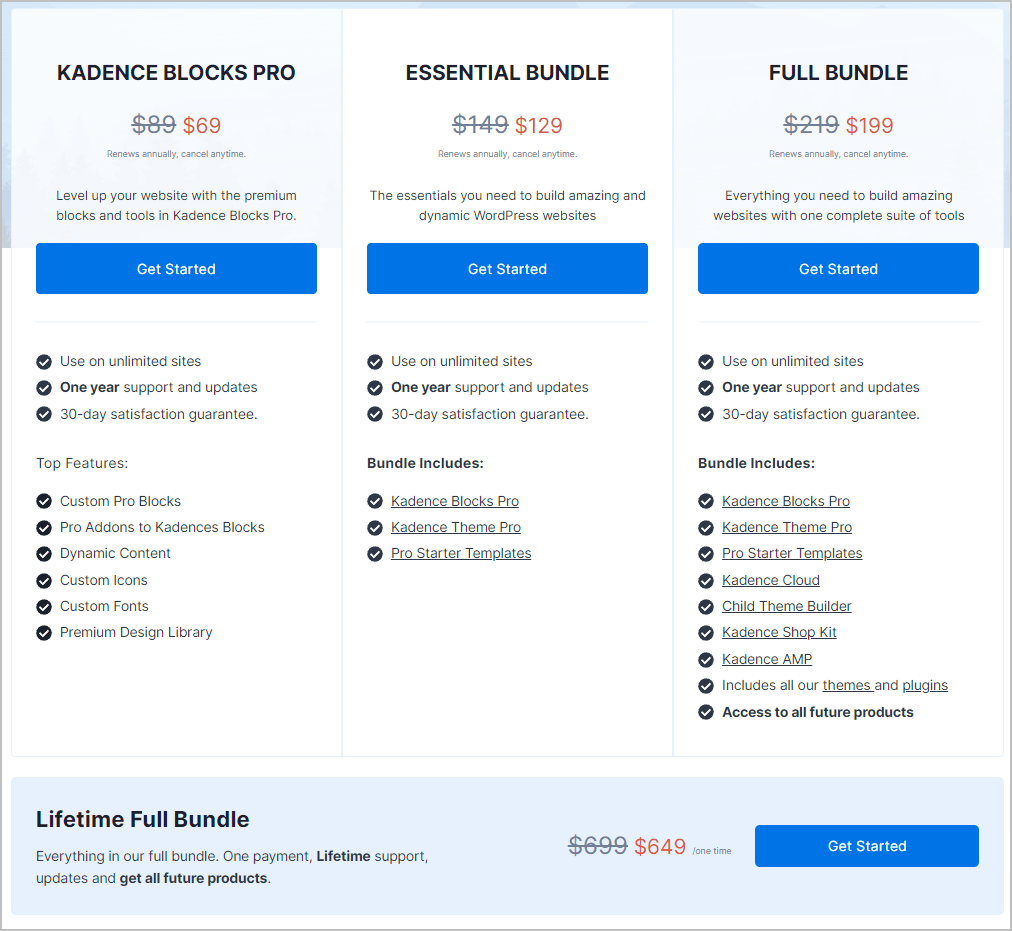 Stackable Blocks on WordPress.org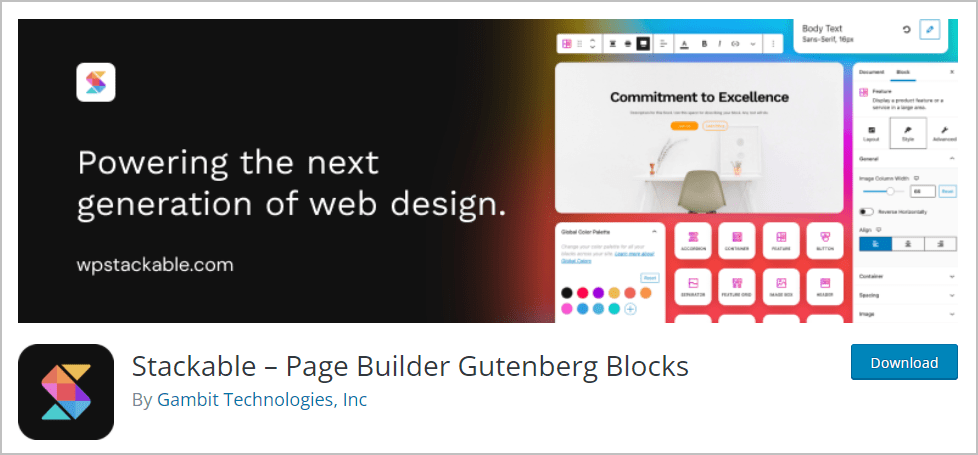 Sixteen months ago Stackable Blocks had 30,000+ active installs and 270 5 star reviews. The growth does not seem as rapid, but something to keep in mind is that the pro version of Stackable is stand-alone and does not require the free version installed. This means that there are more Stackable installs than shown on WordPress.org.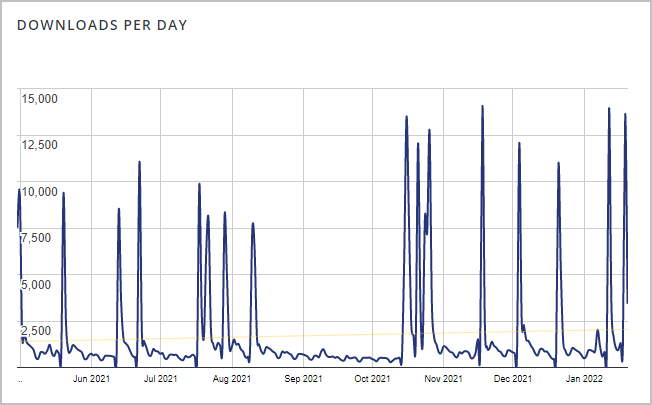 Stackable Blocks
Quick Stats
Stackable Blocks Website, Docs, and Pricing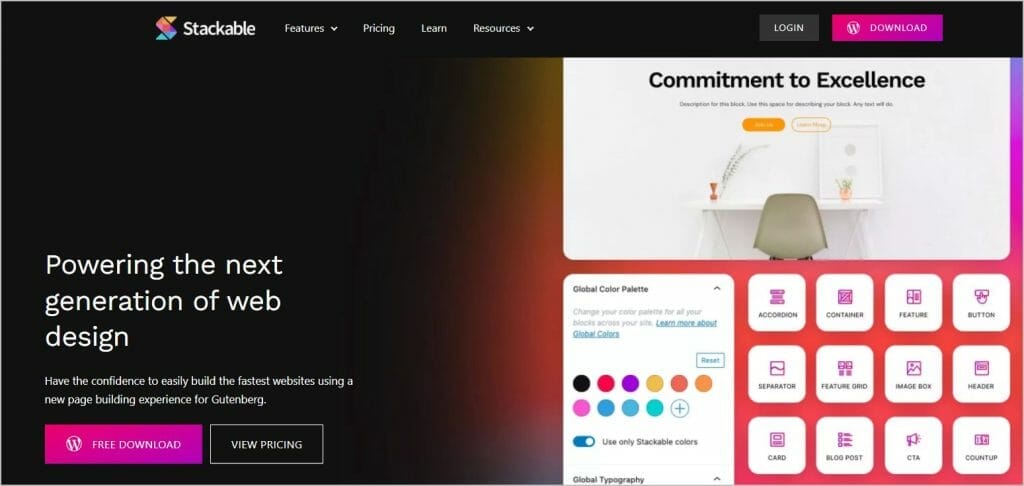 Stackable has good documentation. I don't think there is a roadmap.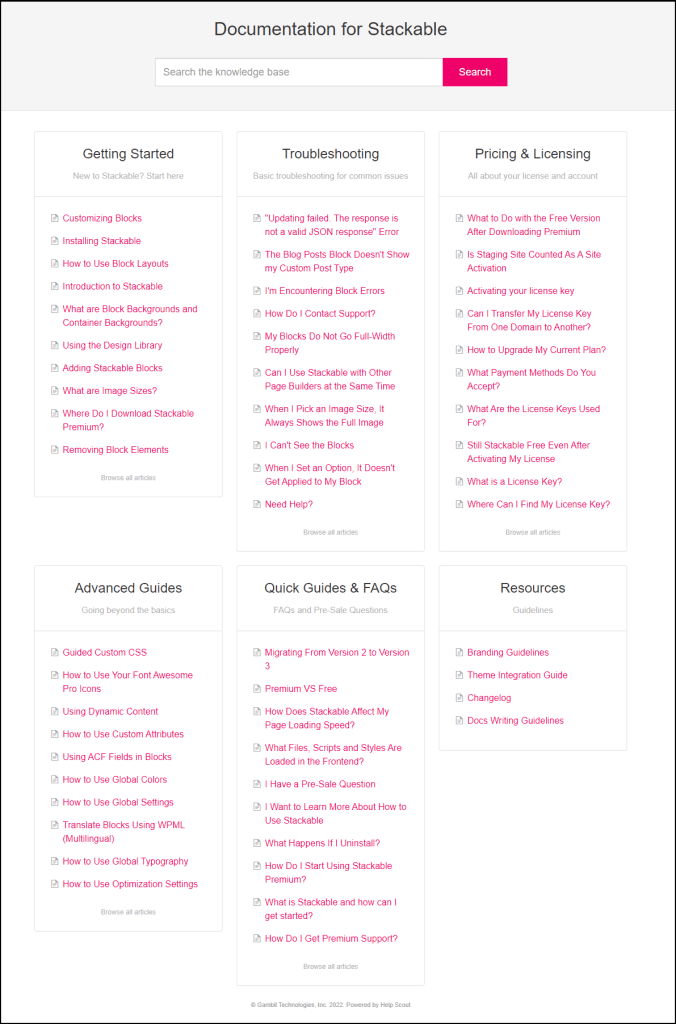 Stackable also has a good YouTube video channel.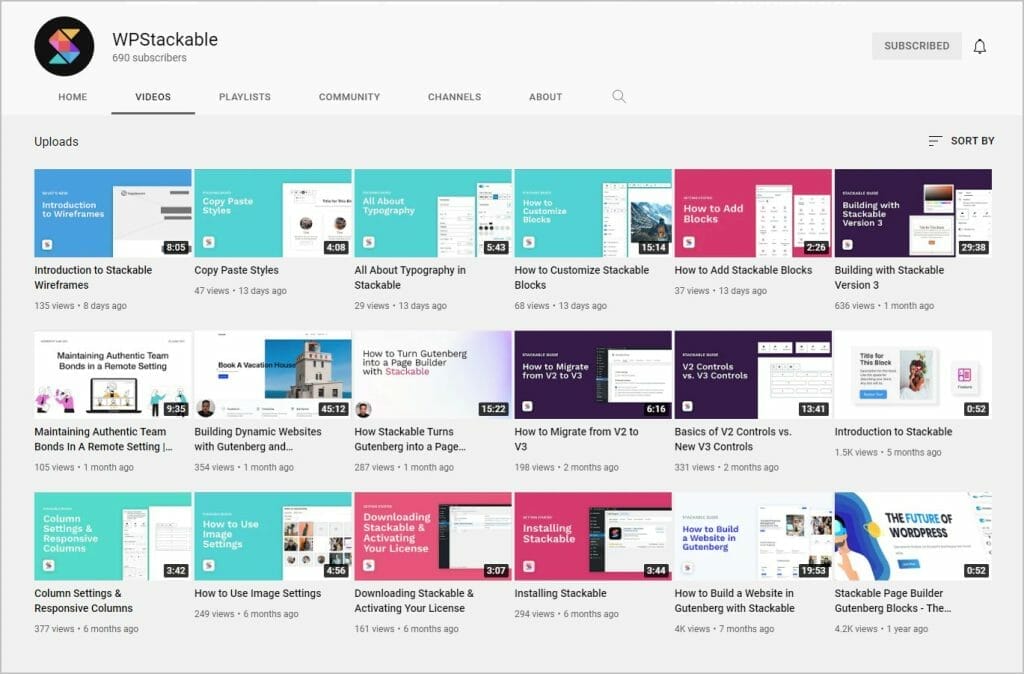 The annual packages come in 1, 3, and unlimited sites. There is also an unlimited lifetime option.

Free Version of Kadence Blocks
Free Kadence Blocks
When you install and activate the free version of Kadence Blocks you get a new menu item under Settings. It has a grid of 12 blocks that you can disable individually if you don't plan to use it. There is also a section where you can set the page widths for the editor. Those settings might be needed for some themes for wide alignment blocks.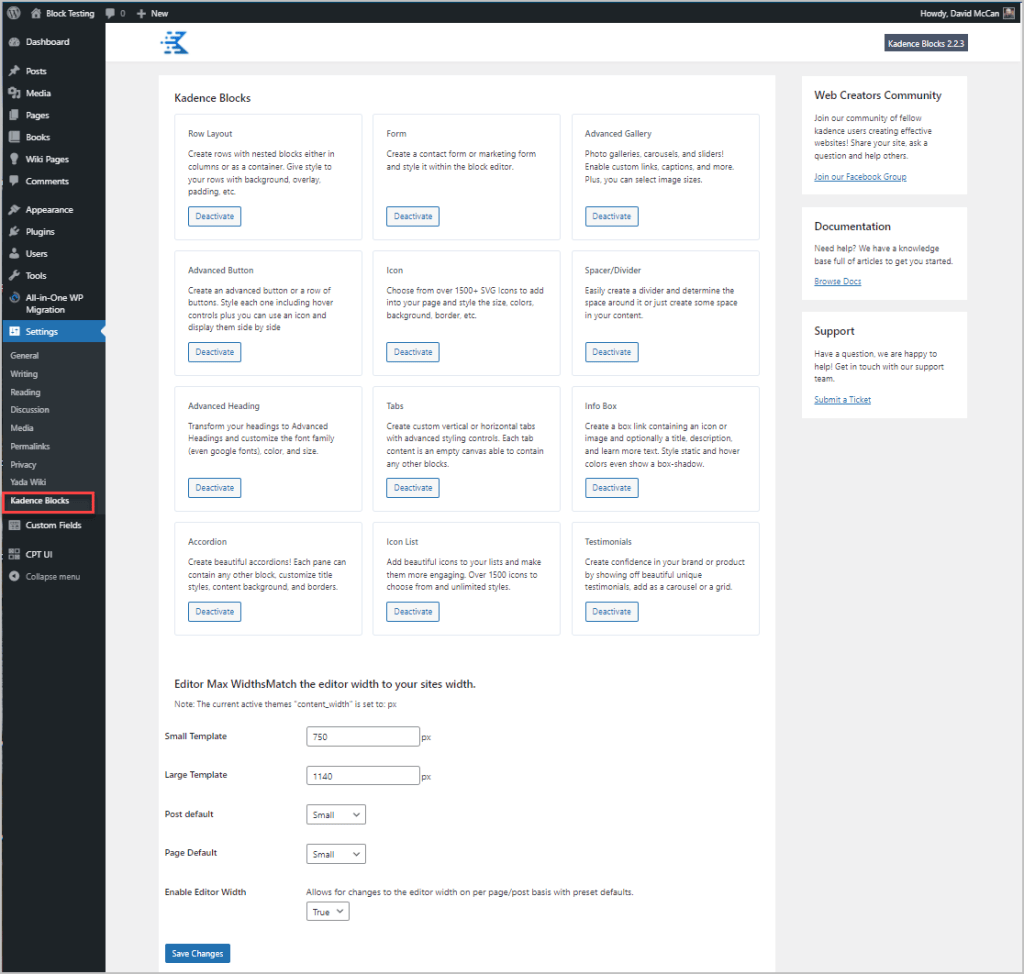 If you go into the Gutenberg editor you see 16 blocks in the list. I'm not sure why four of them aren't in the list on the plugin settings page. You'll noticed that there are several of the blocks with the word "Advanced" in their name: Advanced Button, Advanced Heading, Advanced Gallery, and Advanced Image. Core Gutenberg has blocks like these, but the advanced designation indicates that they have more options.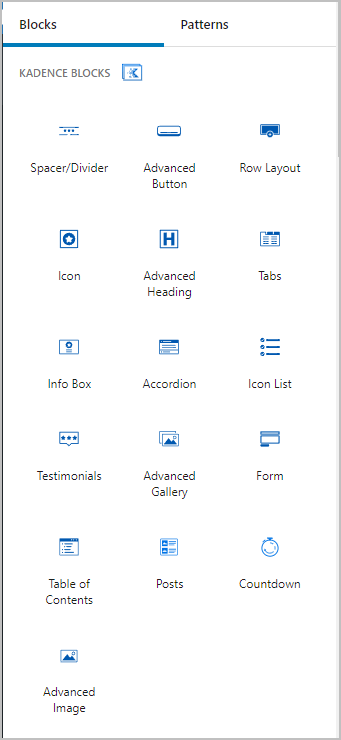 For example, here is the core Heading Block. You see there are color, typography, and margin options as well as a few options on the context button bar.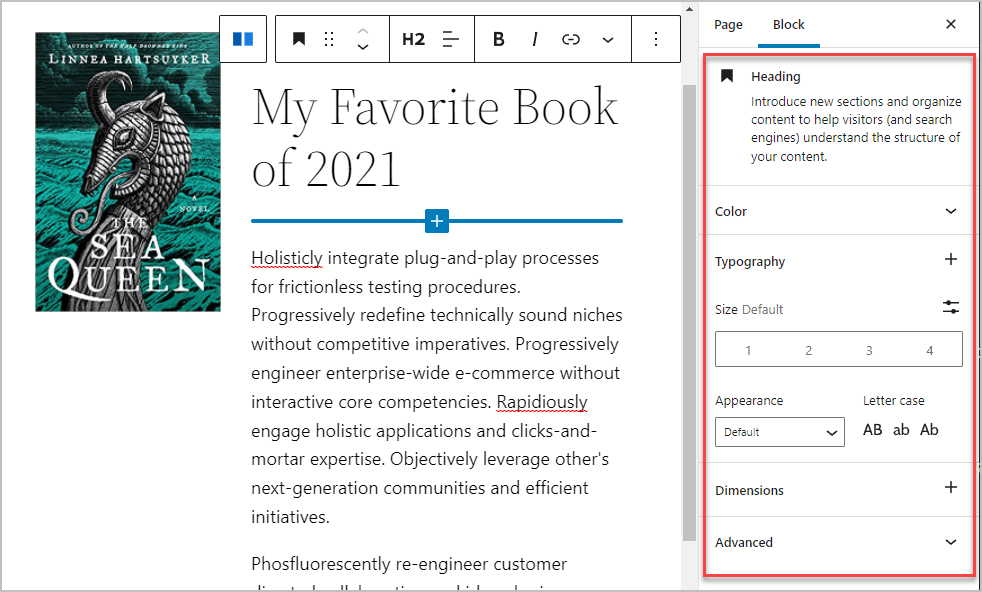 Now here is the Kadence Advanced Heading Block. As you can see, there are more layout and styling options. There are also some options on the contextual button bar. The one outlined with the "two document" icon is a copy styles option, which is a nice Kadence feature.
One area where there is a very difference is block features is in comparing the core columns block with the Kadence Row Layout block.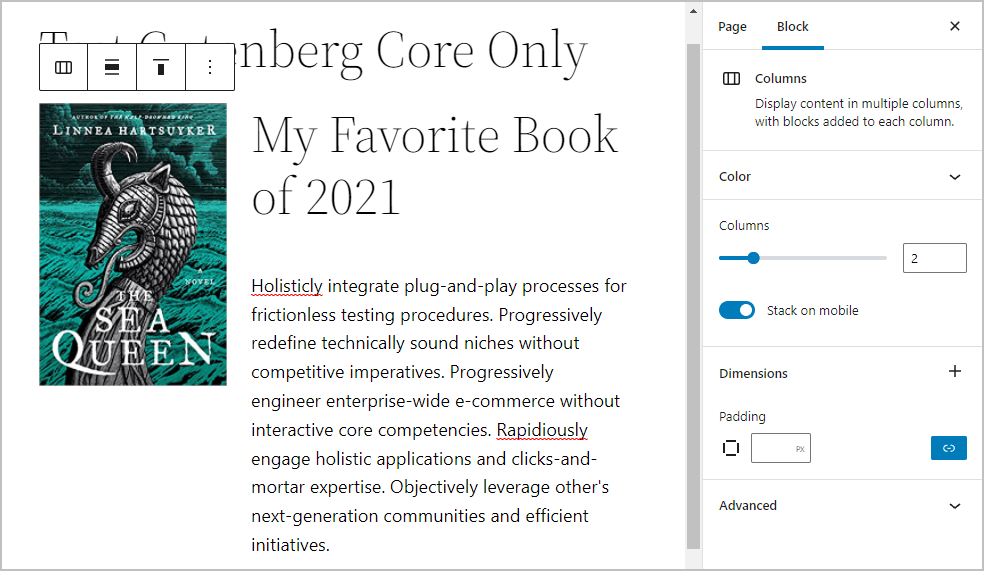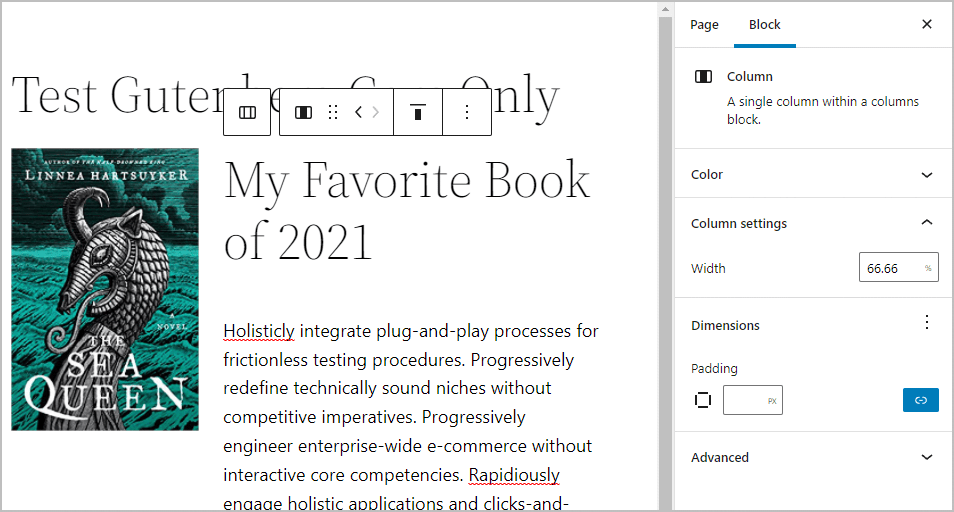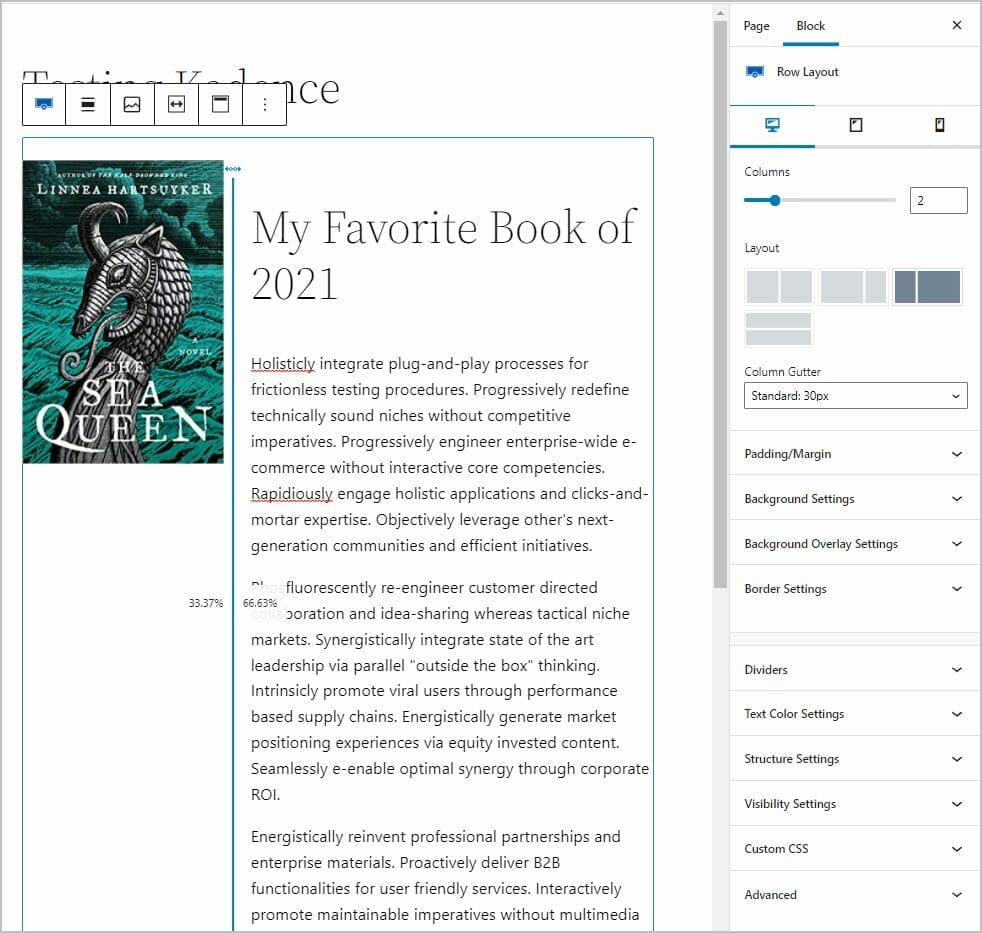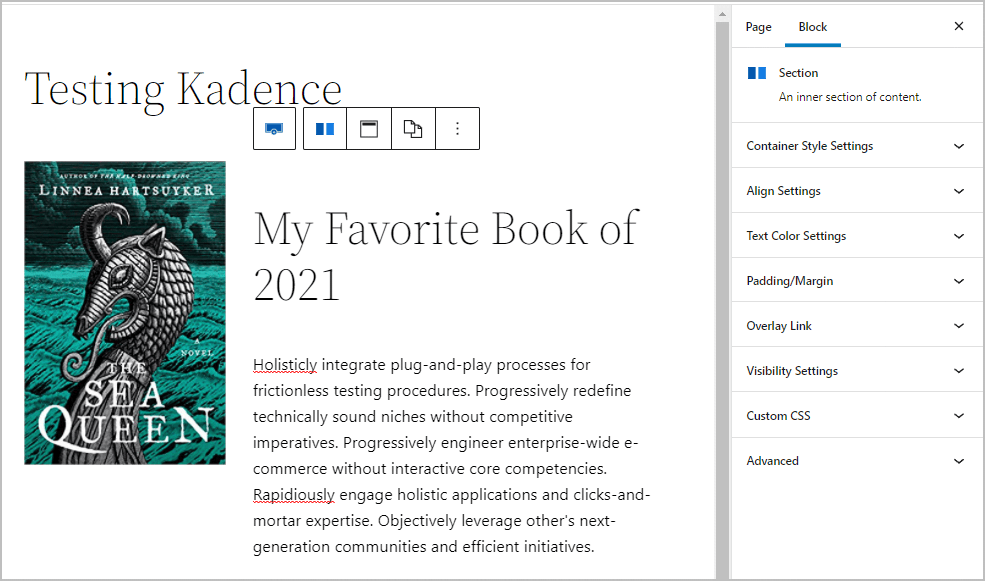 Kadence Design Library
There is a button at the top of the editor page to access the Kadence Design Library. This is a collection of pre-designed layouts that you can insert.

There are three tabs. The first one shows block sections. There are 20 free sections included.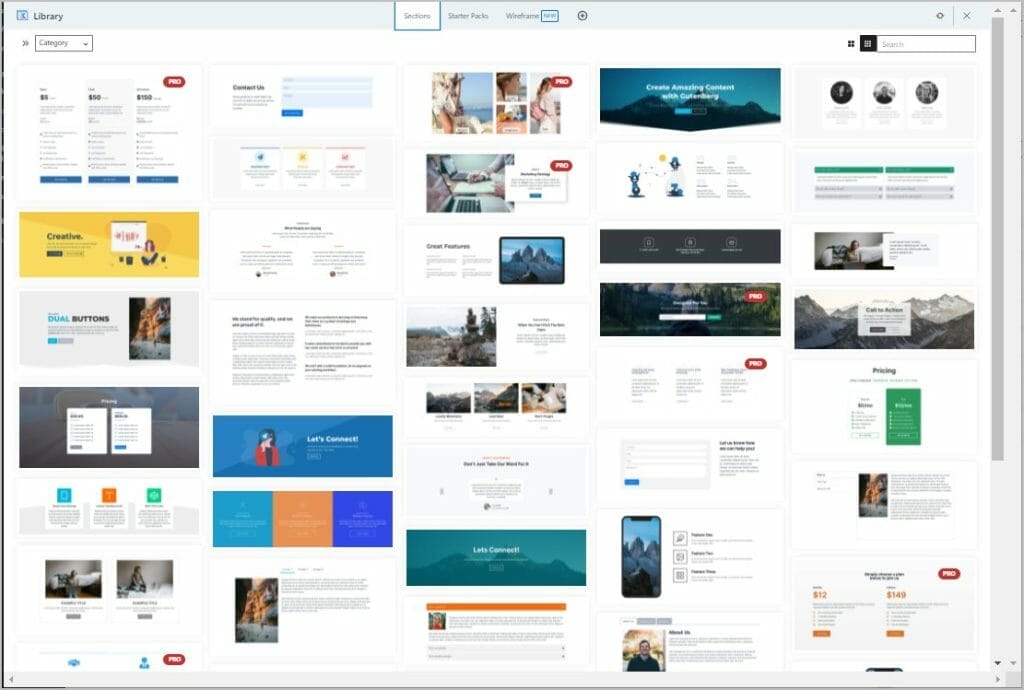 The second tab is for Starter Packs. There are 25 Starter Packs, which seems like a nice selection.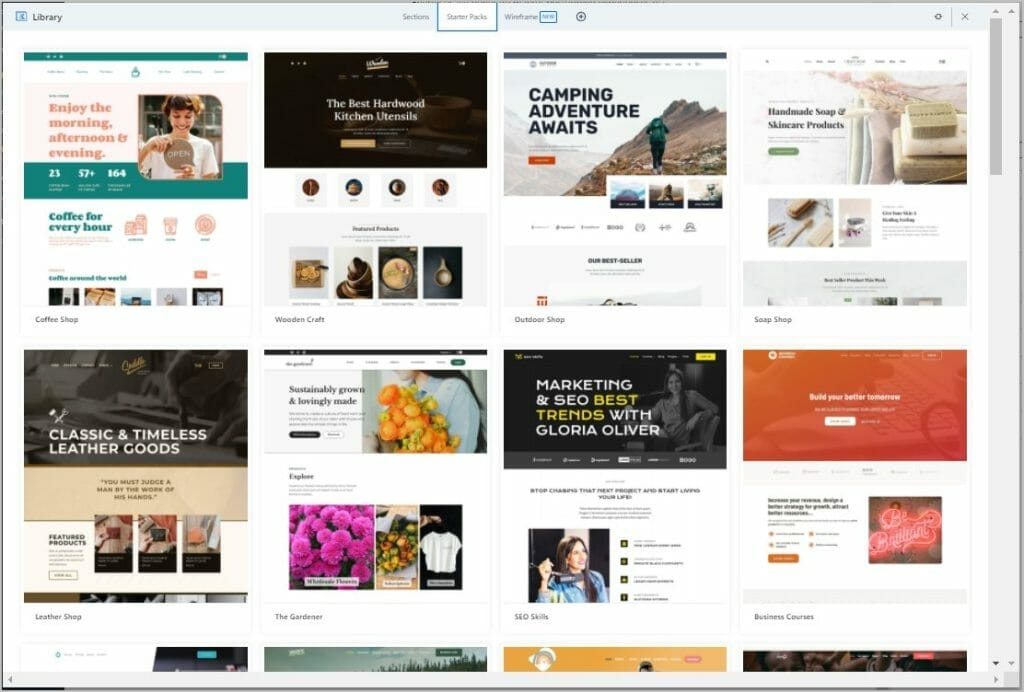 Each of the Starter Packs has a number of pages that you can import. This is very nice as it gives you several of the common pages already consistently predesigned.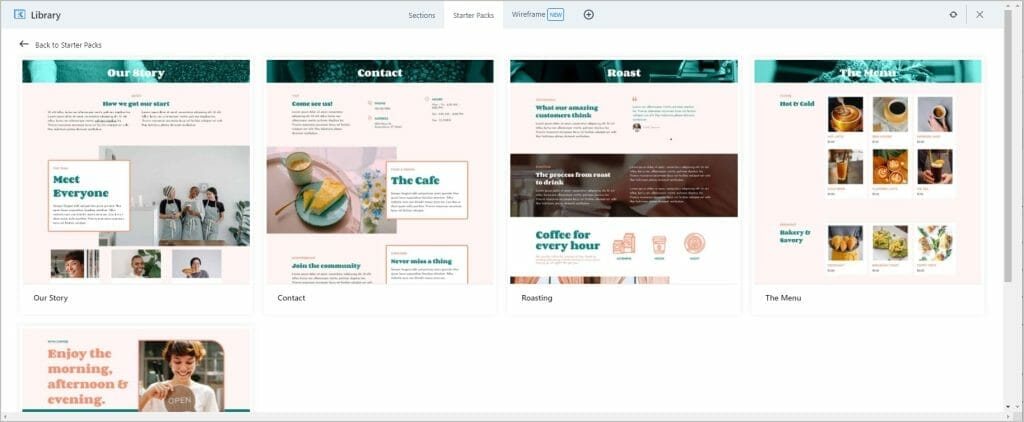 The third tab is for wireframes. The set comes with 53 sections, but note that there is an email address gate. You need to sign up for the newsletter to get access. Wireframes are nice when you want to show some concepts but haven't gotten into colors or branding yet.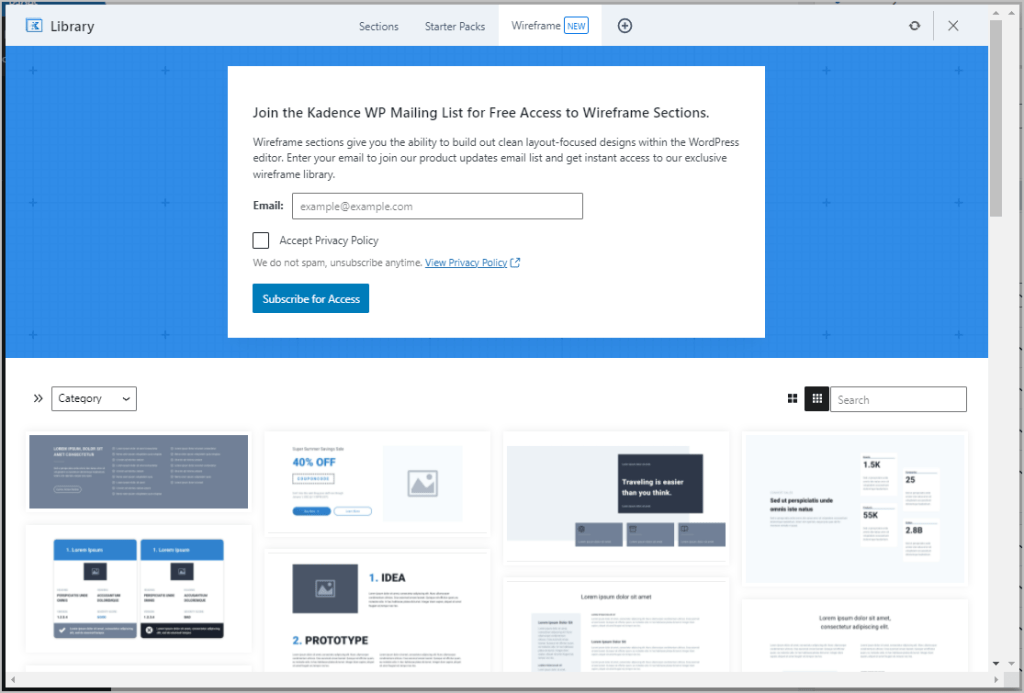 Kadence Default Block Styles
If you click the "K" icon in the upper right corner of the editor then you see some color, block, and font options. Kadence seemed to do a good job picking up the colors and settings from the theme, but this interface lets you add some more colors. You can also hide any of the blocks you don't want to show and if you click on the name of block then a panel shows and you can set some block defaults. There are also some font and design library options.

Premium Version of Kadence Blocks
The pro version of Kadence Blocks requires that the free version also be installed and activated. When you activate Kadence Blocks Pro, the menu under shifts from under Settings to have its own top level admin menu.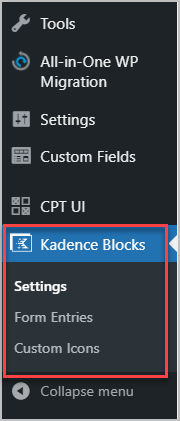 The Settings area is the same as with the free version, except that it now includes some additional blocks. One of the features of the pro version is that you can save your form entries to the database and this menu item is where you see those. Then you can upload your own custom icons.

There are 8 additional blocks in pro.

Also, three of the blocks in the free version get more features in pro. The (Countdown Block in pro includes evergreen campaigns. The Advanced Gallery Block gets some premium layouts. The Form Block gets extra features.
Free Version of Stackable Blocks
Free Stackable Blocks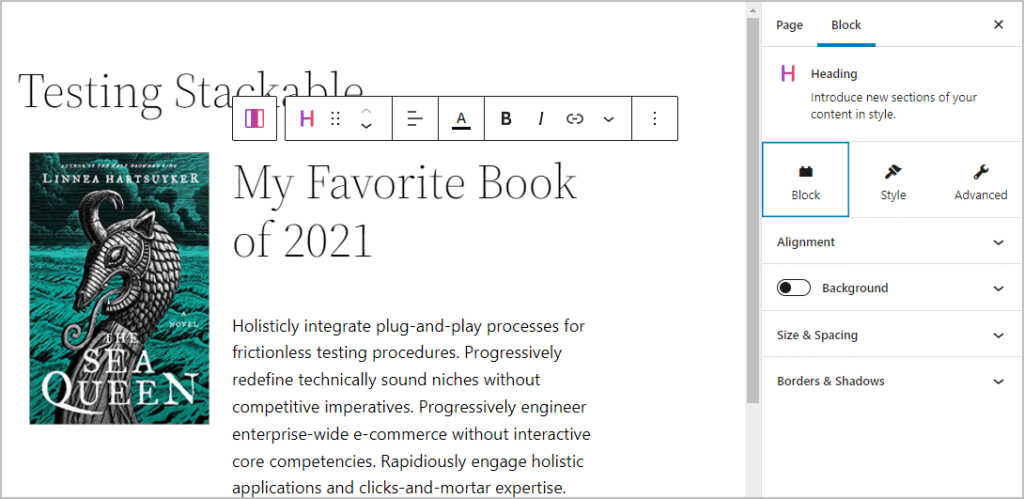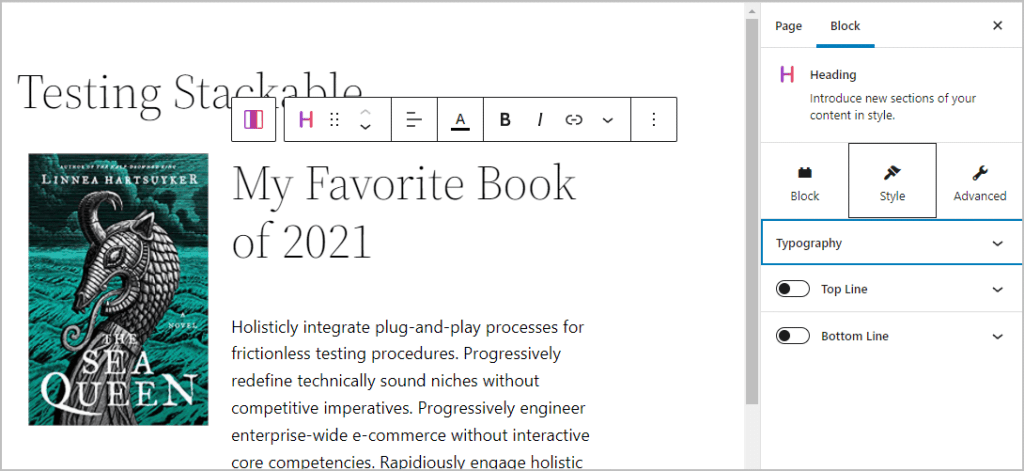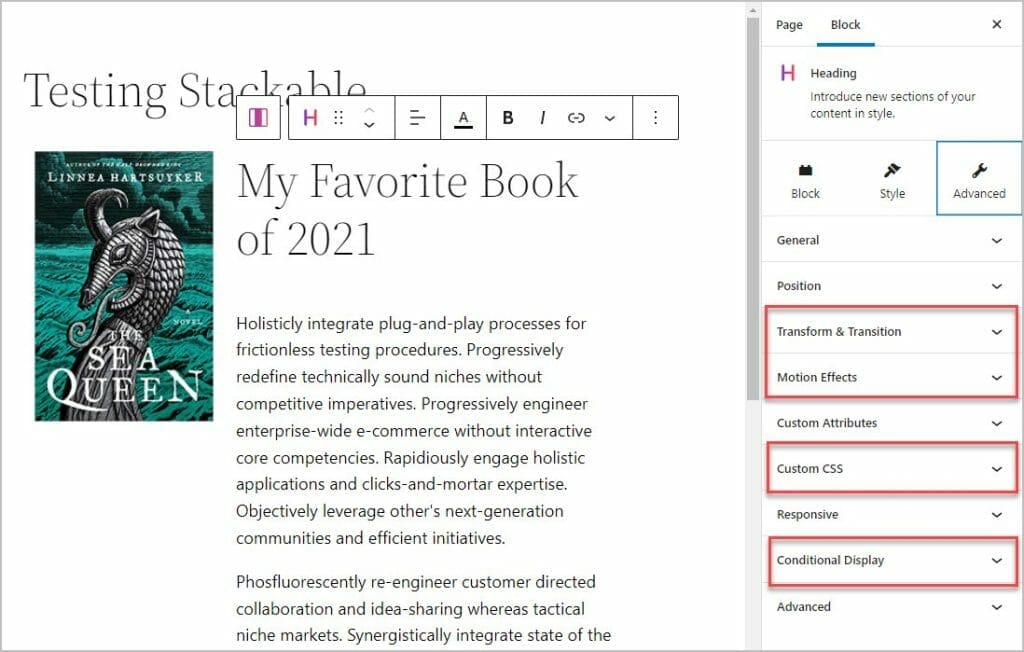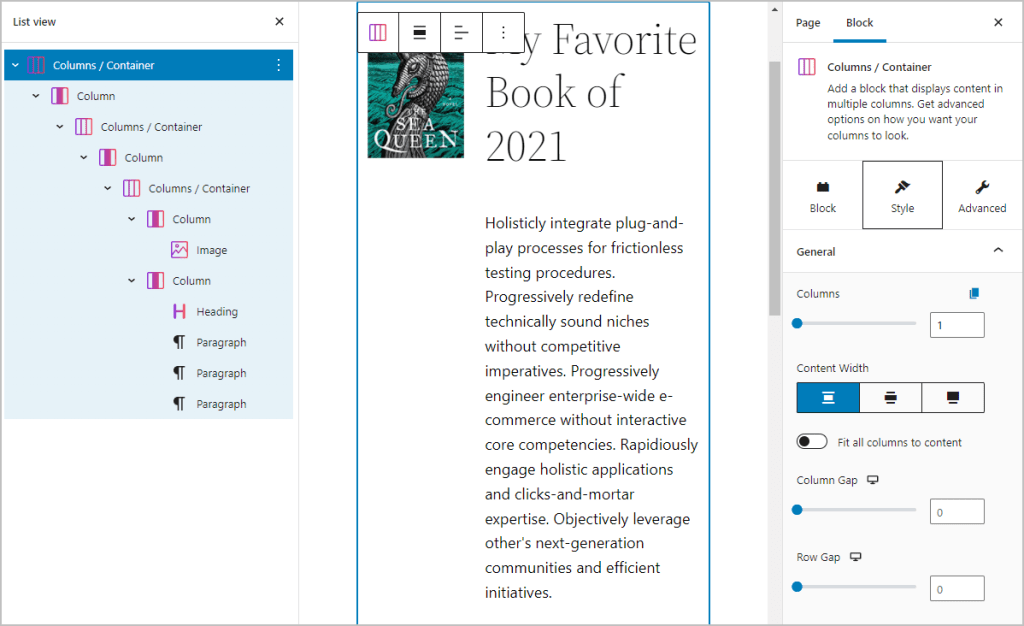 The Stackable Design Library
Stackable Global Settings
The Premium Version of Stackable Blocks
Discussion and Recommendations
Looking at the stats, we saw that Kadence adoption is growing quickly. The Kadence theme is very popular and being part of a bundle is helping it to gain speed. In comparing these third party Gutenberg addons with the core blocks we saw that the blocks from both addons are much more advanced than their core counterparts.
Kadence has 16 blocks in the free version and a total of 24 when you add the pro version. Some of the free blocks have extra features in the pro version. Stackable has 34 blocks and there are extra features in the pro version. Stackable has upped their game from 16 months ago.
Similarities:
Both have a good selection in the design libraries
Both have a good range of layout options using their container blocks
Both have Dynamic Data options, which is new since the review 16 months ago
Both include all of the blocks needed for creating content templates (think Kadence theme builder or Full Site Editing)
Both have Conditional Display options
Animation options are included in both
Both support Copy / Paste styles between blocks
Both Kadence and Stackable are good. Either will get the job done
Differences:
Kadence:
Has fewer blocks, but some unique ones like the Form, Countdown, and Table of Contents Blocks
Is designed to work with other products in the Kadence ecosystem (theme and theme builder)
Kadence Pro requires the free version also is installed
The Kadence team is part of the larger iThemes family of products
Stackable:
Has more blocks and "container" blocks that allow for more flexibility
Stackable is poised for working with block-based themes and Full Site Editing
The Dynamic Data and Conditional Display options are a bit more extensive
Has a roll manager
Stackable Pro is a single plugin
Stackable uses Freemius
Is developed by a small independent team
Pricing:
Kadence pricing is a little better. The annual pricing for blocks for unlimited sites is $89 for Kadence and Stackable is $49 for 1 site / $99 3 sites / $149 for unlimited sites,
Stackable is $499 for lifetime unlimited. Kadence is $699 for lifetime unlimited, but includes other products in the bundle. If you are going to use any other parts of the bundle then Kadence is a better value, but if you only want a blocks addon then Stackable is less expensive.
Recommendations:
Both have good free versions, so you can try them out to see if one "clicks" for you more than the other
If you already own one you don't need to purchase the other
If you are going to use the Kadence theme then use Kadence blocks
If you are going to focus on Full Site Editing then Stackable is a good choice
I suspect that both will keep innovating and working to help you get the most out of building sites with WordPress
I hope you have gotten some good information from this comparison. Happy site building!