Introduction
I spent the weekend testing out page builders, to find one that meets my needs. In the course of testing, I remembered a few things that I had forgotten and I came to a conclusion about the future of WordPress that I would like to share. No, this is not a review post. I may do that later. This is more of a philosophical opinion piece based on my experience.
The Problem
What got me started is that I've had some time recently to work on my website and wanted to group all of the content related to the Yada Wiki plugin in one place. A fair amount of the site traffic is people looking for the plugin documentation. I own a license for the Divi Builder, so I installed that and created this block of content: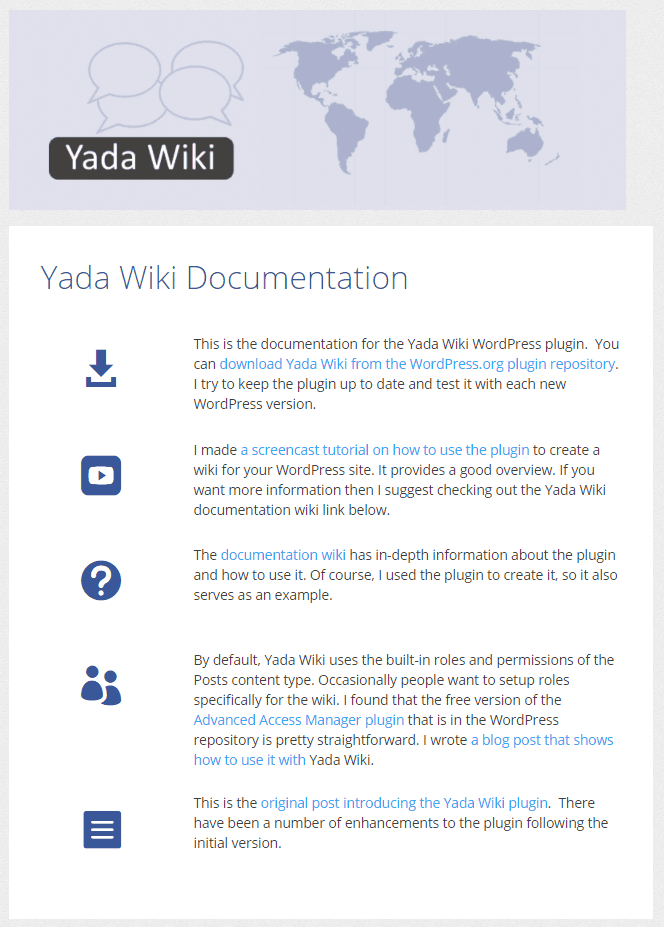 There is nothing too fancy there, some rows with a linked image on the left and text on the right, but it took about 45 minutes! See, I used the Divi Builder the way I've used Divi in the past, on the backend edit page screen. In case you haven't seen that before, this is what the backend of the above content looks like: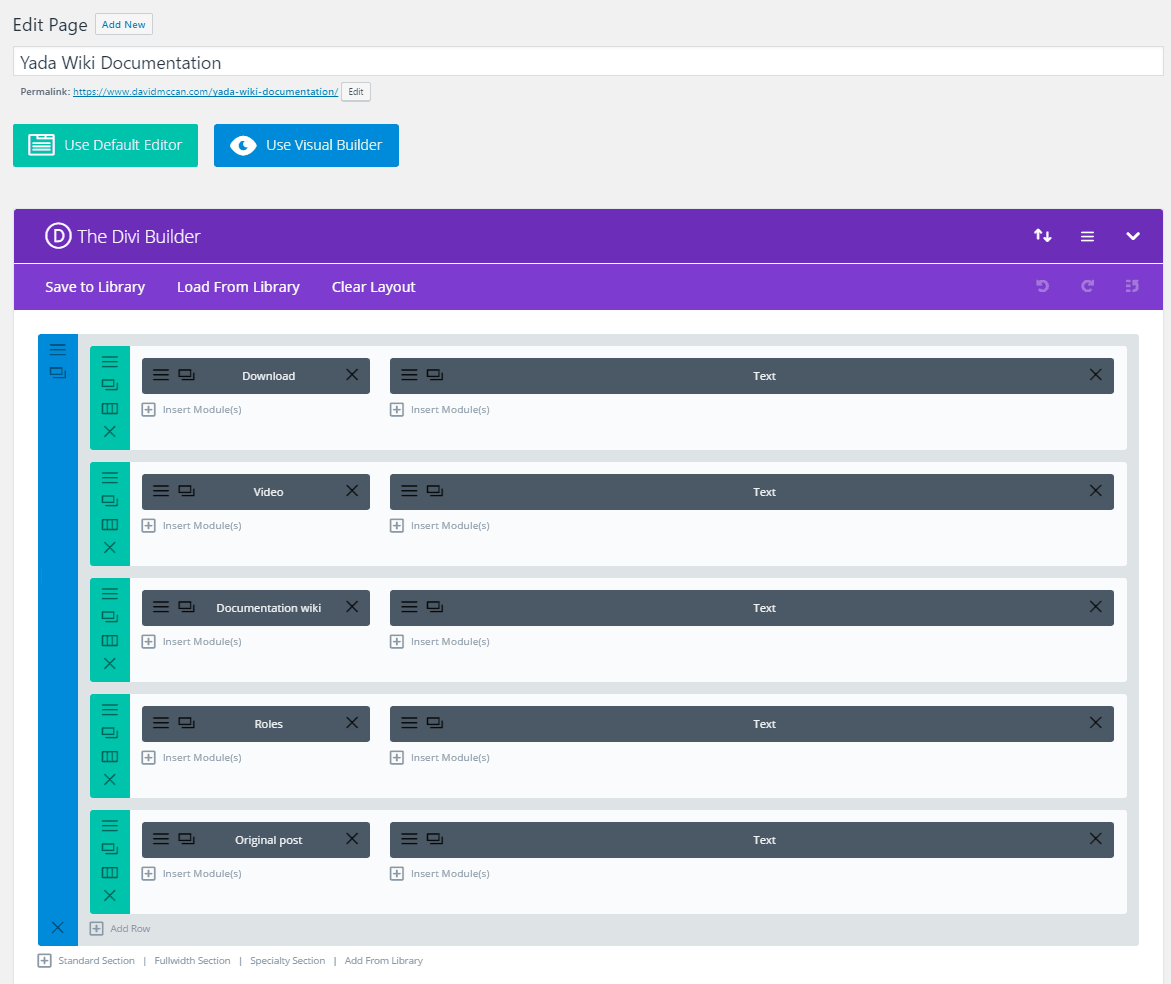 I tend to create things iteratively. I make a few changes and then see how it looks. Now, if you want to change anything, like say one of the icon images, the alignment, padding, or the wording, you have to click on one of the dark gray content modules, which opens a dialog. Then you scroll down or choose the tab until you find the setting or bit you want to change, save, and come back out and check how it looks. Not a big deal, but I was surprised at how long it took.
I have an idea for a post that would require a lot of page builder content and I was thinking to myself that it would take days to create a long post that way. So, I started looking at alternatives and discovered, or rather remembered something. At this point, you are probably going "duh, you picked the hardest way to create that content." Or, maybe you are thinking, "You should have used page builder "X", where "X" is your favorite page builder. Yes, of course, but there is more to the story.
The Solution
I've seen a lot of people raving about the Beaver Builder and Elementor page builders and I thought I should try them out. I had tried Beaver Builder a couple of years ago (it seems) and had recently watched a video demo of building a page with Elementor. So, I installed Beaver Builder and tried a simple test. All I wanted to do was create a row with an image on the left and a block of text on the right. I wasn't going to read or watch any "how-to's", I just wanted to see if it was intuitive enough for me to accomplish that simple task without any WTF moments. And, probably not surprising to you, it was fairly straightforward. In fact, having just recently created that content block above that took 45 minutes, I thought "hey, this is fun." Creating the content on the front-end where I could see the results as I was going along was much, much faster.
Let's pause here so I can slap my forehead. I remembered that Divi now has a front-end editor. Yes, you have been screaming this at your computer for a while now and I'm embarrassed to say that until I tried Beaver Builder and experienced the joys of front-end content creation, I had totally forgotten about that. The Divi front-end editor doesn't fit my needs, but that is the subject for another time.
Now to share the point of the post. You know the work currently being done on the new editor, Guttenberg? And also the push for having themes use the Customizer for theme settings? Maybe those are steps along the way, and maybe it is necessary that we take those steps, but sooner or later WordPress is going to move to front-end editing.
Front-end editing is the future and it is inevitable.
Maybe we're not there yet, and iterating on the page edit screen, the editor, and the customizer will help us get there, but after trying a number of page builders with front-end editing, I suspect we could modernize the content creation experience faster by jumping to the front end and skipping a bunch of intermediate steps.
Moving everything from the page edit screen to the front-end would be a big challenge. There is a lot there, post meta boxes, categories and tags, author and sharing options, the works. It would be difficult to find the right place for everything that made sense and was ergonomic, but I imagine it is possible. Um, maybe crowdfund the purchase of Beaver Builder, rework it, and add it to core? That would be a big modernization step.
Concluding Thoughts
There are several areas where WordPress has been slow on the uptake and recently there has been a discussion of the 80% rule or adding things to core that most people would use, which seems very reasonable. Well, thinking about it, there are a couple of things that jump out at me: a built-in backup solution and a contact form are near universal needs. There are many plugins and options to fill those gaps, but why should every new WordPress user have to solve those problems all over again? Let's add those to core.
Perhaps a bit more of a reach, but I've concluded that a front-end editor is also something that would benefit most sites. People who have not been creating content on the front-end don't realize what they are missing. Front-end content creation is one of those things that you don't know you need until you experience it.